Benjamin Morris: working big in the arts
2 March 2015
By Andrea Moxham
Actor, sculptor, artist and arts advocate … Benjamin Morris wears many creative hats in his Christchurch community.
Working from the community-based creative space, the White Room, he often creates large-scale paintings and murals of Christchurch buildings.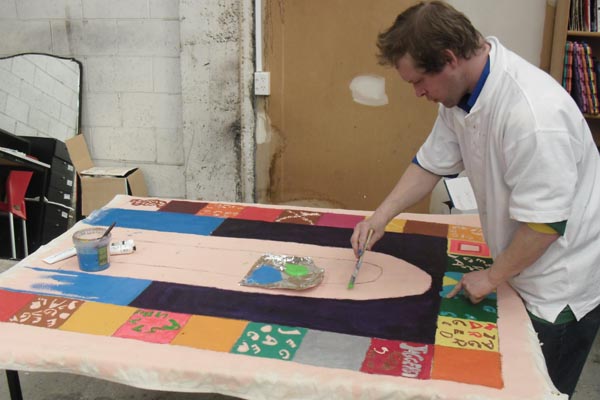 "I have images and memories of Boogie Nights, Sacred Heart Church, Majestic House, Yellow Cross, the fish and chip shop, and colours and angles – all stored in my head, the camera, cell phone, computer and, most importantly, in my paintings," he says.
In the art room, Benjamin likes to work big. Along with the large-scale paintings, he enjoys collage, sculpture and mixed media.
Covering the earthquake
"It's not all about putting paint on a canvas," he says. "I collect broken glass, stones and plastic that I might use for art purposes.
"Most of my paintings and collages cover before, during and after the earthquake, including the rebuild and the demolition. I did a painting called Broken Promises, showing how the rebuild might go and the problems with EQC.
"I did a painting of the Copthorne Hotel building and the Twin Towers. Right in the middle I had this half-yellow, burnt cross saying 'Why?'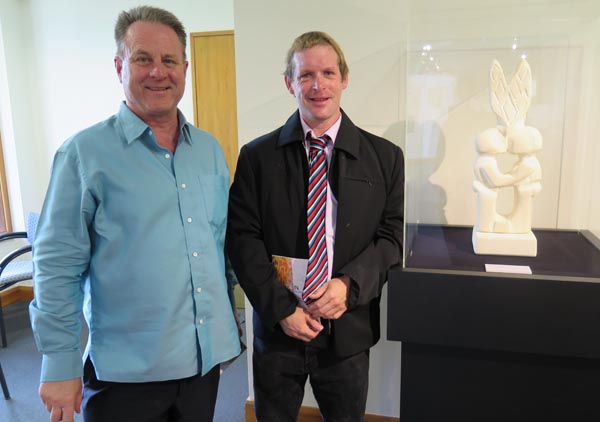 "I've recently finished a painting with mixed media, which used paint and broken glass. It's an aerial view of Christchurch showing my interpretation of the buildings.
"In this painting, there's the Grand Chancellor Hotel and the fish and chip shop. It's quite a large painting."
Twice a week for the past five years Benjamin has attended art classes at SkillWise – and since 2014, its creative space, The White Room, which provides a supportive environment for intellectually disabled people to create art. It is facilitated by Bev Lowen, who also co-ordinated and curated with Gaul Batchelor the recent Outside In exhibition at Canterbury Museum.
"The White Room is a lot bigger than what we used to have," Benjamin says. "Straight after the earthquakes, we had a tiny art room upstairs. Then we moved into the gym, which was big, but we had to share it with a lot of other people and get along together as best we could."
Sculpture in Outside In exhibition
Benjamin had a sculpture called Krystal Kissing Kouple in the Outside In exhibition, organised by the White Room in partnership with Canterbury Museum in early 2015.
"My art has become much more dynamic over the years. I know what I want to do and can get an idea together. However, sometimes I start with an idea, I think I'll draw it this way and then something else comes up."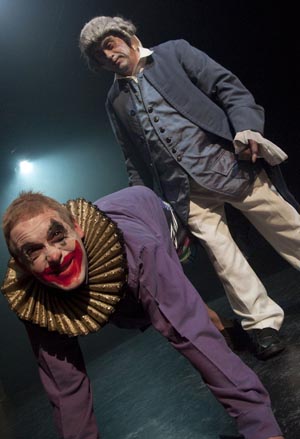 Benjamin is also a member of the Different Light Theatre Company. Late last year, he performed in the production of The Lonely and Lovely. "It was based on TV soap operas, complete with relationship fall-outs, but we had our own characters. My character was a dodgy plumber.
"We also did a production about the Christchurch earthquake called Still Lives. I also very much enjoyed playing the dog character Toto in the Wizard of Oz.
"We're also going to look at doing a show on climate and sea level changes. But it won't just be about sea level changes around our cities but sea level changes within our own personal lives.
"As well as the sea climate changes, we also see changes within ourselves. Sometime this year we will probably be going to Rarotonga."
Arts Advocacy Christchurch
Benjamin is also active in disability advocacy, and is a member of Arts Advocacy Christchurch, set up my Arts Access Aotearoa in 2014.
"We have meetings and discuss how to make things easier for people with a disability so they can speak up and get better access for museums, buses and arts events."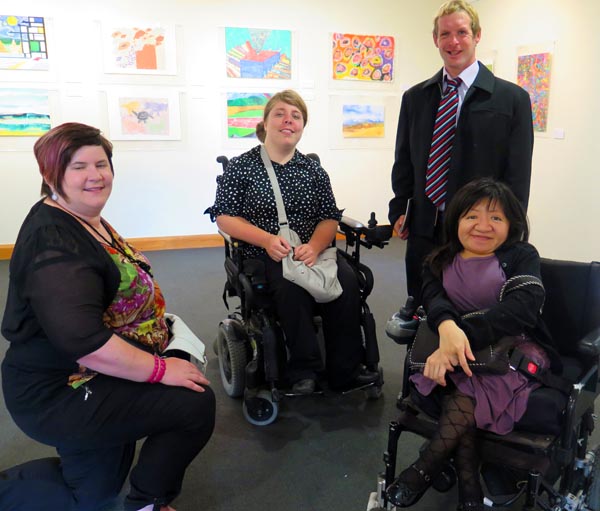 He is also the secretary of a People First group in Christchurch.
"An example of improvements that are needed was when we were in Australia," he says. "A guy with cerebral palsy in our theatre group was in a wheelchair trying to get on a bus. The bus driver didn't know how to operate a simple bus ramp so we had to lift his wheelchair into the bus.
"He should know how to operate a bus ramp. It's not that hard."
This year, Benjamin hopes to have two exhibitions – the first, showing some of his photos; the second showcasing some of his favourite artworks created over the years.