Blog
Arts Access Aotearoa
20 Years of Increasing Access to the Arts
This year the 20th Anniversary of Arts Access Aotearoa was celebrated with an anniversary lunch hosted by Dame Rosie Horton on the same day as the Arts Access Awards, 1 July.

Held at CQ Hotels on Cuba Street this event was an excellent opportunity to have a reunion with the earliest trustees and a celebration of all that has been achieved over the last 20 years. Grant Robertson, Philip Patston and Dame Rosie Horton were speakers and inspired our organisation to continue with the mission of increasing access to the arts for all people in New Zealand. In conjunction with the anniversary we have been able to launch the Friends of Arts Access Aotearoa platform for people who support our work, to make a donation.
A video promoting past and present achievements, with pictures of many friends and supporters, was produced to play at the launch and at the Arts Access Aotearoa Awards the same evening. I hope you enjoy viewing it.

The Arts Access Awards is the biggest event of the year, promoting and advocating for all our stakeholders, from creative spaces to individual achievers to organisations that are supporting artists, to have access to and participation in the arts.
The diversity of recipients in 2015 is profound!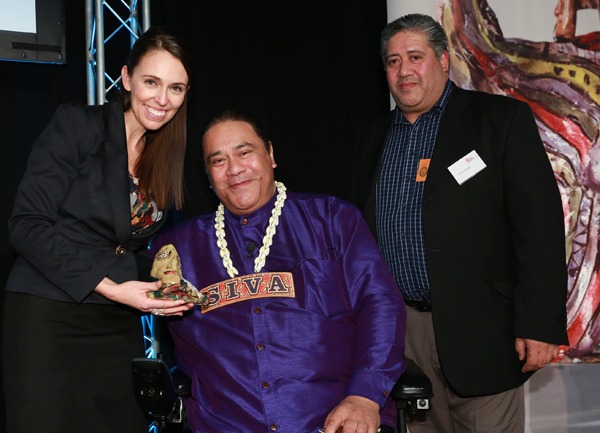 How amazing we find it that Arts Access Aotearoa should be the first organisation to celebrate the artistic achievement of Pati Umaga who is a pioneer of Samoan contemporary and traditional music. His disability does not hold him back from creative achievement and from doing as much as he can mentoring and encouraging others in the Pacific disability community.

Also in the longevity stakes we celebrated the success and achievements of the creative space Artsenta in Dunedin. Artsenta is almost thirty years old and this achievement is extraordinary. Artsenta's programme for people (predominantly from the mental health community) is far reaching and includes programmes and opportunities in applied arts through to music and broadcasting.
It was delightful that Pablos Arts Studios in Wellington was Highly Commended for their excellent support of artists, their high quality art gallery, and point of sale excellence at Roar! Gallery.
The Arts Access Creative New Zealand Arts for All Award went to Auckland Live which is the facilities management group that supports accessibility to the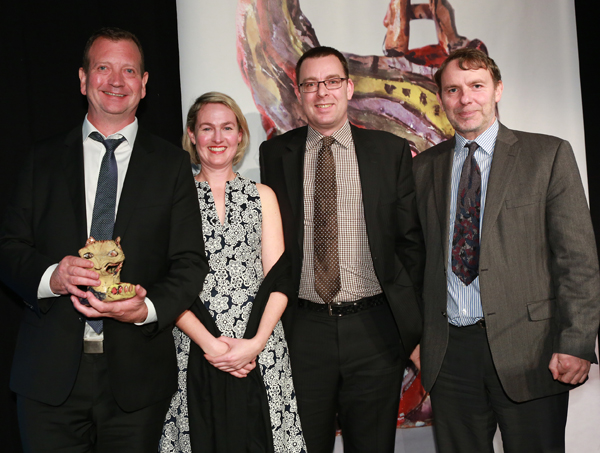 Aotea Centre, Auckland Town Hall, the Civic, and the Bruce Mason Centre.
The renovated Aotea Centre provides new accessibility standards for people with disabilities, but it is in their staff training that they have excelled. They provide e-leaning modules by which front of house staff can quickly be informed of the requirements for people with access needs.
In this award category, it was fitting that Auckland War Memorial Museum received a highly commended citation for their two projects; Infowave (NZSL Sign Language App) and their project to include people with dementia, at the museum.
An inclusive theatre project Wake Up Tomorrow was the result of a successful collaboration between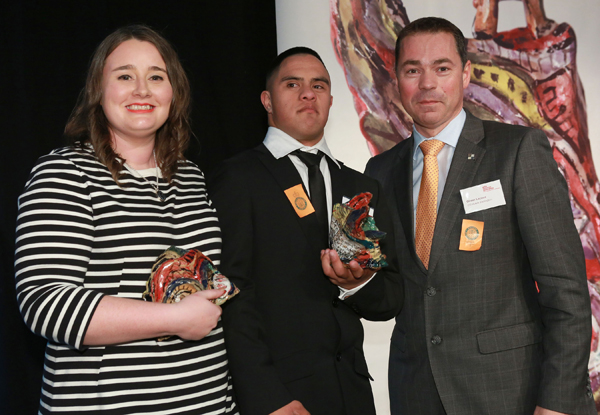 Everybody Cool Lives Here Trust and Active. They were awarded the Arts Access CQ Hotel Wellington Community Partnership Award, having initiated high quality theatre for youth with intellectual impairment, giving them the opportunity of performing to packed houses in last year's New Zealand Fringe Festival at Circa Theatre.
The final award of the evening was the Arts Access Accolade. This award from Arts Access Aotearoa is given to an individual who has inspired our organisation and supports our mission that all people in New Zealand will have access to the arts.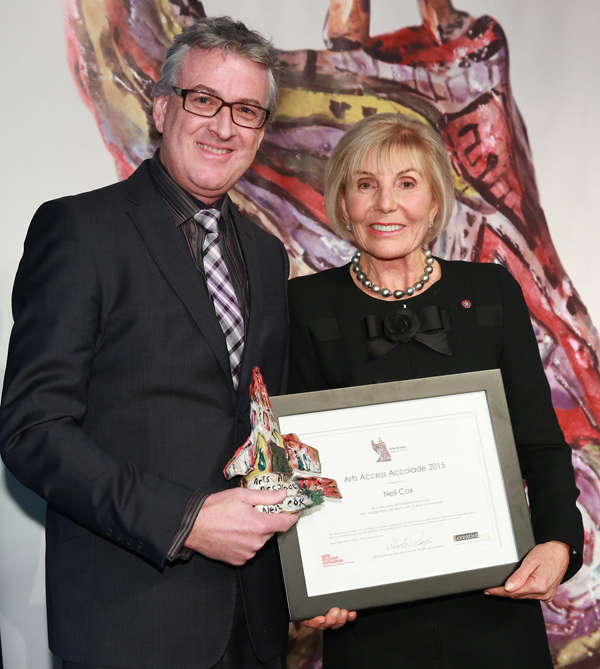 The Arts Access Accolade was presented by the award's patron Dame Rosie Horton to Neil Cox, Chief Executive of the Isaac Theatre Royal of Christchurch. Since the Isaac Theatre Royal needed to be rebuilt after destruction by the Christchurch earthquakes, Neil has worked to ensure the new theatre would be the most accessible new build of its type in New Zealand. Thank you Neil for being such a great example for others to follow, you have provided the best example of what an arts and entertainment venue can be like for patrons with a disability.
His own words explain why Arts Access Aotearoa feels so inspired and appreciative of Neil. "It is always a completely overwhelming thing to get an accolade that is such a personal award. Our rebuilt Isaac Theatre Royal is receiving design and management awards, but our efforts in the field of accessibility are not about bricks & mortar, they are about our people. We will always strive hard to make our venue accessible for all our thousands of patrons and endeavour to improve on what we have done. We have finally finished our rebuild but will never finish our work to keep the ITR accessible for all! As I touched on in my acceptance speech, AAA for me is Access All Areas, and Arts Access Aotearoa has helped us achieve that. Accolades in return to the Arts Access team."