Auckland creative spaces
Gary Silipa, Auckland Community Arts Engagement Advisor, Arts Access Aotearoa leads a project called Empowering the Auckland Creative Spaces Sector. His role is to map, engage and connect creative spaces in Auckland, strengthening and empowering them as a sector across the district. Gary also engages with community arts projects, festivals, events and venues that deliver community arts across Auckland, building links between the various organisations and people that provide access to the arts.
This page provides updates, information and links about his work with creative spaces in Auckland. Gary works Tuesdays, Wednesdays and Thursdays, and welcomes your feedback and enquiries (T:+64 21 799 352 E: gary.silipa@artsaccess.org.nz). Read more about Gary
Minister announces $18 million fund for creative spaces
"Funding creative spaces will support new jobs and expand existing roles to help build a more sustainable sector and skilled workforce," said Minister for Arts, Culture and Heritage Carmel Sepuloni on Wednesday 24 February 2021, in a media release announcing the $18 million fund over three years to support creative spaces. "It will enable creative spaces to increase the reach and quality of their services and programmes, including into Māori and Pacific communities." Read more
Strategic vision for Auckland's creative spaces
Arts Access Aotearoa has completed a strategic plan for the creative spaces sector in Auckland. This plan supports the long-term development and sustainability of creative spaces and arts programmes that deliver for people who face barriers to participation. It's supported by Foundation North and Creative New Zealand to deliver the project Empowering Auckland Creative Spaces Sector. Led by Gary Silipa, this project set out to deliver this strategic plan for Auckland's creative spaces sector by the end of 2020. Read more about the Strategic Plan and the survey results that informed the plan
Download the Strategic Plan:
Empowering Auckland's Sector of Creative Spaces and Art Programmes: Strategic Plan 2021-2023
Empowering Auckland's Sector of Creative Spaces and Art Programmes: Strategic Plan 2021-2023
Congratulations, Kākano Youth Arts Collective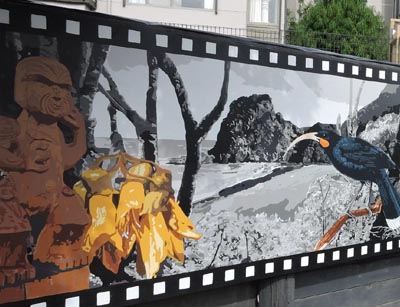 Kākano Youth Arts Collective was Highly Commended in the Arts Access Holdsworth Creative Space Award, announced at Te Putanga Toi Arts Access Awards 2002 on 13 October. Since 2013, the Kākano Youth Arts Collective has been providing a creative pathway for young people all over West Auckland who have been excluded from mainstream education. Kākano Youth Arts Collective have participated in many sculpture and mural installations, as well as taking part in many other community arts events and partnerships. The young people in the collective have the opportunity to learn a different visual art form each week, which means they end up with a portfolio of works, and increased confidence and focus.
Judges' comments: "Kākano Youth Arts Collective has the wow factor! We love its mahi, using visual arts and creativity to develop and empower vulnerable rangatahi. The artists take ownership of the programmes and there are high levels of commitment from the community. This space is a beacon for positive change."
Crescendo programmes under the one roof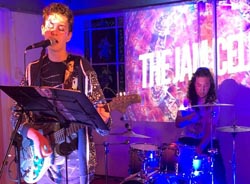 Crescendo, a creative space for rangatahi, has finally found a permanent home in Avondale, Auckland. Crescendo works with about 200 young people aged 12 to 24, providing an environment where young people can express themselves creatively and are supported to overcome barriers to success. It delivers mentoring programmes in the arts where young people get to engage and connect directly with people working in the creative industries.
Gary Silipa, Auckland Community Engagement Advisor, Arts Access Aotearoa, says Crescendo has done a lot of great things with music and youth over a long time. "I'm excited to see this new chapter for this organisation having its own dedicated space to call home. I know Crescendo through its work at Te Oro and it's been great to see its work with local youth. I'm excited for Avondale to have them planted within their community." Read more about Crescendo
News, events, opportunities and tips
Arts Access Aotearoa can help you promote your creative space and reach a larger audience. We write news stories and post these on the website and, sometimes, on The Big Idea, Creative New Zealand, Ministry of Culture and Heritage, and Scoop websites. We also promote these stories on social media. Please email Iona with your newsworthy stories and artists. Also let us know if you want to be listed in the creative spaces directory and have any useful tips, resources, opportunities and events to share.
You can post your accessible arts events on the Arts Access Aotearoa events calendar and we will broadcast it to other relevant what's on sites.