Media Release
Arts Access Aotearoa
MEDIA RELEASE: Creative Spaces Capsule Project
Creative spaces capsule to land at Dunedin Fringe
27 February 2017
An exhibition that travelled from Invercargill to Auckland, collecting artworks from community-based creative spaces along the way, opens at the HD Skinner Annex Gallery in Dunedin on 9 March as part of the Dunedin Fringe 2017.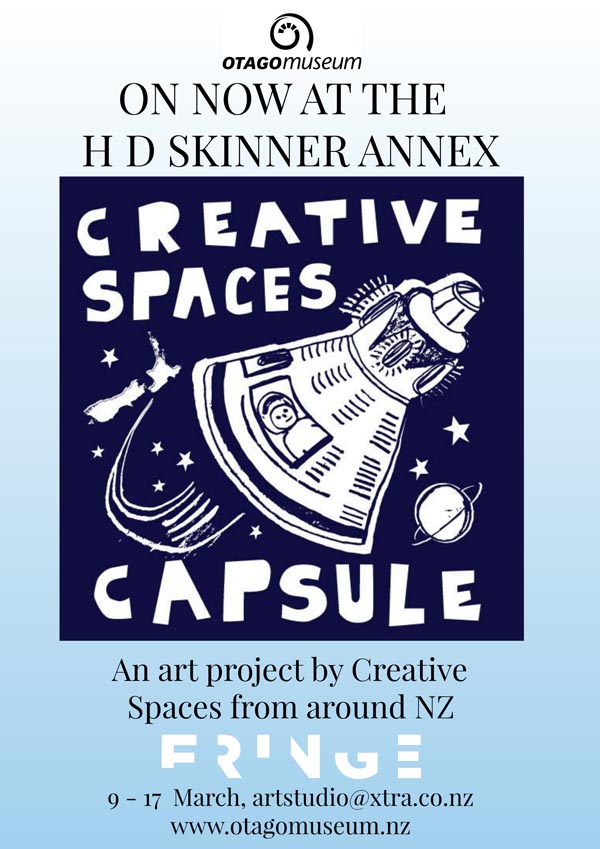 A conversation between two art tutors at Creative Spaces 2020, a conference organised by Arts Access Aotearoa in May 2016, sparked an idea that developed into a touring exhibition called the Creative Spaces Capsule Project.
Benton Glassey, an art tutor at Studio2/Margaret Freeman Gallery in Dunedin, and Menno Huibers, an art tutor at Pablos Art Studios in Wellington, are the exhibition "cosmonauts". After the Dunedin exhibition, which runs from 9 to 18 March, the 14 artworks will travel to Invercargill and feature in the Southland Festival of The Arts in April.
"The main idea behind the exhibition was to bring together the creative spaces community across New Zealand," Benton says. "It was also about empowering the spaces to do their own promotion and showcase the cool art being made by artists who work from these spaces."
Benton says he enjoyed working with Menno to manage the long-distance project. It involved good communication skills, planning and making connections.
"It's been a stress-free project and shows what can be achieved when everyone gets on board," he says.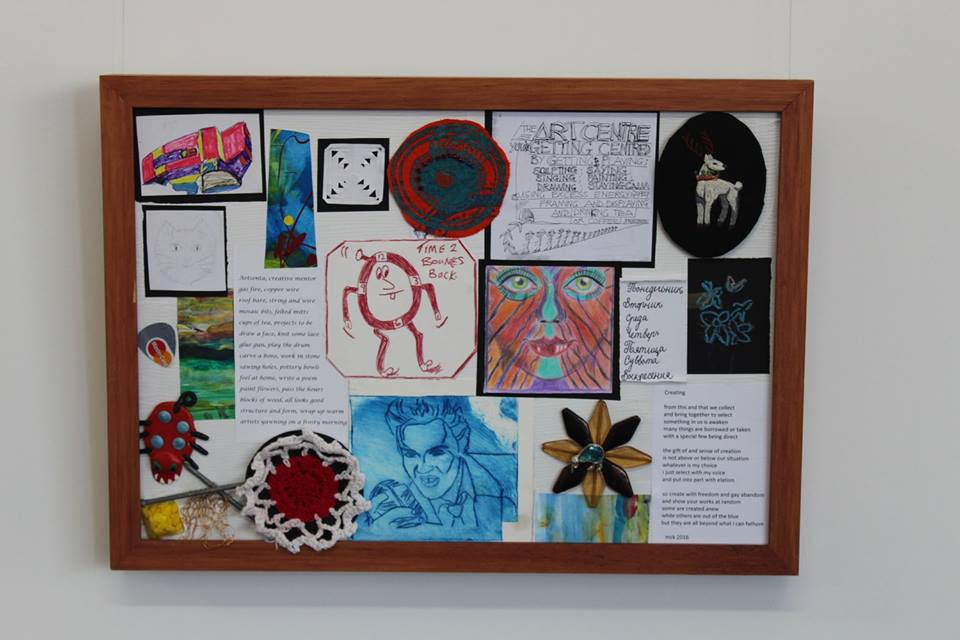 Fourteen creative spaces participated in the project, including Dunedin creative spaces Studio2, Artsenta and Artspace. It was launched by C.S. Arts in Invercargill in July 2016 with one work: Sea, Mountains, Sky, Land by Lee Harland. From there, it travelled to Dunedin, Wellington, Hutt City, Paraparaumu, Masterton, Wanganui and Rotorua, arriving in Auckland in December.
The artworks were exhibited in Wellington's Gryphon Theatre in February as part of the NZ Fringe programme. Richard Benge, Executive Director, Arts Access Aotearoa remembers how the initiative started.
"It's been great to see how a creative conversation between two art tutors at the conference was developed into this innovative exhibition. I really appreciated seeing all of the works gathered in the one space."
For more information, please contact:
Benton Glassey, Studio2/Margaret Freeman Gallery
Cellphone: 027 713 3025
Note:
Creative spaces are organisations where people are supported to make art and participate in artistic activities. Artists may have a disability, lived experience of mental ill health or may need a boost to improve their health and wellbeing through art. Creative spaces provide space, resources and assistance in ways that will lead to self-expression, empowerment and self-development.