Media Release
Arts Access Aotearoa
What do you get when you cross a cursed bookshop, three hot fictional men, and a murder mystery to solve? Blind Kiwi novelist Steff Green will feature on the television show Attitude, which follows the lives of disabled New Zealanders. Her episode will air at noon on Sunday 19 June on TV1 and will be available to view online the next day.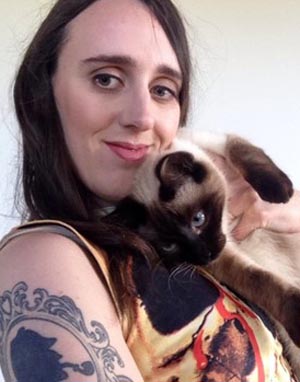 Attitude producer Robyn Paterson says: "Steff's prolific writing career and her point of view as a writer with lived experience of disability immediately made her someone we were keen to feature on Attitude.
"Added to this Steff's background in archaeology, her fascinating array of hobbies, her passionate advocacy for independent artists and her particular interest in metal and goth subculture – it was more a case of why wouldn't anyone want to give Steff a platform! Our team thoroughly enjoyed working with Steff and we look forward to continuing to follow her career."
Green, who writes fiction under the pen name Steffanie Holmes, is also about to launch a Kickstarter to support her Nevermore Bookshop Mysteries series that features a blind heroine.
Green says: "So often when there's a blind protagonist (which is rare), they're often healed, or they have special powers that mean that they can, for example, 'see' through the eyes of animals. Something that means the author doesn't have to actually write a blind character.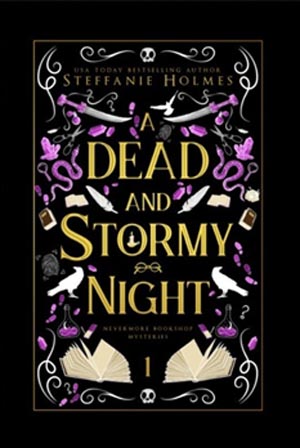 "A blind heroine never gets to just be herself. So I wanted to write that character. In the Nevermore Bookshop Mysteries, Mina has retinitis pigmentosa and is going gradually blind throughout the series. She's clever and funny and she helps to solve murder mysteries. She has three boyfriends and runs fun events, and gets up to all sorts of mischief! Mina doesn't need to be healed to be happy or feel worthy of love."
Green's paranormal romance novels are usually published as ebooks. The Kickstarter campaign, which launches on 17 June, is a chance for readers to get rare hardback print copies that Green has personally signed.
Green says: "Mina is one of my most beloved characters and I get so many emails from readers thanking me for writing her. Which is why I decided to do the Kickstarter. The fans have been so supportive of this quirky series, and I wanted to do something wonderful for them – give them these pretty hardcover books and fun swag that they could enjoy."
As well as being a hugely popular and prolific novelist, Green works to give other writers a hand up. She has created a support group called Rage Against the Manuscript to share advice for self-publishers. Last year she created the online course How To Rock Self-Publishing, which she has made free for disabled writers and writers of colour.