Blog
Arts Access Aotearoa
Improving access to the arts for Deaf people is one of the key aims for members of Arts Access Aotearoa's Arts For All networks. These networks are made up of people in the Deaf and disability sectors, performing arts companies, writers' organisations, festivals, museums, galleries and venues to improve access to the arts for all New Zealanders.

New Zealand Sign Language is one of three official languages and according to the 2013 Census, 20,000 people use New Zealand Sign Language.
On the Arts Access Aotearoa website, we provide a signed video, made for us by Deafradio's Seeflow translation service. It lets Deaf people know about some of the ways the arts can be more accessible to Deaf people.
Highlighting the Arts For All guide, the video is a way we can connect with the Deaf community and promote the use of NZSL. If you are promoting an arts venue, live performance or cultural event, using NZSL online is an important tool to include in your marketing plan if you want to reach Deaf people.
Audience demand to increase access
Likewise, if you are Deaf and know of an arts event that is being planned, ask the promoter if there will be NZSL interpretation. Audience demand is essential if we want to increase accessibility.
In December last year, Arts Access Aotearoa conducted a national survey of creative spaces so we could better understand their capability needs. We were pleased when 48 creative spaces responded. The feedback has given us a good understanding of current needs and issues and how we can best support them.
In response to the survey feedback from creative spaces there are two resources we have produced in the past month: a case study about fundraising with community training provider Exult and a guide to making the most of Facebook.
There's a number of case studies aimed at creative spaces on Arts Access Aotearoa's website. This latest case study with Kerri Tilby-Price, Chief Executive of Exult, has a lot of fantastic advice. Kerri, who wrote The Seriously Good Guide to Fundraising, managed a community-based arts centre before setting up Exult in 2007.
Words of wisdom
Here's just one example of the wisdom sprinkled throughout the case study. "Get really clear about why your organisation exists. Stop focussing so much on what you do, and start describing why you do it. Try answering this question: If your organisation was doing everything 100% right, what would your community look like as a result?"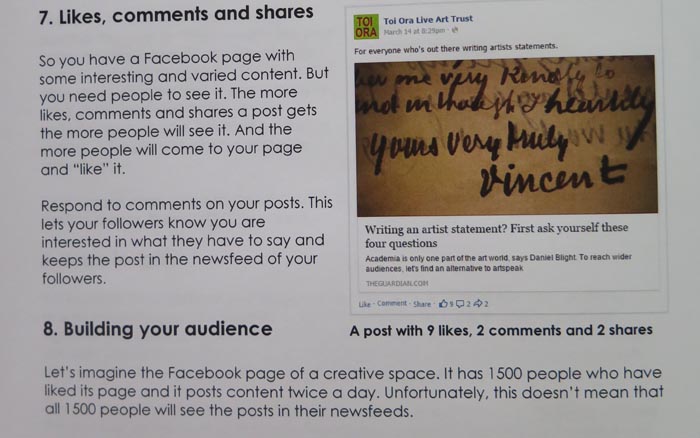 The other resource is called Making the Most of Facebook: a guide for community arts organisations. It is full of straightforward, practical tips on what to post on your Facebook page, when to post and how to build an audience.
In 2014, 2.4 million people in New Zealand were on Facebook. If you want to promote the good work you do and your artists' achievements, and also build an engaged following, you're best off making Facebook your "best friend".
And soon, we'll be promoting how you can get the best from other social media tools: Twitter, YouTube, Instagram, Pinterest …
If you have other ideas for useful resources for your creative space please let me know (E: richard.benge@arttsaccess.org.nz T: 04 802 4349).