News
Arts Access Aotearoa
Touch Compass responds to a changing world
5 February 2018
Auckland's pioneering dance company, Touch Compass, continues to adapt to a changing world and embrace new technologies after celebrating its twentieth anniversary in 2017.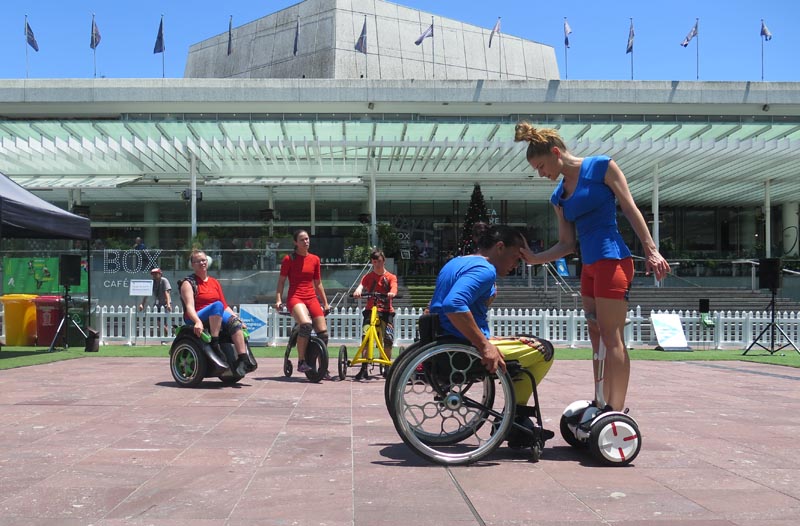 Its founder and Artistic Director, Catherine Chappell, says new technologies provide innovative mobility options, and new ways to communicate and connect. "We have to be responsive to the world we live in and new technologies enable us to reach audiences around the world."
For example, the new Touch Compass work, Somatechnics, was livestreamed to a global audience of 2000. Last year, it was also performed 11 times in early December to lunchtime audiences in Auckland's Aotea Square.
Two of the company's founding members, Lusi Faiva and Rodney Bell, featured in Somatechnics, one of the 2017 projects featured under the InMotion umbrella. The other dancers were Alisha McLennan Marler, Julie Van Renen and Duncan Armstrong.
Graceful tools directed by their dancers
Starting from the top of the wide steps and handrails up to the Aotea Centre, dancers moved down to the square and performed using different modes of transport. Wheelchairs, a YikeBike, an Ogo, an Alinker walking bike and a mini Segway became graceful tools directed by their dancers.
"Having everyone on a mobility apparatus was a great equaliser and the audiences were intrigued," Catherine says. "It's been exhilarating to explore different ways of mobilising, and provide new experiences for both the dancers and their audiences."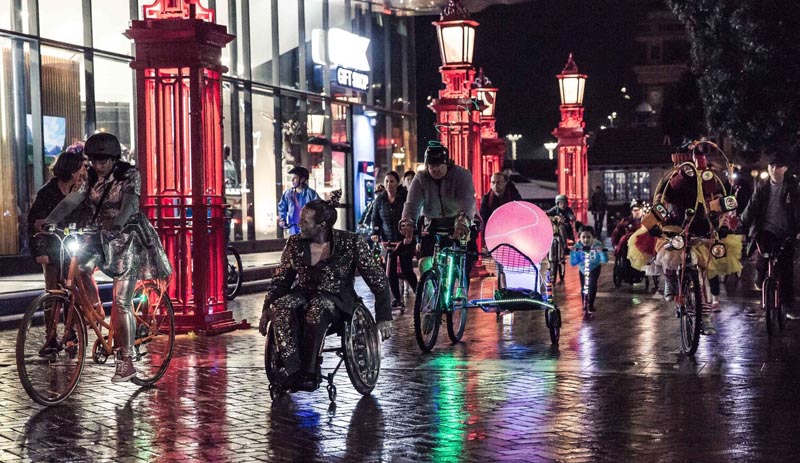 Another project highlighting new modes of transport was InMotion Matariki, Auckland's first illuminated all-wheels parade for people on bikes, wheelchairs, mobility scooters, skateboards and so on. Held in June during Matariki, the parade included pop-up performances en route from The Cloud to Silo Park via the Wynyard Quarter.
Since 1997, Touch Compass has been challenging people's ideas of what dance is and who can do it. Described as New Zealand's "only professional inclusive dance company", it is made up of disabled and non-disabled dancers "dancing towards an accessible society in which the creative talents of all members can be fully realised".
Huge gap in awareness
Catherine says there's still so much more the company can achieve. "There's a huge gap in people's awareness of what's possible and what people with disabilities or difference can achieve.
"Touch Compass has a great opportunity to increase that awareness by taking our performances, films and events to the people. Not everyone can afford to come to the theatre and this year, we'll continue exploring innovative ways for people to see our work."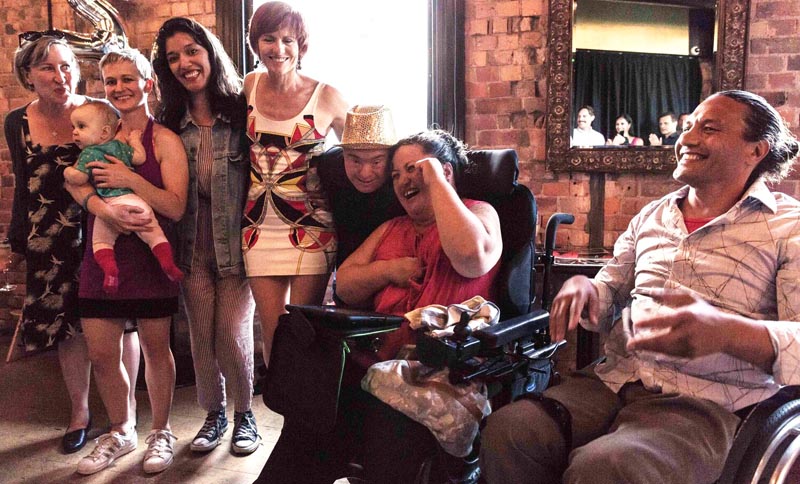 Looking back on 20 years at the helm of Touch Compass, Catherine says she is still inspired to lead the organisation she founded. "I'd like to produce more work, reach more people and keep pushing the boundaries. Touch Compass has never done what's easy."
Money continues to be a challenge despite being grateful to Creative New Zealand for the annual funding it receives through the Toi Uru Kahikatea (Arts Development) Investment Programme.
"The cost of inclusion can be high but with more money, we could develop more work and reach more people," Catherine says. "But given the constraints, it's important that whatever we do, we do it well without over-extending ourselves or the company."
She's proud of all the connections and career pathways Touch Compass has provided over the years but hopes that one day, the company won't need to be described as an "inclusive" dance company.
"Being inclusive will be the norm when we all embrace diversity and other arts organisations are doing work like us and providing access."
Touch Compass Dance Trust is a member of the Arts For All Auckland Network, facilitated by Arts Access Aotearoa. If you would like to become a member, please contact Claire Noble (T: 04 802 4349 E: claire.noble@artsaccess.org.nz).