News
Arts Access Aotearoa
A pathway out of prison
17 December 2019
A recent event showcasing the creativity of men in the Navigate Unit at Christchurch Men's Prison included a musical performance, kapa haka, sculpture, screen-printing, storytelling and songs.
Around 80 guests, including prisoners, whānau, supporters, funders and prison staff, enjoyed a musical performance by four members of the Christchurch Symphony Orchestra (CSO) and nine men from the Navigate Unit.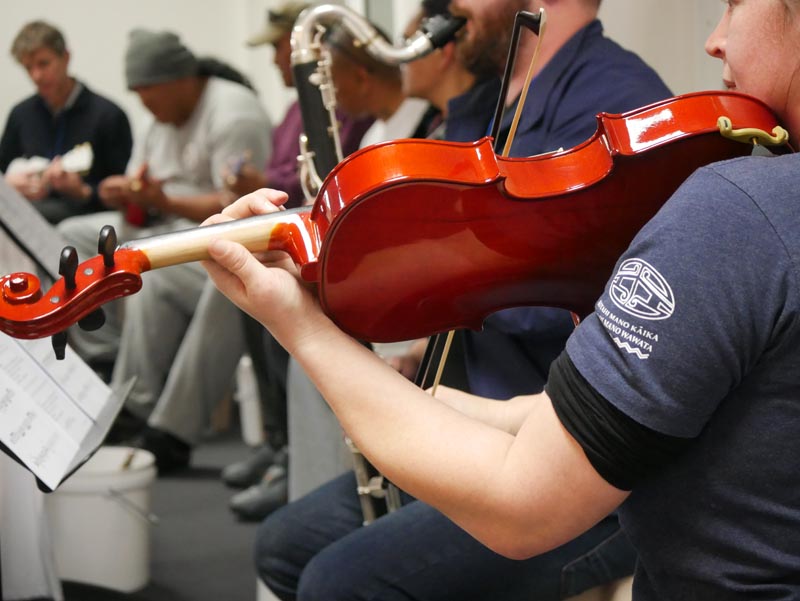 The performance was the culmination of an eight-week music project where the orchestra's musicians, in partnership with the Pathway Trust, worked with the men to teach and develop their musical instrument skills and express themselves creatively.
Making music with buckets, ukuleles, violins and clarinets offered the men a valuable set of skills to help them on their journey to reintegration, says Carey Ewing, Pathway Reintegration Manager.
Pathway Trust is a Canterbury-based not-for-profit, set up in 1997 to support people facing barriers to employment and needing accommodation assistance, as well as men being released from prison. Pathway is all about helping people make a fresh start.
In October 2018, Pathway Trust and the Department of Corrections established the Navigate Initiative. It's an intensive, pre-release programme for men who have completed their rehabilitation programmes, are close to their expected release date, and are on track for parole or release.
New Zealand's first community-run reintegration unit inside a prison
The Navigate Initiative has New Zealand's first community-run reintegration unit inside a prison. It offers workshops and opportunities on a range of topics from budgeting and employment preparation to music, creative writing, health and fitness, driver safety and parenting.
Pathway Trust works with community groups and volunteers to deliver the programme. "One of our guiding principles is to get our volunteers inside the wire so we can transition the men we're working with outside the wire," Carey explains.
"Ultimately, the Navigate Initiative develops the foundations for a more positive return to the community. By participating in the programme, the men will be better equipped on their release to seek employment opportunities, maintain a healthy lifestyle and build positive relationships.
"Prisons are about trying to change negative, anti-social behaviour. For me, as a social worker, it's important to replace that behaviour with something that has meaning and gives a sense of purpose to the individual.
"For some of the men, the arts and creative expression – music, writing, painting – fills a need, gives them purpose and the opportunity to learn new skills. That's why we value our collaboration with the Christchurch Symphony Orchestra."
Sharing pride and sense of accomplishment
Cathy Irons, a violinist with the Christchurch Symphony Orchestra and Project Leader of its Community Engagement Programme, says the orchestra first ran its music workshop at Christchurch Men's Prison in 2016.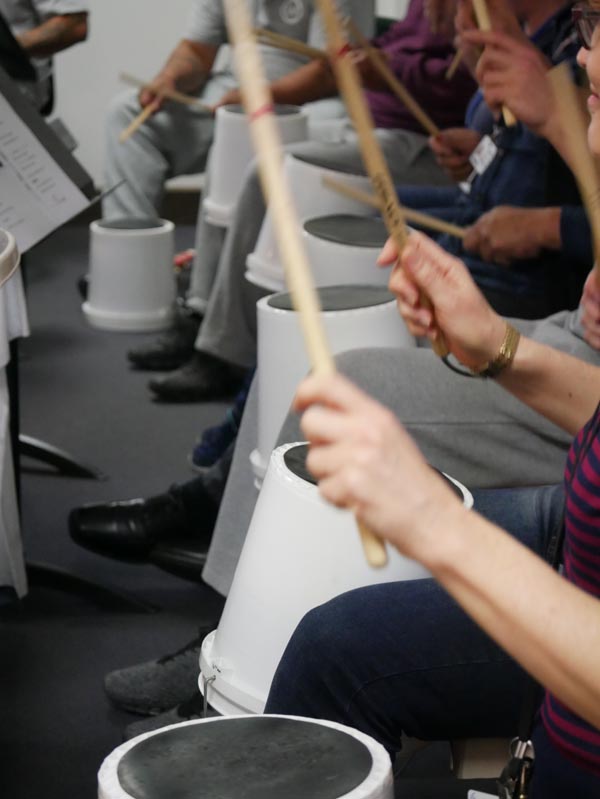 "Music connects people," she says. "When we play together, it's as if no barriers exist and we are all in it together. We perform not as individuals but as a group, and we share the pride and accomplishment in what we can achieve together."
Certificates were presented at the event, recognising the men's perseverance, their accomplishment of overcoming performance anxiety and commitment.
Deputy Prison Director, Pablo Godoy says the Navigate Initiative has strong elements of culture, connection and personal discovery.
"Through the CSO's project, in addition to learning some music skills and percussion and ukulele pieces, the men learn key competencies for lives within and especially beyond prison," he says.
"They develop skills to overcome fear of failure; to work in a group, communicate constructively and support their colleagues; to control their frustrations and concentrate; and to believe in themselves and trust others.
"They also learn more about each other through shared experience and ultimately feel the buzz of pride from taking a risk and achieving a quality performance."
At the event, two men presented original songs written for the programme. They talked about the stories behind their music and then performed the songs for the audience, supported by their peers and the CSO team.
Men in the Navigate Unit's art classes also presented original screen-printed tee-shirts and limestone sculptures and spoke of the personal journey and understanding that drove their creativity.
These projects were undertaken with the support of artist volunteers. Most pieces were being gifted to Pathway to auction in support of the Navigate Unit.