Article
Arts Access Aotearoa
Tim Bray QSM founded what became the Tim Bray Theatre Company in 1991 at the age of 27. Nearly 30 years on, it's currently staging its one-hundredth professional production, an adaptation of Joy Cowley's Greedy Cat.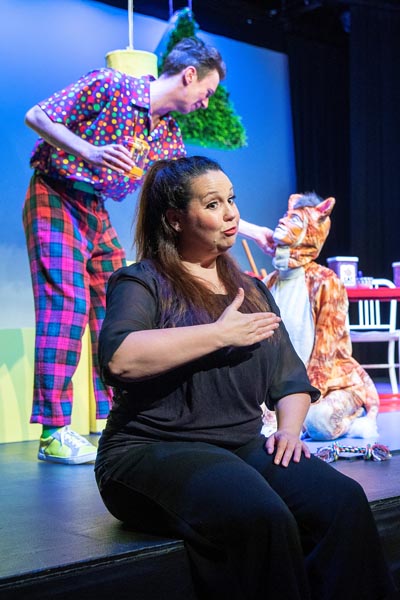 The company was the recipient of the Arts Access Creative New Zealand Arts For All Award at Te Putanga Toi Arts Access Awards 2020, held on 13 October. The company receives $4000, to be used on an accessibility initiative or programme.
The judges described Tim Bray Theatre Company as a pioneer in accessibility, providing NZSL interpreted theatre performances to children since 2004. "We applaud its long-term commitment to accessibility, the care and attention to detail in its work, its generosity in sharing its knowledge with others and, importantly, the fact it has an accessibility policy to drive its outstanding, pioneering work in making theatre more accessible to Deaf and disabled children and their families."
The company's Artistic Director, Tim says accessibility has always been the organisation's driving force. "This award means so much to our entire team because access is an everyday discussion with us. It's also an amazing acknowledgement of the suppliers and partners of our arts access programmes over the years."
The company has provided touch tours and audio described performances since 2015 and relaxed performances since 2019. At least two of its shows each season are audio described and at least two are NZSL-interpreted.
The NZSL-interpreted shows came about after Tim attended the Gay Games in Amsterdam in 1998. The opening ceremony was sign-interpreted, the first time Tim had seen sign language provided for a public event. The inclusion of Deaf and hard of hearing people struck a chord with him as it was not the case in New Zealand at the time.
Importance of providing accessible shows
All of the company understand the importance of providing shows that are accessible to disabled people.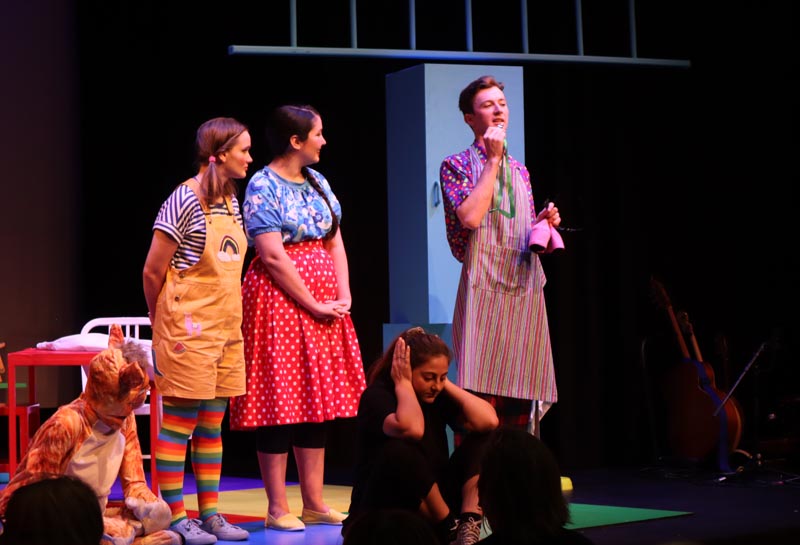 "We know what our shows and Youth Theatre activities mean to children and how many barriers there are to attending the arts," Tim says. "We've heard too from disabled adults who attend our accessible shows. They say they wish they had been able to have similar arts experiences as a child.
"Mary Schnackenberg from the Blind Citizens' Network supports our programmes in so many ways, and she loves the fact that blind and low-vision children are getting the chance that she never had to experience theatre and drama classes so that they become a natural part of their world."
The company's purpose is "to inspire children and young people of all backgrounds and abilities to be confident and creative through New Zealand theatre".
"We have all witnessed firsthand the incredible flourishing in self-confidence and inspiration from children and young people who have engaged with our arts access programmes," Tim says. "It's their individual journeys that continue to inspire us to do and offer more."
Highlights of 30 years of performances
Asked about three things they find most rewarding about the company's work, Tim and Business Development Manager Gail Rotherham list memories, imaginations and confidence.
Memories – that the children who witness the shows will remember them for a very long time to come. Tim still has vivid memories of the shows his parents took him to when he was young.
Imaginations – that in this digital world, storytelling and creativity in a live setting can still excite, move and entertain children.
Confidence – that the shows and Youth Theatre classes inspire children and young people to grow in confidence with their own voices, their own ideas and in their sense of self-identity.
Apart from receiving the Arts Access Creative New Zealand Arts For All Award, Tim says three highlights of "many" with the company are receiving a Queen's Service Medal in 2017 for services to children and theatre; hosting the Prince of Wales and Duchess of Cornwall for the Royal Performance of Hairy Maclary, as part of the Queen's Diamond Jubilee celebrations in November 2012; and any Gift A Seat™ performance and seeing "the magic of live theatre cast its spell on the young audiences".
Making show attendance more affordable
Its Gift A Seat™ programme has been in place informally since 2005. When the company put its ticket prices up, it noticed the cars in the theatre carpark were predominantly newer models.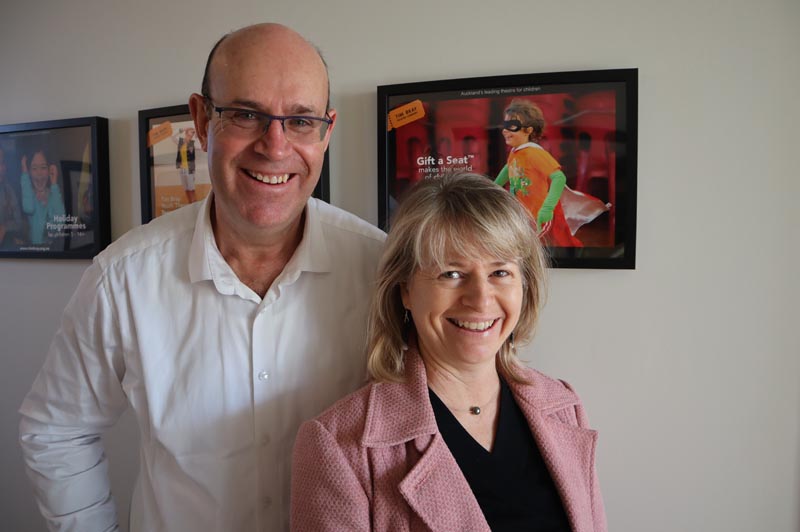 Realising the increased prices had become a barrier to people attending its shows, the company started offering free tickets to low-decile schools, and to families under the care of Make-A-Wish (NZ).
Providing free tickets was great for the children involved but not for the company's finances so it sought funding for the tickets. In 2016, it formalised the Gift a Seat™ programme.
Looking to the future, Tim says, "Next year is our 30th birthday – a remarkable achievement for a theatre company, let alone one dedicated to work for children. We are aiming to celebrate this with the establishment of an endowment fund that will assist us with long-term sustainability."
Tim and Gail both appreciate the community support the company enjoys. "Our community has been incredible recently. We were badly knocked by the first COVID-19 lockdown earlier this year and our audience rallied behind our Crisis Appeal and saved the day.
"We receive the most moving and glorious letters and emails from people saying how our arts access programmes really help their child and grandchild, and even themselves, engage with our shows. They say they're one of the highlights of their lives."