News
Arts Access Aotearoa
Carmen's story of hope and faith for Christchurch
10 November 2016
Carmen Brown's story is one of colours, fine detail, strength and hope. The Christchurch artist will showcase her artwork at the New Zealand Outsider Art Fair, which opens in Auckland on 17 November.
Carmen is one of the regular artists attending Ōtautahi Creative Spaces Trust's Room 5 studio at the Phillipstown Community Hub in Christchurch. "My artwork represents all of our community. It's good it will be seen in Auckland because they can see what Christchurch is like."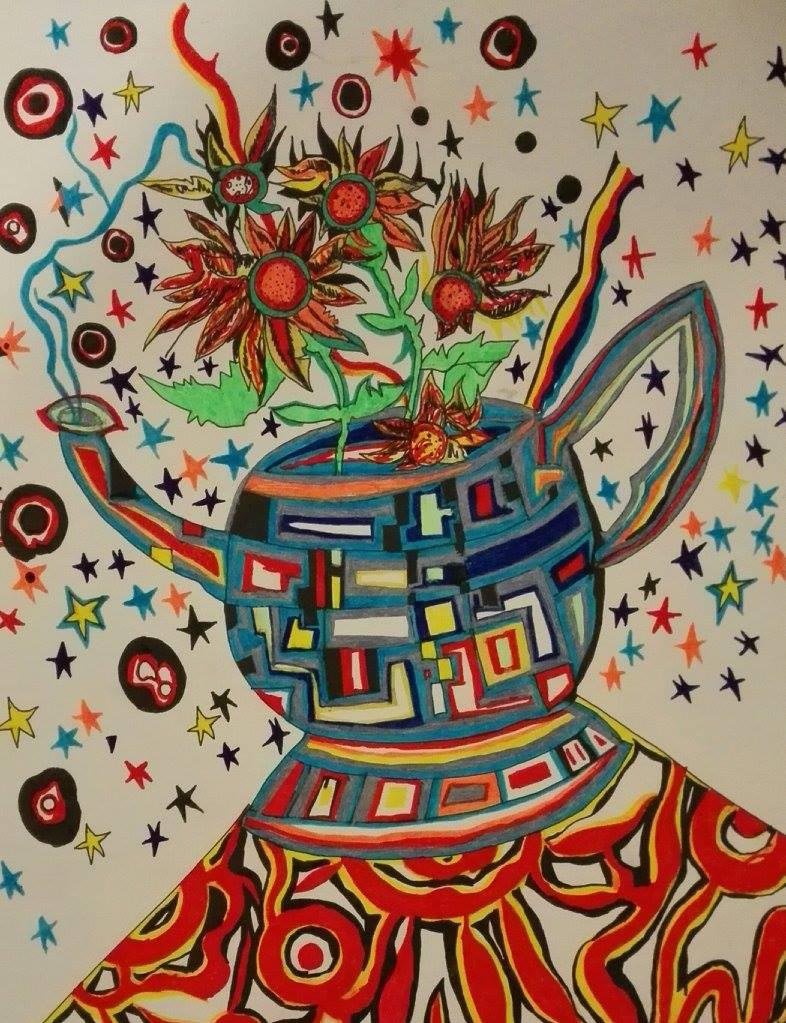 There are more than 40 exhibitions in pop-up retail spaces and galleries participating in the New Zealand Outsider Art Fair. It aims to promote and celebrate the work of self-taught artists and artists outside the mainstream art world. One of Carmen's works will by on display in Retro City in K Road and three works will feature in the Studio One Toi Tū exhibition called A Taste of New Zealand.
Carmen's artwork is a window to her memories and thoughts. She likes to work with pencils, pens, acrylics, watercolours and ink. Her drawing creates worlds with intricate details and shapes.
One of the recurrent subjects in Carmen's art is the Christchurch Cathedral and four of these works will be exhibited at the Outsider Art Fair. The building is re-imagined in different scenarios: for example, one work features the All Blacks and the Crusaders.
"The cathedral represents Christchurch. It is part of who we are. That's how I see it," she explains.
Carmen chooses to draw her memories of the Christchurch Cathedral before the earthquakes in an attempt to keep its spirit alive.
Difficult times
Like everyone in Christchurch, she went through a difficult time after the earthquakes, when she was left homeless and without a local arts centre.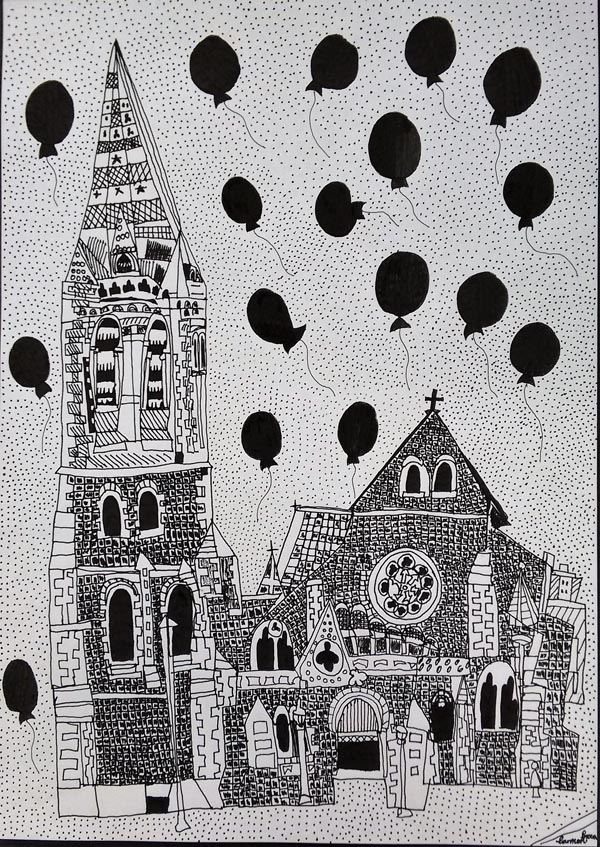 One of her artworks shows the cathedral with balloons. "It's about all the people who survived the earthquake. It's a happy time with the cathedral. The balloons represent the people who have died and have gone to heaven but it's also representing the people that survived."
Carmen says it was a traumatic time for everyone. "People were frightened and scared but people survived. And the earthquake brought people together. People helped each other."
She sees her artwork as a story of hope and faith for her community. "Christchurch people will get back to being happier."
Carmen was diagnosed with schizophrenia when she was young. Living with mental ill health has not been easy but Carmen found release and joy through art and the strength of her own spirit.
"I'm a survivor. Nothing can keep me down. I get back up."
Carmen's art journey began soon after she started primary school. It was the first time she had used crayons and pastels. "The teacher asked me, 'What would you like to be when you are older?', and I said, 'An artist'."
Lollies for drawings
Her grandmother encouraged her to draw as well. "When I was ten, nana was in hospital and she would give me a bag of lollies and a dollar for every drawing I did for her," she says.
"Art comes from my heart. It's helped me get through some difficult times. I've had quite a hard life but I just keep on going each day."
Carmen enjoys working at Room 5, which provides her with a place that's "safe, friendly and peaceful".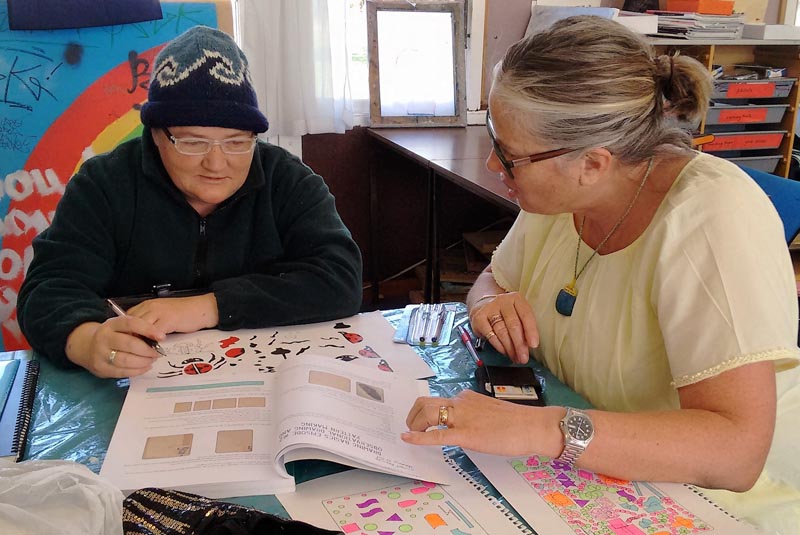 This year, she was awarded a scholarship from The Learning Connexion to study for a certificate in arts and creativity. Rachel Astbury, Distance Delivery Mentor at The Learning Connexion, says it's great to see Carmen expanding her creative practice.
"Carmen enjoys being challenged to explore new ways of working and is developing her technical skills to complement her very strong intuitive practice," Rachel says. "She has an excellent eye for colour and pattern and a strong vision for her work."
Looking ahead, she hopes to have some more exhibitions, especially ones celebrating the Christchurch Cathedral.
"I'm going to do some more painting soon. I like painting slowly so I can do a really good job," Carmen says, adding that she would also like to explore more printmaking techniques in the future.
"I just like doing art. It is part of me."