Chris Barrand: art a way back into the community
20 October 2011
Connecting people with art and with the community. It's a recurring subject in a conversation with Chris Barrand about his life as an artist, and art tutor at Pablos Art Studios in Wellington and Rimutaka Prison in Upper Hutt.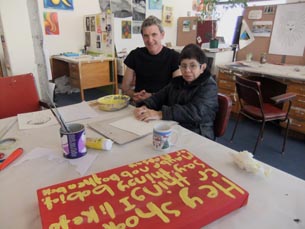 Chris spends three days a week at Pablos Art Studios, a creative space in Wellington that provides art making, professional development and exhibition opportunities for people with experience of mental ill-health.
He also takes three two-hour classes at Rimutaka Prison over one day and then spends two days a week on his own art practice.
"My passion is connecting people to their art and working alongside them but to be an art tutor, you need to have a live art practice," he says. "It's a good balance."
It's a balance he's been maintaining since 2005 when he first started tutoring at Rimutaka Prison. In that time, he says, only once has he driven back to Wellington thinking that he had just had a negative experience.
Willingness to engage
"What always strikes me about the men is their honesty and willingness to engage with art making and with the group," he says. "They are very respectful of the space and of each other's achievements.
"Nevertheless, at all times I need to be aware of why I'm there and how I connect the men with their art."
The size of the classes vary but generally, there are between eight and 12 artists in each class. They are all connected with what they're doing, Chris says.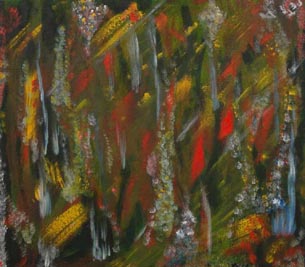 "Over time, we build up a wonderful environment and there's some great feedback in the critique sessions. Critiquing work isn't an easy thing to do and I monitor when it's an appropriate time for it to happen.
"As an art tutor in prison, I need to be flexible and able to respond to what's actually happening in the class. There are times when my energy has to be big but at other times, I can be small and take a back seat. Knowing when I can do that is a skill I've developed working in creative spaces."
Chris has a long association with creative spaces, a term used in New Zealand to describe places where people in the community can go and make art.
As a child growing up in England, he would accompany his mother, who worked as a volunteer with intellectually disabled adults. Then, after he graduated with a BA degree in 3D design from Kingston University in London, he started volunteering at a social education centre.
"Essentially, it was a centre for adults with intellectual impairment and it covered the whole spectrum of activities. I was drawn into the space that provided art activities and I realised what fantastic energy there was."
A bridge for people to connect
For three years, he was employed to run the art space and then in 1999, he came to Wellington to live. A role as the co-ordinator of Petone Arthouse consolidated his experience and he saw how creative spaces provided a bridge for people to connect with the wider community.
In 2005, Chris started working at Pablos Art Studios as an art tutor. When he was invited to teach art at Rimutaka Prison, he says his background working in creative spaces gave him the confidence to take up the challenge.
Asked to name the single-most benefit to prisoners participating in his art classes, Chris says: "Self-esteem. It's a bridge that leads on to more positive outcomes."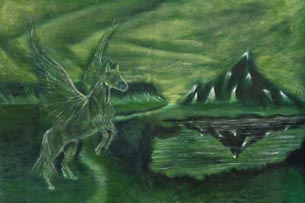 Other skills the men develop include problem solving; learning to communicate openly and honestly; working as both an individual and within a group; developing flexible thinking; and learning to begin and then complete an artwork.
"For a lot of the guys, the normal education channels haven't worked," Chris says. "My classes provide a different learning environment, which is still challenging and where the men are able to take on mentoring roles within the group."
Chris believes there should always be opportunities for the artists to give feedback on the format of the classes. "It's part of them feeling empowered and responsible for what they do and how they do it."