News
Arts Access Aotearoa
Auckland creative space Circability will host Aotearoa's first Youth Circus Festival in early May and hopes it will become an annual event.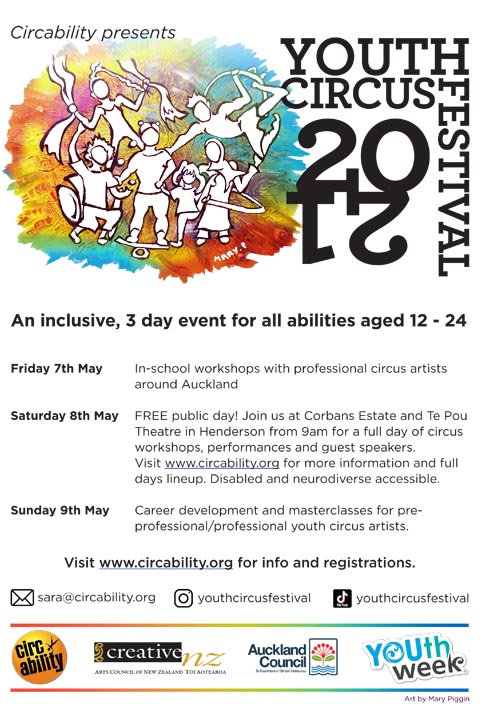 The festival is aimed at young people aged 12 to 24 years and will be held during Youth Week 2021, which runs from 8 to 16 May. It will be held at Corban Estate Arts Centre and Te Pou Theatre in Henderson from 7 to 9 May.
Circability is expecting between 300 and 500 young people over the weekend. Sara Kidston, Youth Circus Festival's production manager, says the festival is all about promoting inclusion and community.
"By welcoming all levels and abilities, our focus is on empowering and building a strong youth circus whānau. We want every individual to be encouraged, built up and to feel part of a community where it's safe to express themselves through this wonderful artform and sport.
"By engaging with a variety of sectors, organisations and communities, this festival promotes togetherness. We want to encourage the sharing of knowledge and skills, focusing on accessibility in the circus arts sector so that everyone has the chance to participate and feel welcomed."
What's on during festival
On 7 May, circus professionals will lead workshops for secondary school students and youth groups from around Auckland.
On 8 May, there will be a public access day from 9am to 6pm for youth to learn circus skills. This is for all skill and ability levels, is wheelchair accessible, has some classes specifically for disabled people, a quiet space for anyone who needs time out, and a diverse group of teachers who cater to all abilities.
Circability anticipates that about 200 disabled youth will attend this day.
You can register for the day on the Youth Circus Festival registrations page of Circability's website. Spaces are limited.
That evening, a showcase entitled We're Stronger Together will feature some of Aotearoa's up and coming youth performers, alongside guest speaker Rosita Hendry, a well-known circus performer. Tickets are free but numbers are limited to 100.
The showcase title We're Stronger Together is also the theme for Youth Week 2021, organised by Ara Taiohi and celebrating the talents, passion and success of young people across the country.
On 9 May, Rosita Hendry will lead career-development workshops for youth wanting a career in circus work. More information about these workshops and registration forms can be found on the Youth Circus Festival page of Circability's website.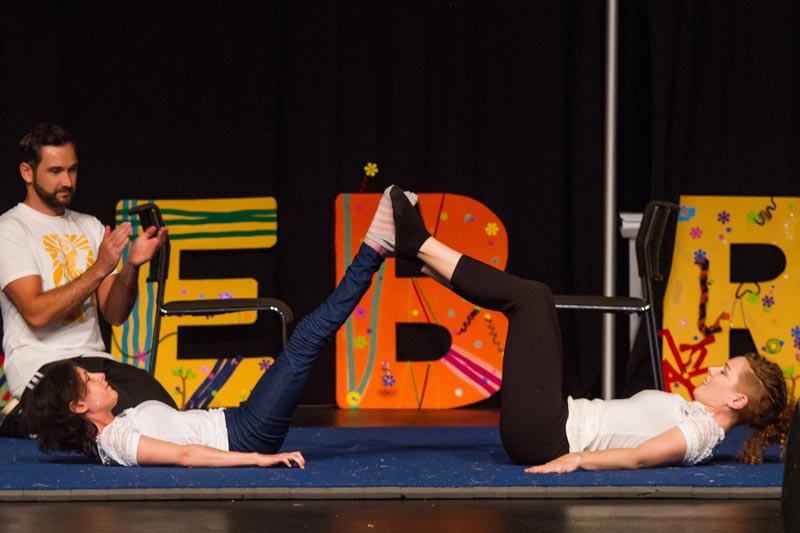 Sara Kidston encourages anyone thinking of attending to "come along, check out what we're doing, join a few workshops and support our youth show on the Saturday. We are so very proud of this event and what it has to offer to young people and our sector in particular."
Delay allows for more impact
Circability was set to host the Youth Circus Festival last year, supported by a $35,763 grant from Creative New Zealand but COVID-19 intervened.
"We were fortunate that all of our funders and sponsors were happy for us to postpone this event to 2021, which we feel has given us more time to make the event as impactful and sustainable as possible.
"A massive thank you to Creative New Zealand, Auckland Council, Ara Taiohi and all of the creative individuals involved in the making of this event."
Circability celebrates difference by providing circus art classes, community events, and workshops for all ages and abilities across Auckland and Northland. It uses circus to develop personal confidence and physical literacy, connect people and share joy.