News
Arts Access Aotearoa
Coffee and art, the perfect partners
28 March 2017
Coffee and art go hand-in-hand at Circa Café in the Christchurch suburb of St Albans, where regular exhibitions feature work by artists from The White Room creative space.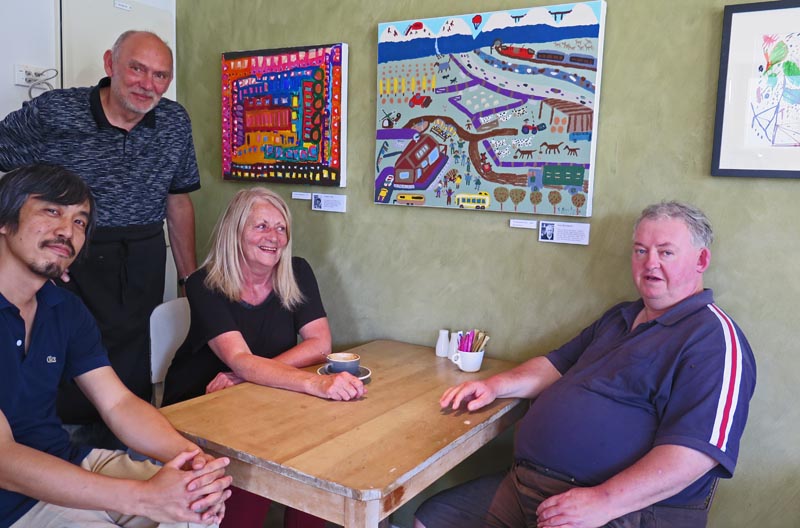 The exhibitions are the result of a "fantastic partnership" with Circa Café, says The White Room co-ordinator Bev Lowen. Since the partnership was formed in 2015, 11 artworks have been sold.
Shingo Enari, the owner of Circa Café, isn't looking for publicity or pats on the back. "I've been living in Christchurch since 2003. New Zealand has accepted me and this is my response – doing something for New Zealand artists.
"I like different. I'm Japanese and my business partner is Serbian. We're different but I have learned to just be myself. I don't want to be cool. I want something original and this art really suits my café. It's honest and matches my philosophy."
Making art accessible
Bev Lowen responds. "That's why the partnership is so good. You're part of making art accessible."
For Shingo, it's important that the exhibitions are well-curated, look good and change every couple of months. White Room co-ordinator Niki Jimenez, who made the initial contact with Shingo and his partner, plays a pivotal role in framing and preparing the artworks for display.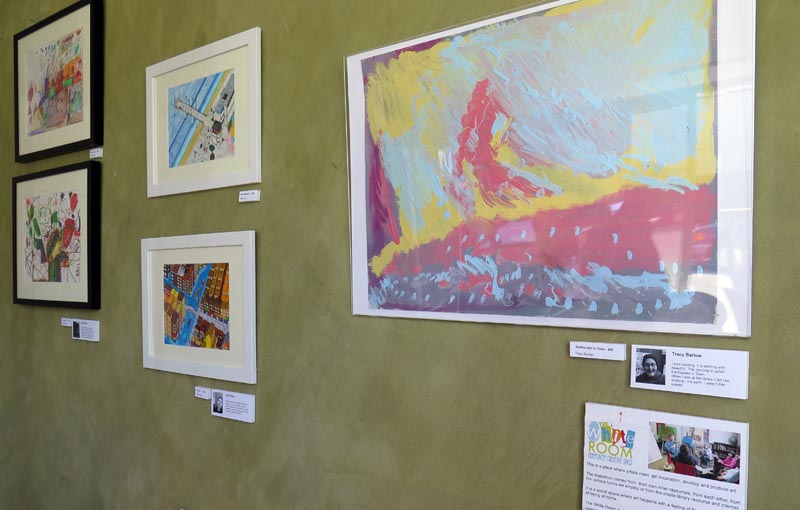 Shingo says the exhibitions prompt questions and conversations among his customers. He tells artist Gary Buchanan that people have been making positive comments about his work, The Springston Farm, one of ten paintings hanging in the current exhibition.
Gary, who has already sold two works at previous White Room exhibitions at Circa Café, says his latest work recalls memories of farms he used to visit when he was a school boy.
"It has everything. You can see the Alpine Railway passing through. There's also the mountains, cows, a helicopter, a combine harvester and hay bailer, farm animals, a barn and a busload of tourists."
Pride in his work
Gary says he feels proud to have his work on the walls of the café. "My work has sold well and that makes me feel very happy."
The White Room provides five supported art sessions over four days every week with around ten artists in each session. It was set up in 2013 by SkillWise, a support service for people with intellectual disability. It is based in the Christchurch suburb of Wainoni.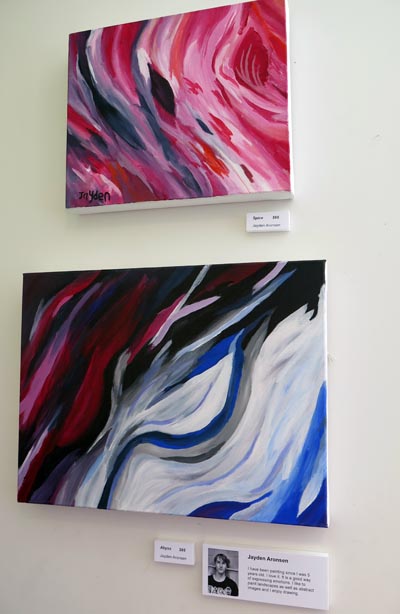 When there are no supported art sessions, The White Room is available for people in the community to come and use its facilities and materials. Teenager Jayden, for example, likes to use the space to paint or do research on the computer.
Before the 2011 earthquake, Bev explains, SkillWise was in the city centre. "It took us a long time to re-establish ourselves after the earthquake and it has driven us to really think about what people want and giving them choice. SkillWise is increasingly out in the community and beyond the four walls."
Gary attends on Mondays. "I've always been keen on art and did it at school. I look forward to coming to The White Room every week and making different works about Christchurch, or about something I see or hear."
In fact, Gary's next project is a painting of the Sydney Harbour Bridge with ferries, the Opera House the harbour and a lot of fireworks.
Jayden's work, Abyss, is in the current Circa Café exhibition. "I have been painting since I was five. I love it. It's a good way of expressing emotions. I like to paint lqndscapes, as well as abstract images. I also enjoy drawing."
The White Room also has a partnership with a Bishopdale café, Reality Bites, which displays and sells art by The White Room artists.