Article
Arts Access Aotearoa
An American college student and a man in Northland Region Corrections Facility realised they shared the same value in an interactive exercise where participants were asked to choose words that those closest to them would use to describe their personalities.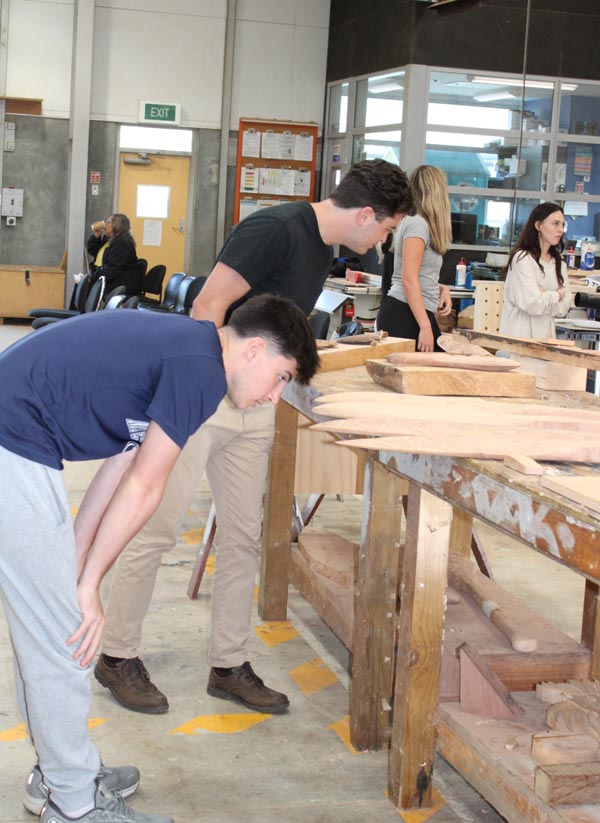 Both the student and the tāne chose "thoughtful" as their word. And so they sat next to each other to demonstrate that shared value.
In May this year, 14 Penn State University students and their lecturer visited NRCF, where they met tāne participating in the whakairo/carving workshop and art programme.
Sitting together may seem like a small thing but it's a huge step in terms of the wellbeing of both individuals. Having closed the gap of more than 15,000 kilometres to be in the same room, both participants bonded over their shared mindset.
Penn State University is in Collegetown, Pennsylvania, on the northeast coast of the United States. The students were on a ten-day study trip to New Zealand, plus central and northern Australia. Their faculty leader, Dr Angela Rothrock, previously came to NRCF in 2019 before COVID-19 happened.
The manuhiri/visitors are part of an indigenous cultural studies and visual arts study abroad programme. Beth Hill, Redemption Arts tutor, and Ngāti Rangi representatives were on hand to accompany the group.
Welcomed with a moving whakatau
These tangata whenua/people of the land, including Instructor Alfred Burling and Lead Pou Arahi Te Kopa Kingi (Matua/Elder "T. K.") Te Rangaihi, plus NRCF tāne, welcomed the students with a moving whakatau/ceremony.
The tāne then spoke to the students about their experiences of being part of an artistic kaupapa within a Māori-majority prison.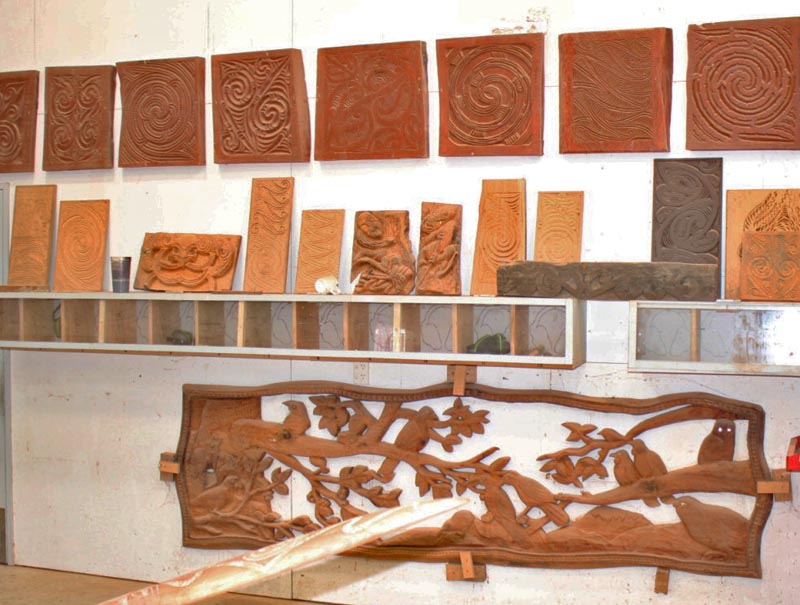 A major theme for the afternoon exchange was the importance of cultural influences and education, which can "inspire and motivate change", Beth says.
Plenty of time was available for questions between the tāne and the students, who wanted to know everything from how the tāne felt about the blockbuster movie, Moana, to how long they had been carving or performing or writing or painting and r making art.
When a university student asked what time in the whare whaikairo meant to ngā tāne, Matua T. K. answered: "Absolutely everything. And you are part of the guys' healing because art equals healing and connecting to nature through the wood. This is a calm place, good for time-outs: I say to the men, 'you can use these sessions for your self-care and reconnecting with who you are'.
"When we join clinical support with cultural support, that's where we see change in the men. They replace old core beliefs with new, better ones."
"Reciprocal learning experience"
Beth agrees that the strength of such an exchange is a "reciprocal learning experience".
In the arts workshop, the students saw masks the tāne had made. The outside showed how they thought the public perceived them and the inside showed their own self-image. Then together, both groups built crowd-sourced poems, using the values mentioned earlier.
At the end of their visit, each group thanked the other for "sharing their space and sharing their time". Special thanks went to the NRCF frontline staff for helping with the event and to Alexander Milne, Principal Instructor, for providing wonderful kōrero and waiata on behalf of the visitors.
The poems that ngā tāne and the students wrote together will feature in their NRCF arts graduation ceremony, and will be sent to the students as a reminder of their trip.
The two groups may not meet again in person but all the participants are now connected through the art they have created, together.