Media Release
Arts Access Aotearoa
MEDIA RELEASE: Creative Spaces Capsule Project
Creative spaces capsule returns to Invercargill
7 April 2017
An exhibition that travelled from Invercargill to Auckland, collecting artworks from community-based creative spaces along the way, returns to the southern city for its final showing from 21 April to 19 May as part of the Southland Arts Festival.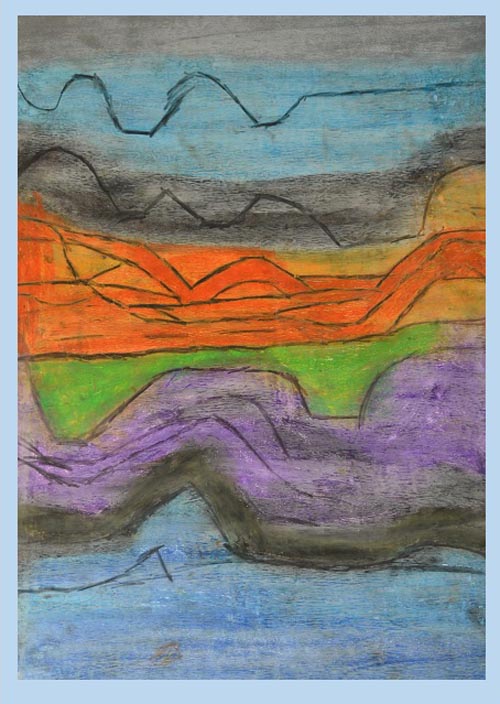 The Creative Spaces Capsule Project was launched by C.S. Arts in Invercargill in July 2016 with one work: Sea, Mountains, Sky, Land by Lee Harland. This work, and 14 others from creative spaces around the country, will feature in the exhibition opening at 5.30pm Friday 21 April in the Raw Gallery, SIT Downtown Campus in Invercargill.
Michelle Dawson, art tutor at C.S. Arts, says it's been an "honour" to be asked to launch and close the project.
"There are a lot of innovative, creative things happening in Southland," Michelle says. "It's great to have been a part of this project, which has connected people and creative spaces at a national level. It's an example of what can be achieved when people collaborate."
Invercargill artist Lee Harland attends C.S. Art. His work regularly features landscapes, seascapes and buildings.
"He also loves music, and his work frequently includes his favourite bands and musicians," Michelle says.
A conversation between two art tutors at Creative Spaces 2020, a national conference organised by Arts Access Aotearoa in May 2016, sparked an idea that developed into the Creative Spaces Capsule Project.
Exhibition "cosmonauts"
Benton Glassey, art tutor at Studio2/Margaret Freeman Gallery in Dunedin, and Menno Huibers, art tutor at Pablos Art Studios in Wellington, are the exhibition "cosmonauts".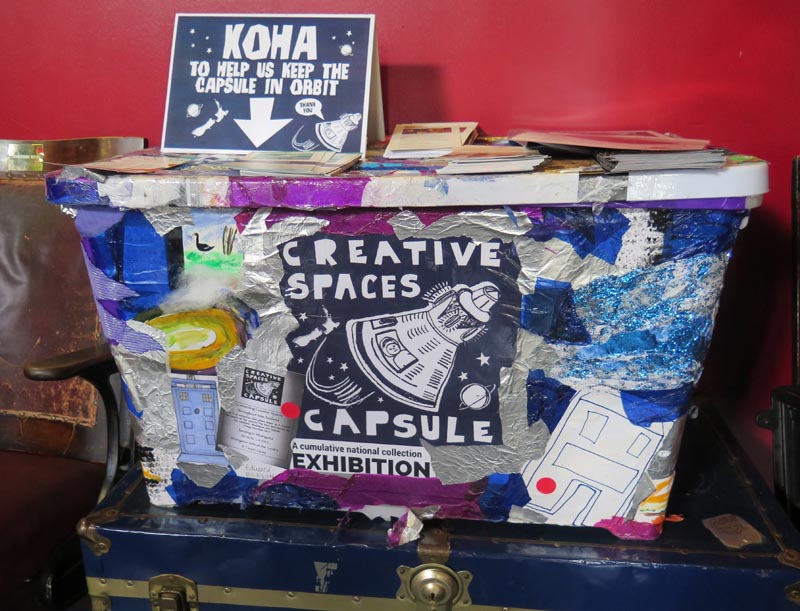 After the Invercargill launch, the exhibition travelled to Dunedin, Wellington, Hutt City, Paraparaumu, Masterton, Wanganui and Rotorua, before landing in Auckland in December. All 15 works have been exhibited in Auckland, Wellington and Dunedin.
Richard Benge, Executive Director, Arts Access Aotearoa remembers how the initiative started.
"It's been great to see how a creative conversation between two art tutors at the conference was developed into this innovative exhibition. And now, it's appropriate that the project will come to an end in Invercargill, where the journey began."
The Creative Spaces Capsule Project opens at 5.30pm Friday 21 April at the Raw Gallery, SIT Downtown Campus, Don St, Invercargill. The gallery is open 9am to 5pm Monday to Friday. Thanks to Kathryn McCully, Programme Manager Visual Art, Film & Animation, SIT, for her support of this project.
For more information, please contact:
Michelle Dawson, C.S. Art, Invercargill
Cellphone: 027 465 7337
Note:
Creative spaces are organisations where people are supported to make art and participate in artistic activities. Artists may have a disability, lived experience of mental ill health or may need a boost to improve their health and wellbeing through art. Creative spaces provide space, resources and assistance in ways that will lead to self-expression, empowerment and self-development.