Creative Spaces Mentor Programme
Arts Access Aotearoa's Creative Spaces Mentor Programme aims to help build the capacity and sustainability of the creative spaces sector in New Zealand. A pilot mentoring project was developed in 2013. Based on the success of this pilot, Arts Access Aotearoa offered mentoring programmes in 2014/2015 and 2015/2016.

"Challenge yourself and trust the process"
11 July 2016
"Stay open, be prepared to challenge yourself and trust the process even when it feels uncomfortable. Above all, be curious," says one of the mentees who recently completed Arts Access Aotearoa's one-year Creative Spaces Mentor Programme over 2015/2016.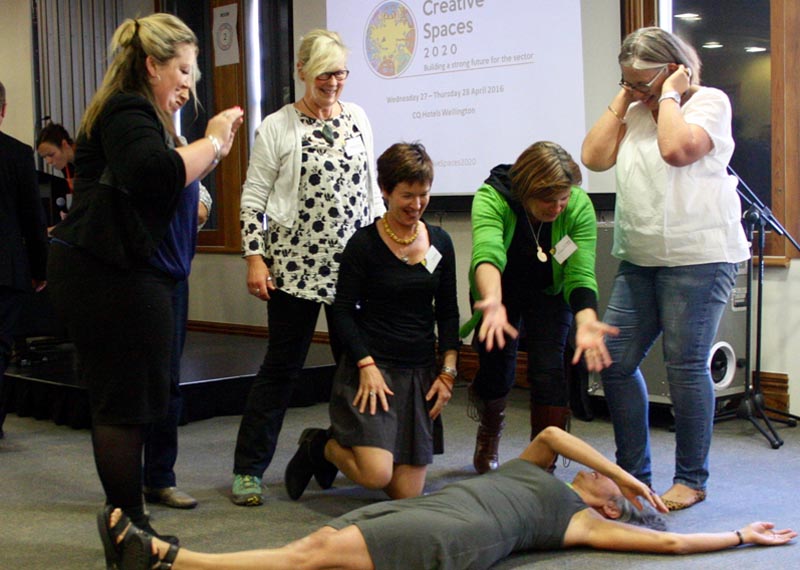 Alexia Martin, community art worker at Otautahi Creative Spaces in Christchurch, was mentored by Lyn Cotton, Artistic Director of Jolt Dance in Christchurch.
Theirs was one of five mentoring relationships participating in the 2015/2016 Creative Spaces Mentor Programme
Claire Noble, Community Development Co-ordinator, Arts Access Aotearoa, manages the programme. She hopes it will run again in 2016/2017 but says that in the meantime, Arts Access Aotearoa will continue building a pool of mentors for creative space staff seeking a mentor.
The two six-monthly reviews via group Skype and the final evaluation provided an opportunity to share ideas about their experience, what they had learned, and the highlights of the mentor-mentee relationship and its impact on their creative space..
"I think it works best when mentees come to the relationship with some clear goals about what they want to achieve over the year - even if those goals evolve," Claire says. Read more
Contact Claire Noble (E: claire.noble@artsaccess,org.nz T: 04 802 4349) if you would like to be a mentor on the Creative Spaces Mentor Programme, or if you know of someone whom you think would be a good mentor.
An interview: Don Hunter, mentor, and Rohana Weaver, mentee, 2014/2015
Dunedin artist and director Don Hunter mentored Rohana Weaver, Community Support Worker and tutor at Alpha Art Studio in Wellington throughout the 2014/2015 Creative Space Mentor Programme. Read more
Interviews: Bridget Donohue, mentee, and Maggie Gresson, mentor, 2014/2015