News
Arts Access Aotearoa
Tim Bray Theatre Company in Auckland is collaborating with Ko Taku Reo Deaf Education so that students can create their own performance inspired from within Deaf culture.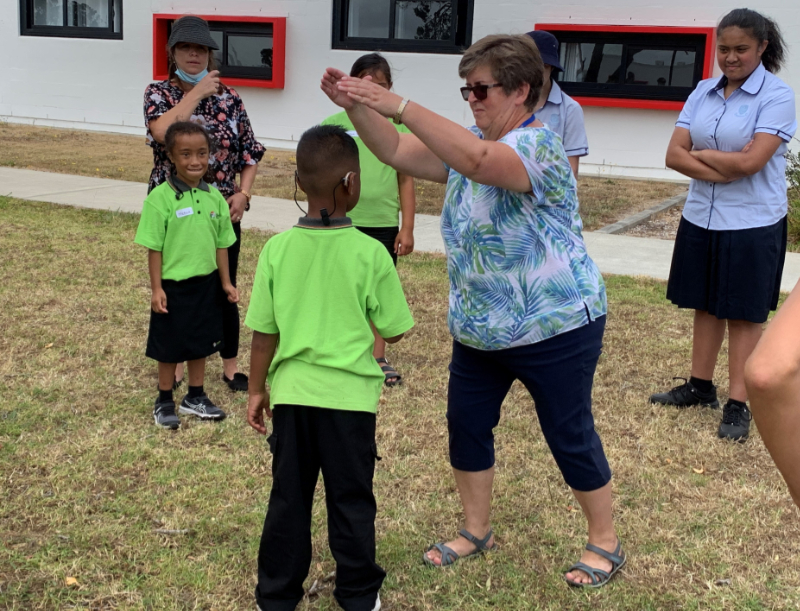 Professionals from Tim Bray Youth Theatre, including director Robert Mignault and assistant director Victoria Abbott, are working alongside teachers from Ko Taku Reo. Together, they are teaching the students skills enabling them to perform and produce their own productions.
The funding for this project was provided by Creatives in Schools, a wellbeing programme by the Ministry of Education, in partnership with Manatū Taonga Ministry for Culture and Heritage, and Creative New Zealand. The $10,000 grant allows for 100 hours of contact time.
Eighteen Deaf students are taking part in the project. They range in ages from Year Three to Year 11, plus Tu Kokiri students transitioning out of secondary school. As well as devising and staging the show, the senior students will develop their leadership and mentoring skills by working alongside the younger students in a tuakana–teina style relationship.
Other goals are to teach students dramatic skills and techniques using New Zealand Sign Language so they can produce a performance from their own culturally Deaf perspective, and for the students to experience what their culture can look like when it's showcased on stage.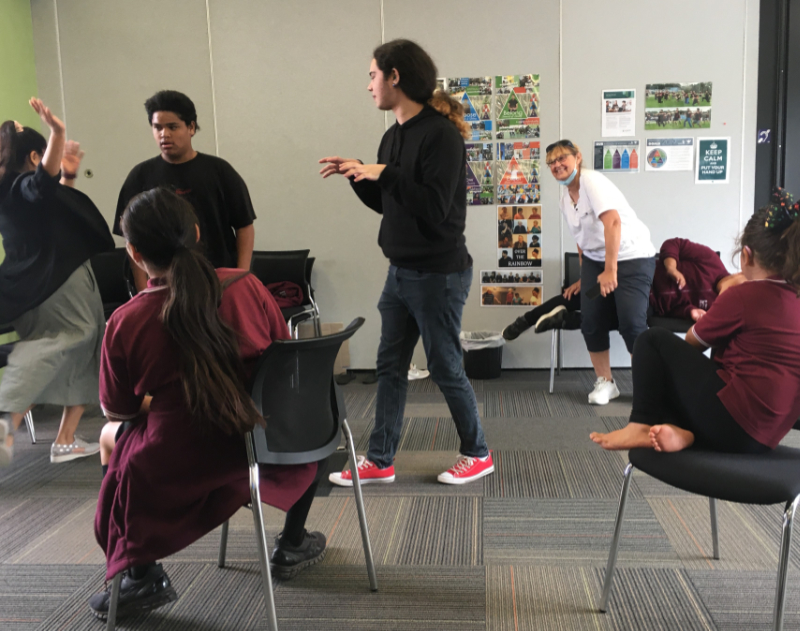 The project began with a workshop for interested students, teachers, and interpreters on 3 February. Four weeks into the term, it was paused because of COVID-19 and will resume in term two.
However, enthusiastic Tu Kokiri students have taken the initiative and are continuing to meet once a week with some of the younger students to work on the drama exercises they have been taught.
Performances scheduled for Term One at Ormiston Senior College have been postponed to the end of Term Two, but Tim Bray Youth Theatre Outreach Manager Madeleine Lynch says the focus of the project is on "the journey the participants are making through the 11 weeks rather than the performances at the end".
From audience members to performers
Tim Bray, founder and Artistic Director of Tim Bray Theatre Company, is excited about the potential of the project. "Since 2004, students from Ko Taku Reo have been attending our NZSL interpreted performances for free, thanks to our Gift a Seat™ programme.
"Now it's their turn to take to the stage, and devise and perform their own show in their own language with their own stories. When we were researching for the project, we couldn't find anything else like it." 
Tim Bray Theatre Company was the first performing arts company to offer NZSL interpreted performances in New Zealand. This work resulted in the company receiving the Arts Access Creative New Zealand Arts for All Award at Te Putanga Toi Arts Access Awards 2020.
Ko Taku Reo is New Zealand's provider of education services for Deaf and hard of hearing children. It is a tri-lingual, tri-cultural organisation, with both Deaf and hearing staff, and the three languages (NZSL, Māori and English) and cultures used.
Importance of te ao Māori and te reo Māori
The organisation says it also reflects the importance of te ao Māori and te reo Māori by being culturally responsive and respecting the preferred learning styles and needs of their students.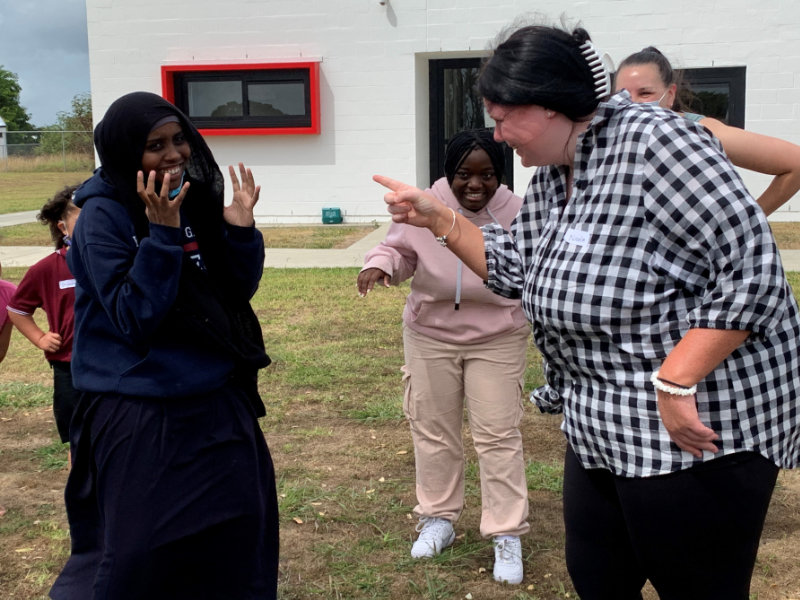 Ko Taku Reo teacher Kaori Kobayashi says that Deaf people face barriers to enjoying theatre experiences because they cannot access the lines spoken by the actors or follow the storyline.
Kaori says there are very few opportunities for Ko Taku Reo's students to see their Deaf culture onstage, and even fewer examples of Deaf artists working in theatre for them to emulate.
"Tim Bray Theatre Company's history of providing an NZSL interpreter for the performances gives our students full access to a theatrical experience, including the storyline.
"Our students thoroughly enjoy their shows. They boost the students' confidence to talk about their experiences, which leads to improved language skills.
"These opportunities also help our students broaden their horizons: since attending the shows some of the students have said they would like to be on stage themselves."