News
Arts Access Aotearoa
Drama performance will benefit prisoner rehabilitation
25 July 2016
Award-winning actor Rob Mokaraka, who won "Best performance of the year" at the 2015 Wellington Theatre Awards in Witi Ihimaera's play All Our Sons, recently used drama to tell his story to up to 30 prisoners in Rimutaka Prison.
Rob performed Shot Bro, which details his personal battle with depression and a traumatic experience that happened in 2009.
The unit's Principal Psychologist Dr Justine Croxen says the content of the performance was considered relevant to the objectives of the Special Treatment Unit's Rehabilitative Programme (STURP).
"In particular, the men are learning how to process and express their emotions in a positive way, even in challenging and unfamiliar situations," Justine says. "Having a recognition that their own emotional difficulties are shared by a broader section of the community and that such difficulties can be ameliorated with support is a message we want the men to hear.
"Seeing Rob's performance and hearing what took him to his darkest day resonated with the men. It's about positive role-modelling and they were encouraged to share their experiences."
Relating to the story
John* reflected on Rob's performance. "I can relate a lot to what he was going through, his depression and being controlled by voices. I sometimes feel I'm struggling with that right now but it encourages me to see someone doing so well after going through such hardships. It made me realise it is not impossible; that if he could do it from a place like that then maybe it is worth it."
Another prisoner, Mark* said the performance was good "because it reflected some of the issues we deal with in here. It was similar to being in group and learning from him about how he managed to get through his problems."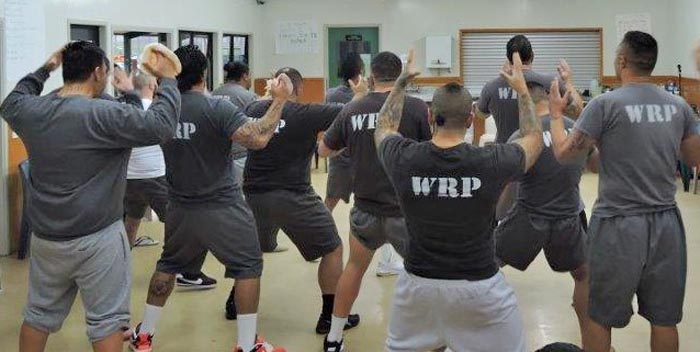 The performance is part of an eclectic approach by the Special Treatment Unit, running parallel to formal models of therapy, aimed at providing the men with different avenues of encouragement to get in touch with their own experiences and how this contributes to their behaviour.
In preparation for Rob Mokaraka's visit to the unit, the participants developed and rehearsed their own reciprocal performance to show their appreciation for Rob's willingness to share his time and experiences.
Māori Language Week
The performance took place during Māori Language Week, which also had additional meaning for the men as the theme of Te Wiki o te reo Maori Week was "akina to reo" (give te reo Maori a go!).
"This year's theme was about using te reo Maori to support people, to inspire and cheer them on," says Erika Te Hiwi, Programme Facilitator, one of the organisers of the week-long activities in the unit.
"Unit activities, including a Māori cultural quiz, traditional Māori games and Rob's performance contributed to a sense of community within the unit, an aim that we believe fosters therapeutic change."
*not their real names
The Te Whare Manaakitanga Special Treatment Unit runs a treatment programme that contributes significantly to the reduction of re-offending by participants. The treatment programme assists men to build insight into their patterns of violent and anti-social behaviour, and to develop psychological skills that will help with their rehabilitation and reintegration into the community.
This story was written by the Department of Corrections and is also published on its website.