News
Arts Access Aotearoa
Duets celebrate diversity and dance
13 March 2019
By Kezia Barnett
I'mPaired, a production of integrated theatre and dance duets devised and performed by integrated dance company Touch Compass, will premiere from 21 to 23 March at Takapuna's PumpHouse Theatre in Auckland.
I'mPaired uses dance, theatre, visual arts and technology to flip the perception of impairment on its head and celebrate our diverse society. Touch Compass General Manager Charlotte Nightingale says the diversity of the works is remarkable.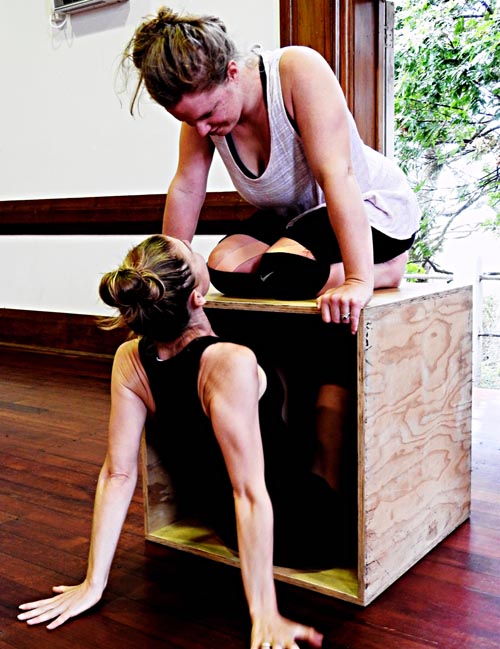 "What is wonderful about our dancers and performers is that many of them move in ways that are unique to them and so in their everyday lives they are always using their creative thought – to access areas of our city, for example.
"They often think totally out of the box because they have to on a daily basis and this makes for works that continually pushes the envelope. The work itself is diverse, authentic, uses a variety of mediums, and really resonates with our audiences. It shows what's possible in a world that often disables us."
I'mPaired is part of Touch Compass' first indoor theatre season in five years since developing its outdoor events and short films. Charlotte says Touch Compass wanted to do something new.
"For Touch Compass, as we are now 21, we wanted to acknowledge and celebrate what we have achieved and make way for a new grown-up Touch Compass with a broader outlook in performing arts but one that's retained our core values of diversity and dance."
The programme includes Clasp!, which will be performed by Alisha McLennan Marler and Julie Van Rennen, and directed by Catherine Chappell. Alisha co-created and performed this work in 2015 with Georgie Goater, inspired by an excerpt from Watching Windows.
Clasp! plays with ideas of containment and freedom, the boundaries of balance, and using each other to expand into spaces beyond the surfaces of the box.
"Revisiting Clasp! is interesting because I'm working with a different body, so I'm negotiating how this subtly alters the piece," Alisha says,
Alisha first performed with Touch Compass in 1999 before joining the company in 2002. She has performed in many works since then and returned to the company in 2010 after her studies in Christchurch. Along with dancing, she has become a dance tutor and is now a certified DanceAbility teacher. More recently she has taken on administrative roles in the company, including project managing I'mPaired.
Drifting in and out of contact
The show will also include the first screening of Drift, a work choreographed by Sarah Foster Sproull and performed with Julie Van Rennen and Rodney Bell. In neither the past nor the future, two friends dance a strange tango together. They drift in and out of contact with each other and throw down playful challenges of speed, dynamic, and gestural communication. As the dance partners drift in and out of contact, we are invited to consider how we touch, and how this touch might be read by others.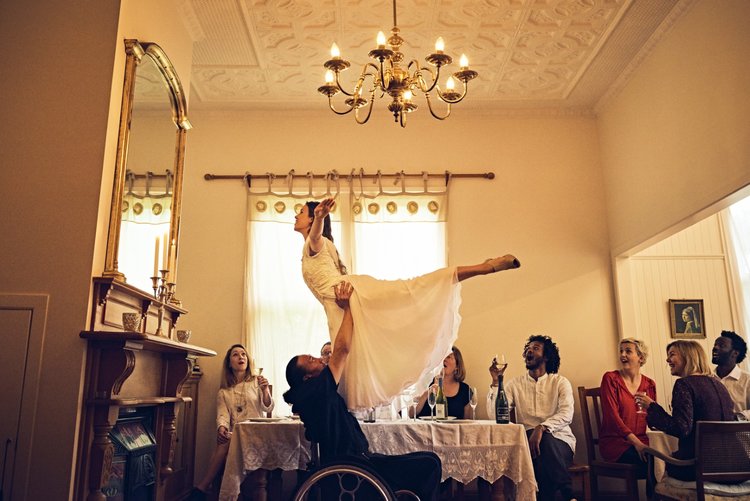 The Language of Colour, in which Julie performs alongside artist Yung Chen, combines Yung's art with Julie's dance. It features digital technology, live art, music and performance, and premiered to 3000 people at the Chinese New Year Festival in Wellington in February 2019.
Commenting on her work with Touch Compass and performing in several of the I'mPaired duets, Julie says, "I have formed some really special relationships through my journey with Touch Compass and I feel very lucky to explore something quite different and unique within each duet."
Other works include Rhythms of Sameness, performed by Duncan Armstrong and Mabingo Alfdaniels; a new piece of theatre by Joanna Pearce, a transgender playwright and performer; a duet with founding Touch Compass member and hip hop champion Jesse Johnstone-Steele and his long-time partner Adrian Smith; and duets choreographed by Colette Wilson for Touch Compass youth hip hop crew Integr8, a group consisting of two wheelchair users, two members with Down Syndrome, two autistic members, and one non-disabled member.
For dates, times and bookings, please visit the Touch Compass website.