News
Arts Access Aotearoa

Palmerston North's Georgia Garrett is a triple threat: a dancer, an artist and an actor. She does drama at CJ's Hub, dancing at Jorjaz, and art with Aroha Lowe.
Georgia has been dancing with Jorjaz since she was 16 and dances in the main troupe, along with her friends. She went back to CJ's Hub when it started offering drama classes. Her drama group is called DramaLama.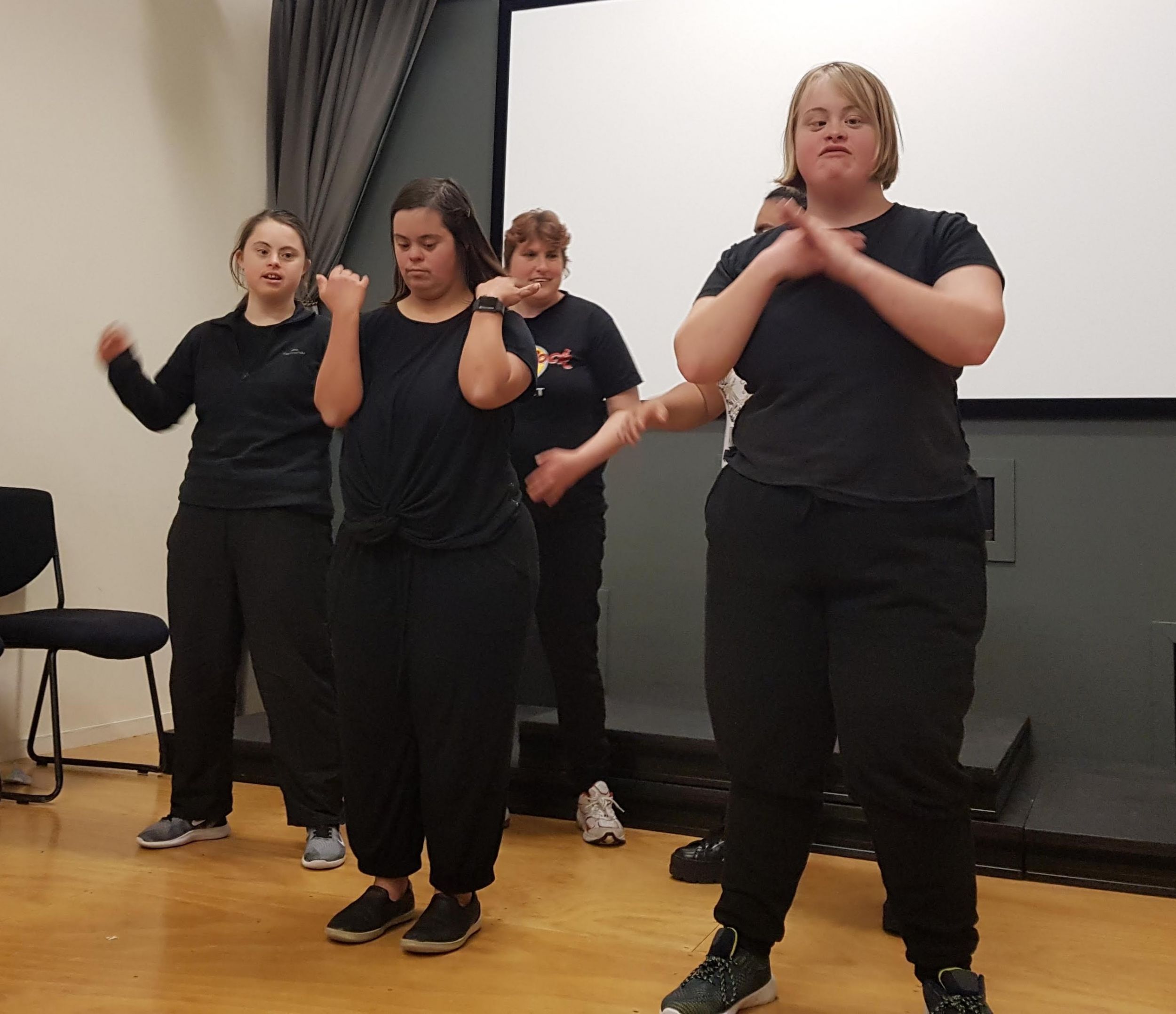 "I met Aroha at Te Manawa Museum of Art, Science and Heritage when I was attending their art class and moved with her when she set up her art studio at home," Georgia says. "I love Aroha. She is a good friend, supports my artistic flair and encourages me to be the best I can be.
"I do lots of fun things with her and the other people who attend. She is an amazing person to hang out with and takes us to cool places such as art galleries in Wellington. We do lots of different things. She knows me really, really well."
Aroha says that Georgia makes art on Mondays with a group of other artists. "She works quite independently, is social and comes with quite clear ideas about the art she wants to make."
"She decides what she'll do"
"She decides what she'll do. She makes statements about her life. Some of them can be quite personal statements and some are quite political, and that's deliberate.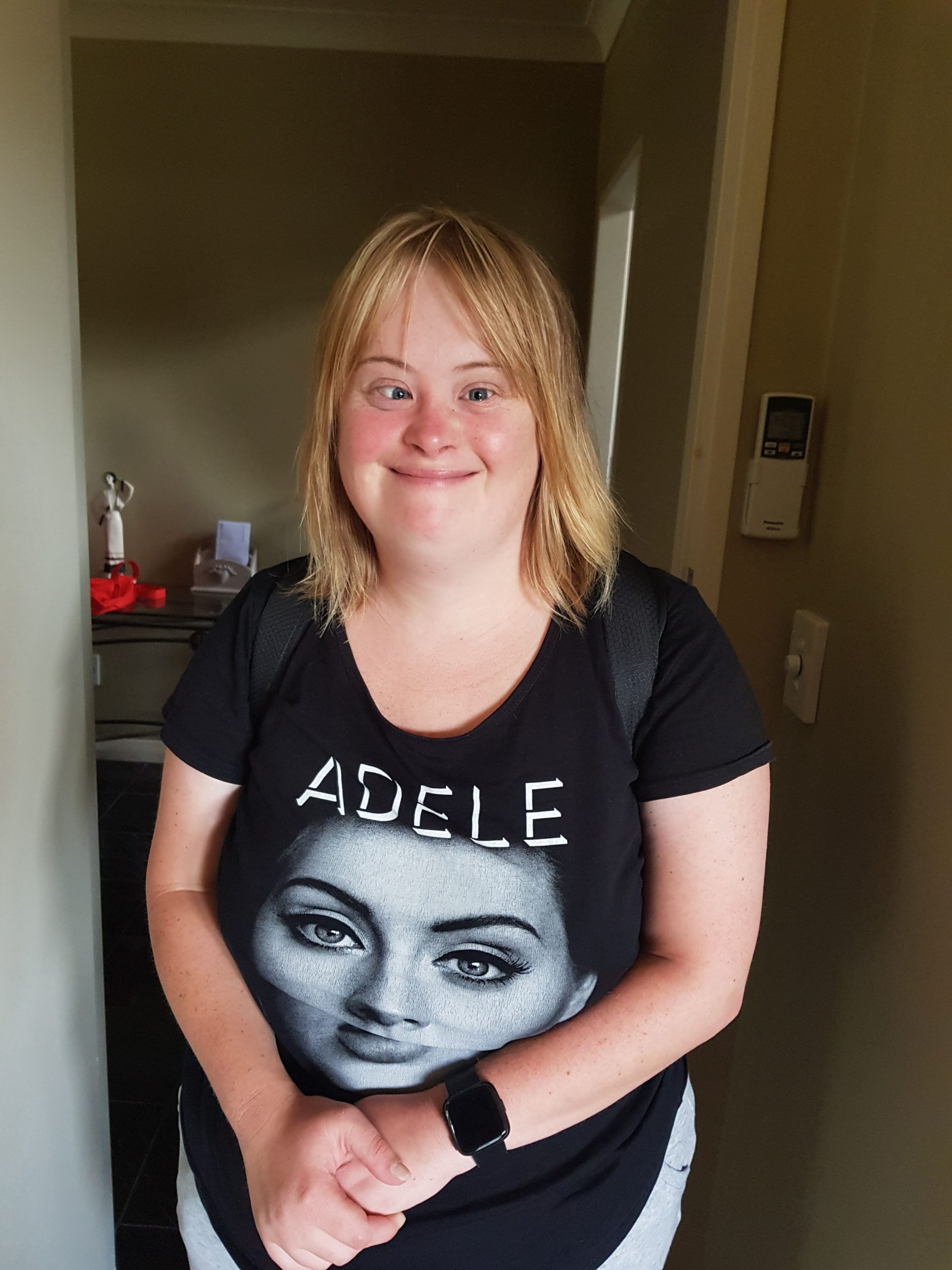 "So, for instance, she writes about having Down syndrome. She wrote one day about how if her mother hadn't had her because of her Down syndrome, she wouldn't be here.
"In her work, she'll make the statement 'I'm an artist', so that's quite prominent. She's quite up with current affairs, and all sorts of current issues going on in the world.
"Georgia's a performance artist as well. She likes to dance, act and sing, so she's quite busy. She's amazing. I consider Georgia to be a friend. She's very kind about other people and their shortcomings, which I think is pretty cool. She's quite peppy and fun. She's lots of fun; she's very cool."
Georgia likes acting, dancing and art equally but each for different reasons. "I love acting and spend a lot of time acting with my friends. Dancing is fun and a good way to stay fit, and art is a way for me to tell my feelings through my statements. I like being creative and thinking outside of the box. I can show myself in my art."
Importance of creative spaces
Jenny Hutchings, the Creative Spaces Advisor at Arts Access Aotearoa, says: "Georgia's story highlights how people can find their voice through art-making, and how important creative spaces can be to support and empower this self-expression, and strengthen creative communities."
Georgia's proudest achievement was selling a painting.
"One of my paintings went to a charity concert that I was a part of and was sold at auction, which was fantastic to raise money."
She is also a member of a choir, which she really enjoys. "I am really proud to be a member of a choir with Amy Hunt-McKenna and we do lots of performances. I enjoy performing in front of an audience. I have also co-hosted the Manawatu Special Olympics talent quest where I had a lot of fun."
Despite the restrictions during the COVID-19 crisis, Georgia is keeping herself busy with creative pursuits.
"I will enter the IHC Art Awards again this year. I am doing some art at home and my friends and I have set up an online DramaLama group and we still do acting via that."
Visit the Creative Spaces Directory to find a creative space in your region.