News
Arts Access Aotearoa
Isaac Theatre Royal's CEO recognised at Arts Access Awards
3 July 2015
Neil Cox, Chief Executive of the Isaac Theatre Roya in Christchurch, was acknowledged for his work upgrading the historic theatre's accessibility after the Christchurch earthquakes, at the Arts Access Awards held at Parliament on Wednesday night.
Neil was awarded the Arts Access Accolade by award patron Dame Rosie Horton at Arts Access Aotearoa's annual awards ceremony.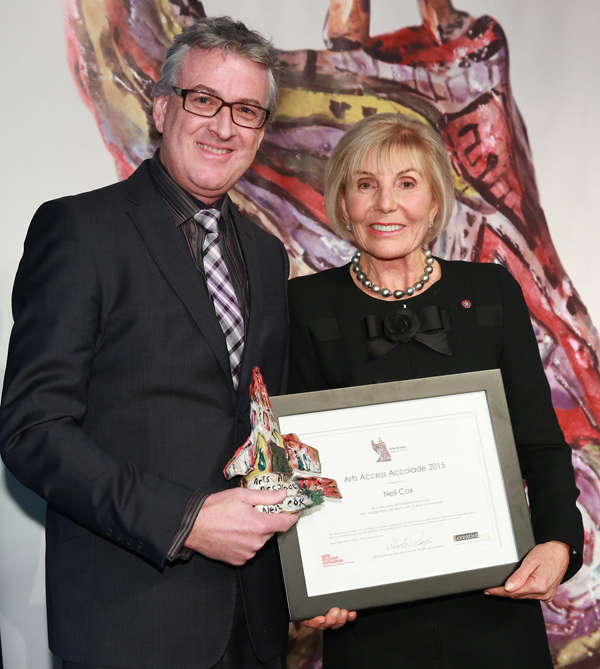 "In spite of the enormous challenges Neil has provided disabled theatre goers to the Isaac Theatre Royal with the experience of access to all areas and above all, they know they are welcome and included," Dame Rosie Horton says.
Closed since the Christchurch earthquakes, the rebuilt theatre opened its doors in November 2014 with state-of-the-art accessibility features.
The $40 million project reinstated the 106-year-old heritage building's auditorium, foyer spaces, façade, ornate plaster work, historic windows and painted ceiling dome.
"Our rebuilt Isaac Theatre Royal is receiving design and management awards, but our efforts in the field of accessibility are not about bricks & mortar, they are about our people. We will always strive hard to make our venue accessible for all our thousands of patrons and endeavour to improve on what we have done," Neil Cox says.
Previous earthquake strengthening in 1998-1999 had saved the building from complete collapse.
Neil says the rebuild presented a clean canvas for upgrading the historic theatre's accessibility and his team wanted to go beyond installing required minimums for accessibility features for rebuilds.
In consultation with Arts Access Aotearoa and local disability advocates, they included accessible toilets on every floor, a lift between all floors, automatic doors throughout the auditorium, and a hydraulic stage lift that extends the stage and can also be used to raise disabled patrons to the stage.
The new theatre has accessible seating on the ground floor and dress circle levels. There are eight wheelchair seats (spaces) across the two levels as well as six adjustable ADA seats, which can be raised for patrons who prefer to leave their wheelchair, and in addition, two extra sets of bariatric seats with adjustable armrests. All seating allows disabled patrons to sit next to their friends and family.
Neil's team consulted with local Deaf and hearing impaired groups to ensure the latest Bluetooth and Wi-Fi technologies were installed, along with a hearing loop across all three seating levels.
The Isaac Theatre Royal's re-launch includes a redeveloped website with detailed accessibility information.
"We have finally finished our rebuild but will never finish our work to keep the Isaac Theatre Royal accessible for all! As I touched on in my acceptance speech, AAA for me is Access All Areas, and Arts Access Aoteoroa have helped us achieve that," Neil says.