Article
Arts Access Aotearoa
Making good things at Te Manawa's NOA
17 May 2017
"Making good things in life is what I like doing," says Anaru Davis, co-facilitator of an art space situated in the sun-lit foyer of Palmerston North's Te Manawa, Museum of Art, Science and History.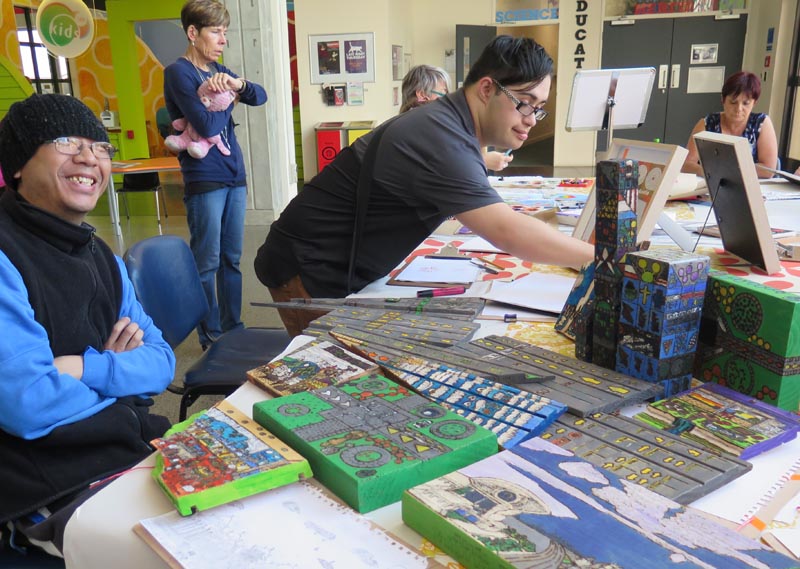 Called NOA Open Studio, the space has been running in the museum foyer since November 2016. It's a place where anyone in the community can join in and be creative. In te reo Māori, the word "noa" means "free from tapu" – open to everyone, Anaru explains.
One of the things he loves about coming to NOA Open Studio is that it's an easy way to make friends. It also motivates him to finish his art projects.
"Sometimes we paint and draw," Anaru says. "Other times, we go to the art gallery to look at the cool art and get inspired. One of the artists I really look up to is Robyn Kahukiwa."
Museums Aotearoa MA17 conference
NOA participants will be involved in Museum Aotearoa's national MA17 conference, hosted by Te Manawa, which runs from 22 to 24 May. They will attend the powhiri, some of the workshops, operate in the foyer as usual on the Tuesday, and support front of house with registrations. They will also be part of an Introduction to Autism workshop, and will have work displayed. Anaru and co-facilitator Aroha Lowe will also attend the conference's Kaitiaki hui.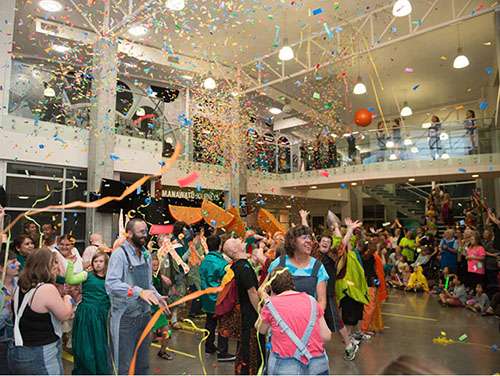 Currently operating on Tuesdays and Thursdays, NOA attracts between 15 and 20 people to each session. They might be children with a parent, senior citizens, disabled people, tourists or local artists.
Anaru says the participants drive the space as they respond to Te Manawa's collections through drawing, painting, sculpting, music and drama.
The seeds of accessibility and inclusion at Te Manawa were planted in 2013, soon after Andy Lowe was appointed its Chief Executive. Creative Journeys artists were welcomed into the museum for free art-making sessions. They were also included in waiata sessions, and allowed access to exhibitions and back of house.
This partnership culminated in an exhibition called Inspired By in which works by disabled artists were hung alongside significant works from the museum's collection by artists such as Colin McCahon, Buck Nin, Ngahina Hohaia, Ann Verdcourt and John Bevan Ford.
Making a political statement
Aroha Lowe says being in the foyer makes a political statement. "People have said to me, 'Would you rather use the art studio or another room?' and I say, 'No, we like to be in the foyer and a part of this space'.
"We meet visitors in the foyer and often they join in. The word 'whakanoa' is about making a space safe, open and accessible. Being here in the foyer is a clear statement that Te Manawa is for everyone."
In its efforts to reach out to the community, NOA has been liaising with service providers in the disability sector: for example, IHC's Idea Services, the Luck Club, the Blind Foundation, the Stewart Centre, Red Cross and Supporting Families in Mental Illness.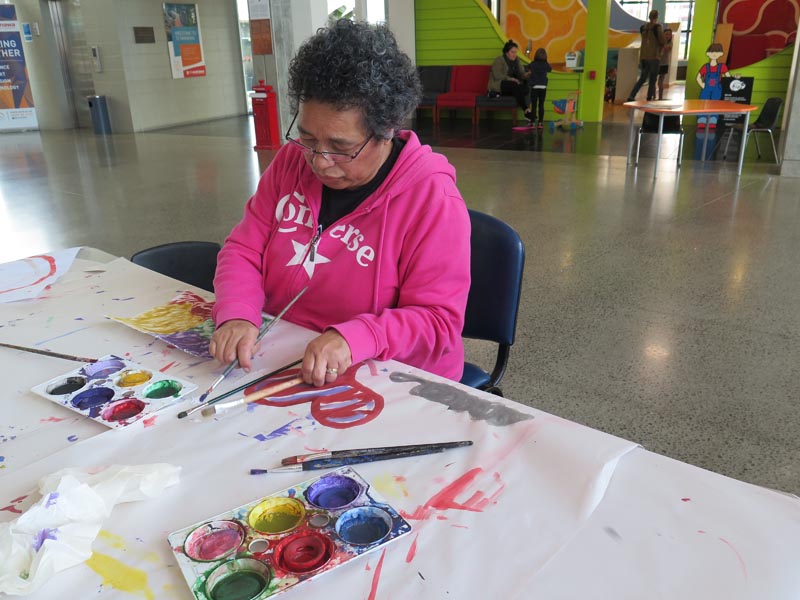 Teresa Winterburn, rehabilitation coach at the Manawatu Stewart Centre, supports clients at NOA on Thursdays.
"It's a great way for our clients to interact with others in the community, make new friends and rekindle old friendships," she says. "Art is a great therapy. It helps people discover and rediscover their creative side after a brain injury. They also get an overwhelming sense of achievement about what they've created."
Angel, who lives in Feilding and comes to the Stewart Centre three times a week, had a stroke three years ago.
"When my kids were young I did arty-farty things with them to keep them amused. When they were older and before the stroke, all I thought about was working even though I often hankered to do creative things. Now, I love coming here and making art."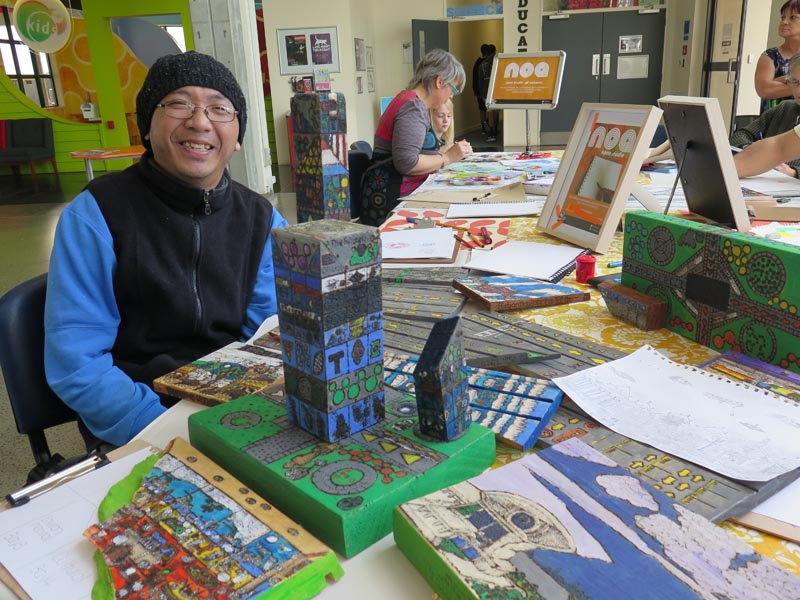 Palmerston North artist Jonathan Kan is excited about his first solo exhibition, called The Million Dollar Listing Collection. It will be on display at the Square Edge Community Gallery during the MA17 conference.
Jonathan says he's been making art for the past three years and working hard to get his name out in the community. "It takes a lot of perseverance."
He watches an American reality television series called Million Dollar Listing New York, which inspires a "flood" of visual ideas. "I sketch my ideas on to wood and then do the poker work. It can take up to a week to complete this stage and then another week to paint it."
Aroha Lowe says NOA is a place where people with disabilities and Deaf people inform and co-author Te Manawa's spaces. "It's becoming a dynamic, multi-faceted vehicle for social change ­ – a space where ideas are discussed and plans are made."