Article
Arts Access Aotearoa
Michael Krammer is a dancer and dance tutor with Christchurch integrated dance company Jolt. He is a founding member of the company, set up by Lyn Cotton in 2001.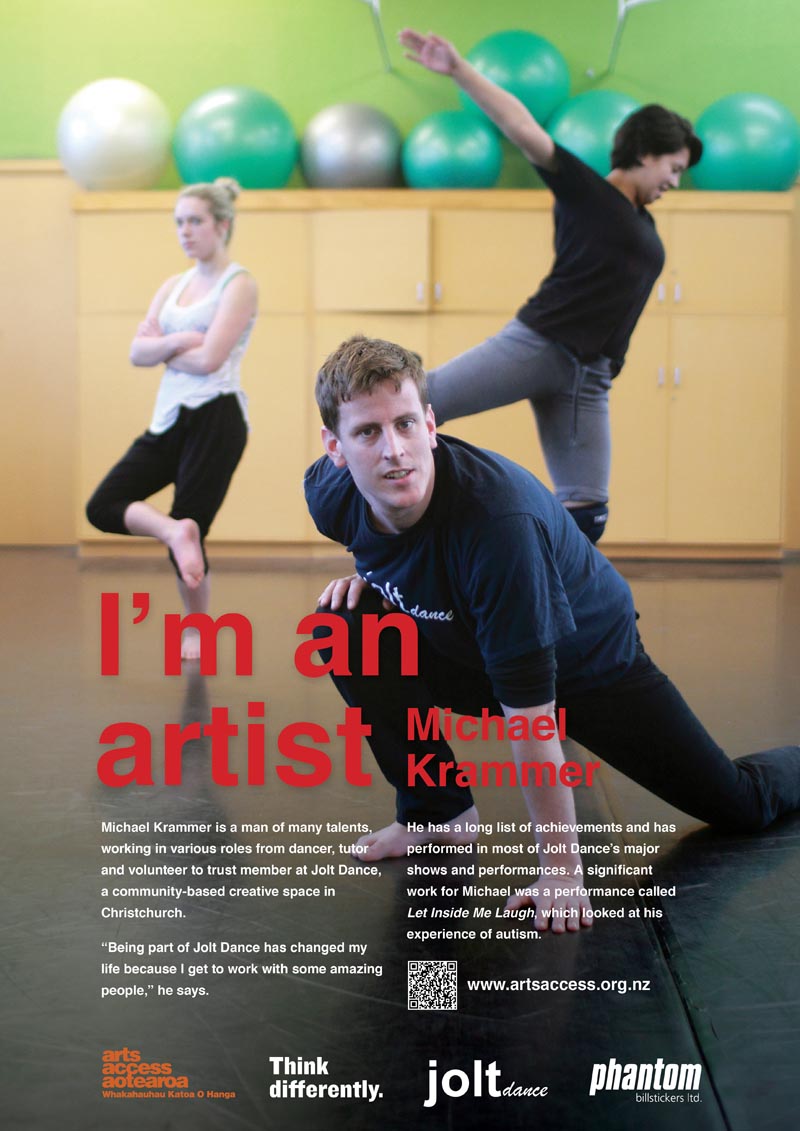 He is also an assistant tutor for two classes and a tutor for one class at Arts Integrated, a Christchurch creative space offering a two-year programme for school leavers to experience dance, drama and music.
Michael has a long list of achievements in dance, and has performed in most of the company's major shows and performances. A significant work for him was called Let Inside Me Laugh, a performance that looked at his experience of autism.
Michael was shortlisted for the Arts Access Artistic Achievement Award 2014 and was one of the artists profiled in Arts Access Aotearoa's national I'm an Artist campaign the same year.
In this interview, Michael answers three questions asked by Arts Access Aotearoa
1. What training have you had to be a dance tutor?
I've been doing the Move tutor training programme at Jolt since 2013. Lyn Cotton and Renee Ryan taught me at first. I've also volunteered in children's classes.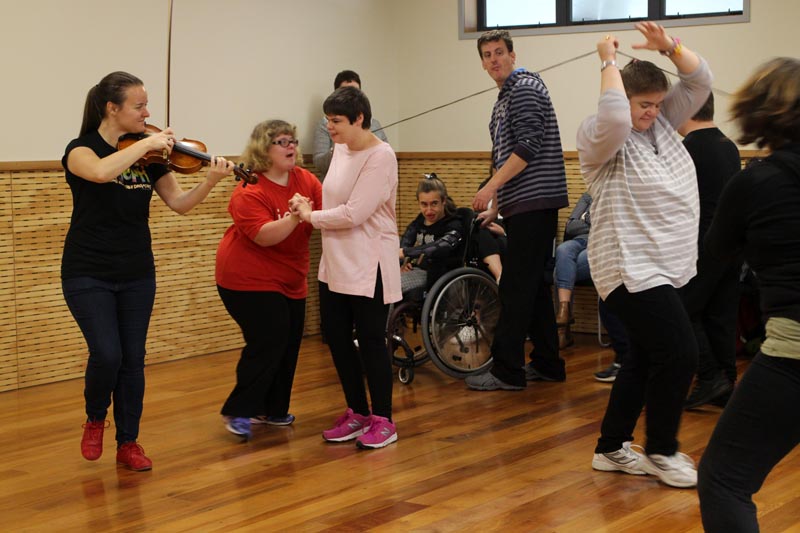 With the Jolt tutor training programme, a few of us come in on a Tuesday for the day and we take two community classes. We work on developing our teaching and assisting skills, and then we plan a class and teach that class to our community dancers.
At the end of that class, we ask for feedback. "Did that work?" "What could we do differently next time?" Then we get given a few tasks to build our teaching skills. I co-teach my own class for Jolt. This is the Bump class on a Monday evening.
2. What do you most enjoy about your role?
With dance, there is no right and wrong. I enjoy encouraging people in my class to dance. Just to see their reactions is quite priceless really. I love seeing people in the disabled community being taught by me to do all sorts of new and fun stuff. I also love connecting with students. I work with a fabulous teacher and I get to share my wisdom of the past 21 years in my Bump class.
I enjoy the challenges and authentic energy that my class brings. I love being able to share everything I've learned through my Jolt training. It's so rewarding to be able to put all the those skills to use in my own class.
3. What are some of the challenges of teaching dance?
Adapting the dance to both wheelchair users and non-wheelchair users can be a challenge but it's one I really enjoy being creative with. You've got to change it up and make sure that everyone can participate in all the activities, making them accessible for every single person.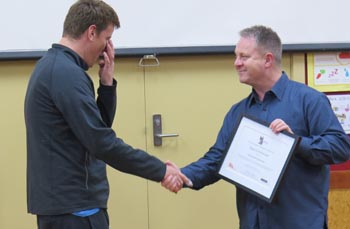 Planning classes is difficult sometimes but I love getting creative and trying new things.
Choreographing a show is a bit stressful and a new challenge I am facing. But it's one that I am learning so much from. I have a lot of support from Lyn at Jolt in this process, and am gaining so many new skills.
I try and learn from my mistakes, which we all make. Emailing parents and making sure they know what's going on can be a challenge to make sure I use the right language but I am supported in doing this, and gaining more confidence every time I do it.
Sometimes I need to stop overthinking things and just feel it. This can be hard to do but I am trying all the time to go with the awesome ideas my class can bring.
This interview is part of a series about the role of arts tutors in creative spaces around New Zealand. For more information about Jolt, Arts Integrated and other creative spaces in Canterbury, visit the creative spaces directory.
Also read Insights into art tutors at creative spaces.