News
Arts Access Aotearoa
Otago Corrections Facility drama tutor recognised
17 December 2019
Otago Corrections Facility drama tutor, Ruth Ratcliffe, has been recognised in the 10th annual Dunedin Theatre Awards, where she won the Otago Community Trust Award for Outstanding Community Engagement for the play Trouble-D.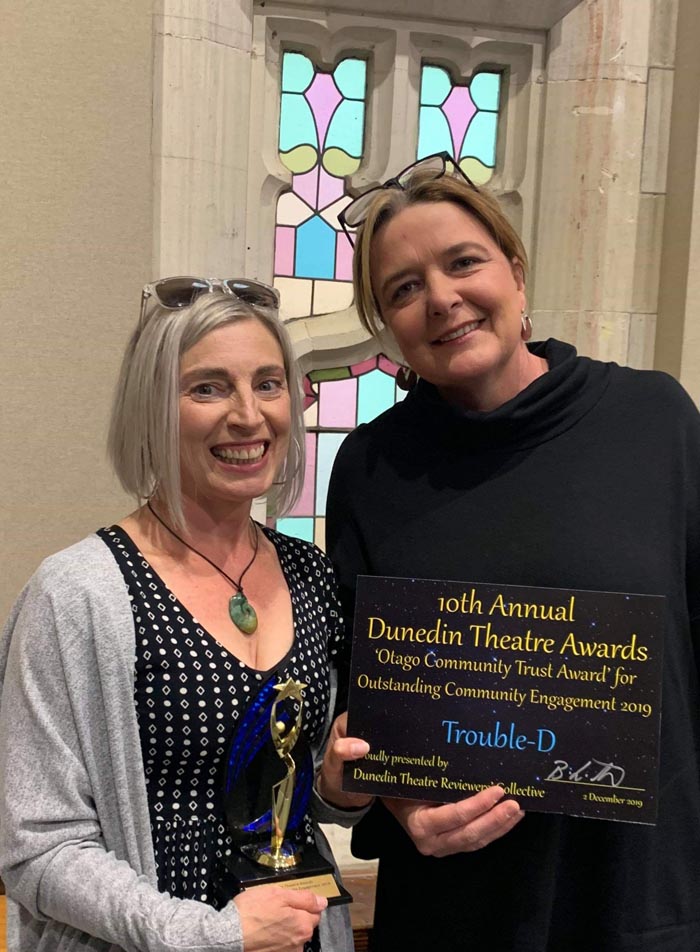 At Dunedin Theatre Awards, announced on Monday 2 December, she was also a finalist in Director of the Year and the Company for Outstanding Technical Design—Set.
"Whoop whoop," says Ruth. "Soooooooo proud and happy for the guys ... again. Another validation for the men for being involved in something positive ... Yaaaaaaay...!"
Trouble-D was the prison's entry in the Dunedin Fringe Festival 2019. An original play written and performed by the five members of the prison drama group, the play told of the difficulty of reintegration through the journey of one man.
In Trouble-D, prisoner 'Tai' is released from prison with the intent of maintaining a life away from crime. He is confronted by a number of obstacles, including difficulties reintegrating back into his whānau, finding employment, and staying away from anti-social associates, drugs and alcohol.
His best intentions are sorely challenged and ultimately he returns to jail. In the second run through the play, audience members can "freeze" the action and offer alternative solutions to help him negotiate the obstacles to achieve a better outcome.
The one show-only performance at the Dunedin Fringe Festival was staged at the prison with audience members from the community. It received a standing ovation from the audience and at the close of the festival was awarded the Fringe Festival's Judges' Choice Warwick Broadhead Memorial Award.
In September, Ruth was also recipient of the Arts Access Corrections Māui Tikitiki a Taranga Award 2019.
"Ruth is a great asset to OCF," says Prison Director Dave Miller. "The work she is doing with the men in the drama group is truly changing lives. Through drama, the men get the opportunity to develop courage, confidence and communication skills.
"They are telling their own stories and getting positive feedback and support from the community. They are talking about important issues and improving our connections with the community. We are thrilled for Ruth and the men to have received these deserved accolades and look forward to seeing what they do next."
The drama group are currently working on their next Fringe entry for 2020.