News
Arts Access Aotearoa
PARS exhibition aims to remove stigma
25 June 2019
A series of workshops and an upcoming exhibition, facilitated by PARS Inc – People at Risk Solutions (PARS) in Auckland, is giving the exhibiting artists an outlet to express their feelings, connect with like-minded people and showcase their work to whānau, friends and the public.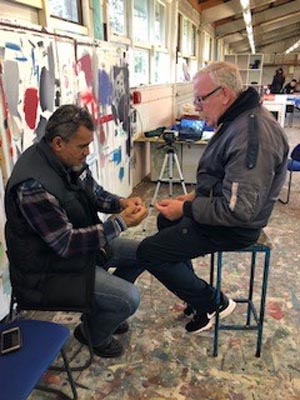 Stuart, a published poet, is one of 10 artists across a range of artforms participating in the project. There's also a carver, canvas painters, a portrait painter, graffiti artists, and greenstone, wood and shell artists. All of the artists bring a strong sense of cultural identity as tangata whenua and Pasifika to their work.
The works will be on display and for sale at Whakapuakitanga: Expressions from 4 to 6 July as part of the Matariki 2019 celebrations in Auckland. It will be held at the kiosk on Maungawhau (Mt Eden mountain) and will include:
Thursday 4 July, a stakeholders' event to host exhibition sponsors and valued supporters of PARS volunteer services with the aim of achieving continued support for the arts programme. Well-known artists will also attend.
Friday 5 July, for the artists, their whānau and friends to showcase their artwork and what they have achieved.
Saturday 6 July, open to the public.
Stuart, who says he's "anxious but excited about the exhibition", has a collection of poetry collated and published by Unitec under his signature name ME. He describes his poems as "real life experiences I endured over the past four years". Also featuring is a short film of one of his poems, called Into the Dark.
"These workshops give me confidence and help me express what I'm feeling," Stuart says. "They help connect us as artists, and we have built a great rapport with each other and become a family. I would like these workshops to continue as it's a space where we are able to be ourselves."
Services to released prisoners, deportees, at-risk youth and whānau
PARS Inc is a charitable organisation, set up more than 100 years ago to provide support to prisoners and their whānau. It has evolved into a multidisciplinary team that provides specialist services to released prisoners, deportees, at-risk youth and their whānau. These services include a range of housing, education, employment, addictions, mental health and wellbeing, cultural identity, whānau services and mentoring through their volunteer programme.
The driving force behind the arts project is Lois Naera, its Volunteer Co-ordinator. "I'd been involved in an exhibition for another organisation and saw the positive impact it had on the artists involved. These were children of prisoners telling their story of what it was like to have a parent in prison.
"Hearing their stories and seeing the amazing art inspired me to have an art exhibition for PARS clients. This is the first time PARS has had an art exhibition and I want it to be the catalyst to create an art therapy programme in PARS."
Lois says that PARS is passionate about breaking down barriers and removing the stigma that its clients face when they are released. "This exhibition is an opportunity for the public to see these artists through a clear lens, unclouded by their pasts.
"From the artists' perspective, art is therapeutic and provides a space where they can forget everything else and be who they want to be."
Another of the exhibiting artists is Bronwyn, who has been a bone carver for nearly 50 years.
"This will be my first exhibition in 30 years," Bronwyn says. "The project has given me the confidence to express myself in public. I tend to do most of my pieces from home but I have really enjoyed the workshops and being around like-minded people working with different art mediums. We bounce ideas off each other and are constantly learning and sharing with each other."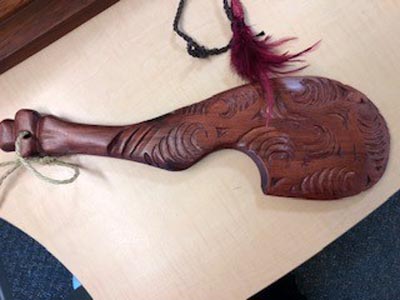 Lois says the project is seen through the Te Ao Māori lens, with karakia, whānaungatanga, manaakitanga, ako, wairuatanga, rangatiratanga and mana-enhancing processes during the workshops.
She works with a small committee of people involved in the project, including support from her husband, Hori Naera, who is the cultural advisor for the exhibition and highly respected by the participating artists.
Volunteers also attend the workshops, getting to know the workshop participants and acting as mentors. As Lois says, a lot of reciprocal learning takes place.
Ten Saturday workshops were held in the build-up to the exhibition. "I'm not the expert: they are," she says. "Our role is to support them, come up with the resources and encourage them."
The project has been supported by the Auckland Art Gallery Toi o Tāmaki and the Tūpuna Maunga o Tāmaki Makaurau Authority, and is funded by Te Puni Kokiri and the Albert-Eden Local Board grant. If you would like to talk to Lois about supporting the art therapy programme or volunteer services at PARS, please contact her on 021 783 984 or email loisn@pars.co.nz.