Prisoners respond to community choir
29 June 2009
The gymnasium at Arohata Women's Prison was cold at first but it soon warmed up when 30 members of the Wellington Community Choir started singing to prisoners and Corrections staff.
Musical director Julian Raphael said the recent performance was a "wonderful, warm exchange" between the choir and prisoners even though there was no actual contact between the two groups. "The music brought us together despite the physical distance."
The choir sang a range of songs from cultures around the world, starting with waiata and then moving to the Pacific Islands, South Africa, Native America and African America. The prisoners were invited to join in and gradually, Julian started to teach them some new songs.
"In an hour of music-making, we had some quite sophisticated things going on," Julian says. "For most of the choir, it was their first time in a prison and some of them wondered if the women would participate.
"But there was never any doubt in my mind that the prisoners wouldn't sing. When they sang back the first phrase, the choir was delighted and broke into spontaneous applause."
Kapa haka group
At the end of the performance, Arohata's kapa haka group sang and performed for their visitors. Amy Blowers, Volunteer Co-ordinator, Wellington Area Prisons, says it was a "truly amazing experience" to see the women's responses.
"There are prisoners here who are highly creative and talented in the arts. They were thrilled to be included in singing with the choir," she says. "Their appreciation was obvious when they took to the floor to thank the choir for performing that morning. It's a day that won't be forgotten."

The choir's performance at Arohata Women's Prison is an example of the Wellington community's compassion and generosity, Amy says. "We have a high number of volunteers active in our prisons, helping to motivate and support prisoners."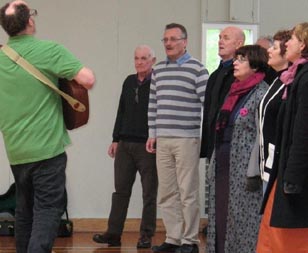 After the performance, one choir member said: "I was surprised and pleased by the large audience, the warmth of the prison staff and the enthusiasm of the prisoners … The strong voices of women connecting with their ancestors and tikanga complemented what we had offered. Although we could not talk to our audience we came very close to them through the sound of music."
A primary school teacher, who sang in the choir, said it was "wonderful" to see so many of the women enjoying the performance and wanting to join in. "As the performance went on, I could see some of the less confident ones participating too. So many were smiling and enjoying it. There were some sad, closed faces too, which I had expected."