Creative spaces: professional development
30 August 2022
Arts Access Aotearoa, in partnership with Manatū Taonga Ministry for Culture and Heritage, is offering a suite of professional development workshops and facilitations over the next three years, along with a virtual creative spaces conference over Tuesday and Wednesday 1–2 November 2022. All these opportunities will be free, thanks to Manatū Taonga's generous funding.
The Creative Spaces Professional Development Programme is all about working together to learn, evolve and strengthen the sector.
The professional development programme picks up on five strands that have emerged from years of kōrero, co-design and feedback between Arts Access Aotearoa and the Creative Spaces Network. These strands represent priorities for learning and touch on some of the biggest sector challenges you've discussed with us. They are:
Governance: strengthening the connection between governance and operations
Te ao Māori: exploring authentic ways to bring te ao Māori (the Māori world view) into your spaces
Leadership: developing leadership skills and planning for succession
Respect, inclusion and wellbeing: how to ensure your spaces are welcoming, nurturing and inclusive places to be
Storytelling: how to grow recognition of the value creative spaces bring to communities and attract more support.
Industry experts who understand the complexity of non-profits in the creative sector will deliver workshop/facilitation sessions across all five strands. The aim is for you to empower your own learning, selecting from a suite of sessions that support your development and provide a support structure best suited to you.
These sessions are a rare opportunity to build on the diverse skills, knowledge and experience that exist in the Creative Spaces Network, bringing together different perspectives and strengthening collective knowledge.
Manatū Taonga's funding has also allowed us to contract Ruth Harvey, who recently returned to Dunedin after working at AS220, a creative space in the United States. Ruth will assist with rolling out the professional development programme and conference.
Work represents Creative Spaces Network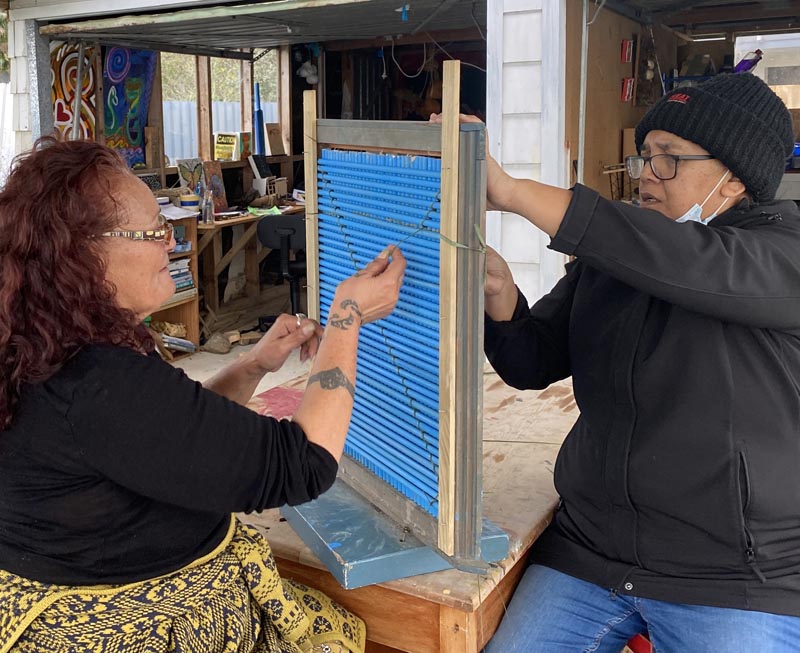 This tukutuku work was made collectively by the people of Te Mana Tangata, a programme led by master weaver Moana Harrison in Coromandel Town for the Artists in the Making creative space.
Arts Access Aotearoa chose this work to represent its Creative Spaces Professional Development Programme and the strength, inclusion and vibrancy of the Creative Spaces Network in Aotearoa. In this image, Moana Harrison and Jo Kaaho are weaving the tukutuku panel.
You can read more about the panel