Rimutaka Prison artists showcase work at ROAR! gallery
13 February 2009
Art on the Inside: Rimutaka Prison Art is one of three shows at ROAR! gallery in Wellington, providing an opportunity to see the breadth and depth of artwork produced as a result of two hours a week of structured art workshops.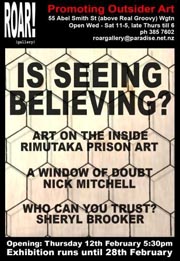 On until 28 February, the work was selected from a pool of 70 artists tutored by two Wellington-based art tutors, Chris and Paul, as part of the Department of Corrections' national Constructive Activities Programme.
Mary Stenton, Manager of Programmes for Wellington Area Prisons, says that the activities are aimed at helping prisoners to make good use of their non-work time. "Sometimes this may lead to them developing skills that guide them towards a future career."
Tutor Paul sees his role in prison as quite different to other work he does as an art tutor in tertiary institutions.
"The focus in tertiary institutions is on training individuals to be contemporary leaders in their field and to prepare them for their chosen professions," he explains. "In prison, I am much more interested in the personal process. For me, it is more important for somebody in a prison art class to overcome a personal challenge in relation to an artwork."
Both tutors find that a large number of the prisoners they work with have very strong technical abilities based on traditional styles of art prevalent in prison culture.
"What's exciting is when prisoners take the steps towards being more individual in their creativity," he says. "This independence takes courage as it is almost a challenge to the traditional prisoner culture and requires a change in the artists' perspective."
Is Seeing Believing?, featuring three shows, is at ROAR! Gallery, 55 Abel Smith St, Level 1 (above Real Groovy), in Wellington.