The cultural heart of rehabilitation
27 August 2010
The Spring Hill Corrections Facility, located just 20 minutes south of Manukau City, is a 650-bed facility accommodating prisoners with low to high-security classifications.
Its Pacific Focus Unit, Vaka Fa'aola, houses just 44 prisoners. Alongside the unit is a world-first, prison-based Fale – a word that means "shelter, protection or cover from the elements".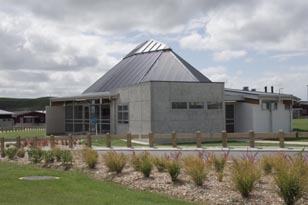 In Pacific cultures, the Fale is significant as the place and forum for families, for the village and for wider communities. For Pacific prisoners, it is a rehabilitative place of anchor.
Unit Manager Talaoalii Junior Ahyu says culture is the first of the three rehabilitative focuses (culture, employment and education) for Pacific prisoner populations. He calls the Fale a sanctuary, a place where prisoners are in a familiar environment conducive to helping them understand the Western system of rehabilitation.
"Prisoners progress from high-security to low-security units," Talaoalii Junior Ahyu says. "As soon as they see the Fale, they see home. They see people doing things as they do in the village. They put down their anxieties about being in jail and become more receptive to the message. For New Zealand- born Pacific prisoners, this will be as close as they've come to village life."
Looking for a better future
When Pacific peoples come to New Zealand, he says, all they see is a better future. They haven't been told that life here is very different and that it can be hard. "If you don't have the right vocational skills, you'll struggle. And when you arrive here without those skills, you resort to doing things you would have never contemplated in the islands."
Le'au Asenati Lole-Taylor, Regional Advisor Pacific, Northern Region, Department of Corrections, says that maintaining the Pacific perspective in the work undertaken with Pacific prisoner populations is vital.
"We've put more effort into writing and sourcing relevant programmes to ensure the Pacific perspective permeates every aspect of rehabilitation," she says. "These programmes help reduce re-offending and strengthen family and community relationships."
Two new programmes
As a result, two new programmes – Pasefika Legends (storytelling) and Malaga Polenesia (Polynesian Journey) – are being delivered as constructive activities.
Pasefika Legends focuses on ancestral histories. Participants explore the art of communication and language through storytelling and the use of ancestral languages.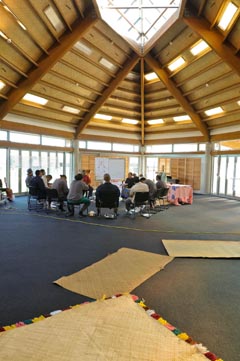 Malaga Polenesia is a more comprehensive programme, able to be applied to Samoan, Tongan, Niuean and other island nations. It offers mentoring in cultural knowledge and histories. Some of these are lauga, the art of oratory involving tonal sound and body language; the dance artform siva; and pesepesega, songs and lyrics that illustrate performance.
Mrs Lole-Taylor says that both programmes draw heavily on an integral aspect of Pacific life: communication through performance and oratory.
"Engaging in these artforms offers ways that personal complexities can be unravelled. They help externalise distress and give expression to troubling thoughts and emotions."
Mary Ama, Pacific Arts Advocate, Waitakere City Council, is new to her role as Polynesian art tutor and advisor at Vaka Fa'aola. She says that creativity is intrinsic to Pacific life and provides a clear pathway.
"We survive because we are creative about it. These are things that don't have to be taught. They're there already in our bones. We simply have to activate them.
"Creativity is built into everything we do: the art of respect, the art of communication and language, the art of dance and movement, the art of dress and adornment, the art of food and the sharing of it."