Winners named in IHC Telecom Art Awards
22 September 2010Kaikoura artist Dianne Hockridge has won the 2010 IHC Telecom Art Awards with an intricate pen and ink drawing Recipes (And Lots of Them). Judges described Dianne's artwork as intense, confident and elegant.
"This is an intense and amazing work," said judge Otis Frizzell, an Auckland painter and printmaker. "There's something new to see in it every time you look at it. It draws you in."
Fellow judge Denise L'Estrange-Corbet, head of WORLD fashion house, said: "The intensity and concentration that has gone into Dianne's work was exhaustive in the extreme. It is quite fantastic."
Dianne, 61, is a fine-details person and the idea for the drawing took shape as she was looking through recipe books – and she started copying the recipes. Three months later, after a painstaking process of waiting for the ink to dry between each section of the work, she had created a picture from the words of her favourite recipes.
Dianne has been an artist for many years, working nearly every day from the Kaikoura IDEA Services day base in Kaikoura or from the Kaikoura Art Society's rooms. She has been a finalist in the IHC Telecom Art Awards on three previous occasions.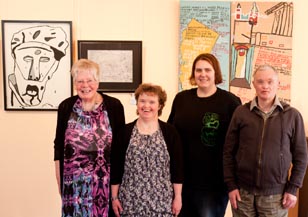 Altogether, there were 530 entries. The top 30 entries were selected from regional competitions and were on display at the St James Theatre Gallery, where the awards ceremony was held.

Second place went to Paul Griffiths, 52, from Hamilton for an untitled, vividly coloured acrylic painting described by Saatchi Design Worldwide creative director Blake Enting as awesome.
Raw emotional value
"There's something about the raw emotional value of it. It's just so beautifully layered and has strong intent," he said. Paul, who works from the Sandz Gallery and Studio in Hamilton, has won $2000.
Third-equal prizes of $1000 were awarded to Auckland artist Katie McMillan, 23, with a series of five embroidered fabric tiki, titled Family Hei Tiki, and Vicki Dooley, 48, who works from Dudley Arthouse in Lower Hutt, with her felt-tip drawing Houses and Churches.
Judges said Katie gave a unique spin to the tiki motif and her tiki family was a "lovely marrying of European and Māori culture".
Vicki impressed the judges with her colourful town "with the busy vibrancy of a South American city" and bold blocks of colour. Judge Sue Upritchard, a Christchurch artist, said the work was well-executed with a good sense of colour. Vicki also won the Telecom People's Choice Award for an Air New Zealand mystery weekend for two after her drawing was chosen by Telecom staff across the country.