Blog
Arts Access Aotearoa
The breadth of achievement, inclusion and access to the arts has been represented in Te Putanga Toi Arts Access Awards for another year. We never know what the event will be like until the judges have made their decisions, and then the themes and stories of the event unfold from the recipients.
I believe this is what our community can look like when you strive for a truly inclusive society. Thank you sincerely to all our recipients, funders, sponsors, volunteers, presenters and guests who made Te Putanga Toi Arts Access Awards a true expression of Putanga Toi ki Aotearoa – accessible arts in Aotearoa.
A big thanks to our great photographers on the night, Vanessa Rushton and Eliecer Reverol. Here are six photos that capture some special moments.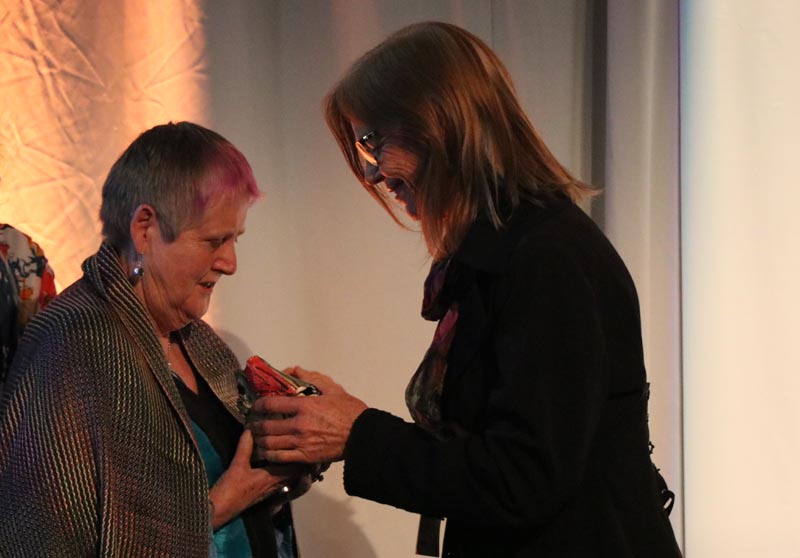 FROM THE HEART: The Arts Access Accolade is made on behalf of the staff, trustees and patrons of Arts Access Aotearoa to one person who has voluntarily helped our organisation increase access to the arts in ways we could not have imagined and to whom we are extremely grateful. Thank you, Robyn Hunt. The Accolade was presented by Dr Karen Webster, Chair of the Arts Access Aotearoa board of trustees on behalf of award patron Dame Rosie Horton.

TE WIKI O TE REO MĀORI: Te Putanga Toi Arts Access Awards 2019 were held during Te Wiki o te Reo Māori. Each year the voices of Ngāti Pōneke Young Māori Club provide the cultural and spiritual base from which the leaders of arts and cultural accessibility within our Māori, Pākehā, Pasifika and other diverse communities are celebrated and thanked.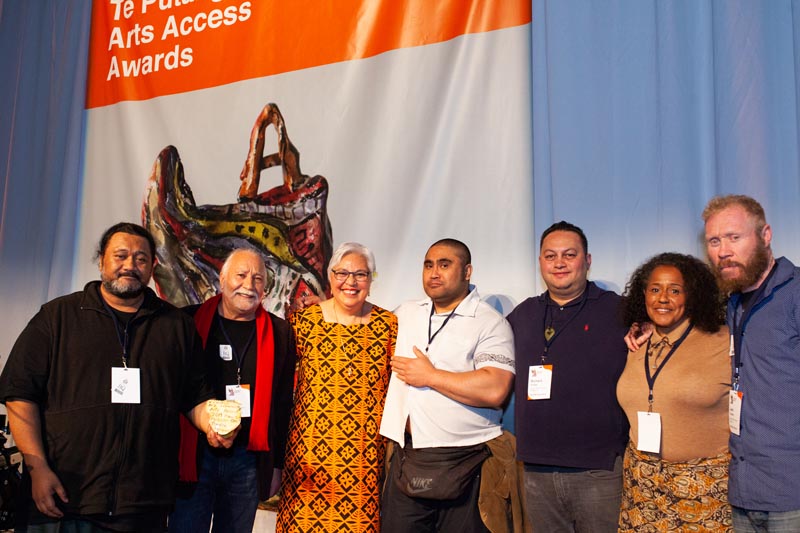 EXCELLENCE THROUGH COMMUNITY ARTS: The Hobson Street Theatre Company is celebrated - receiving the inaugural Arts Access Creative New Zealand Community Arts Award presented by Luamanuvao Dame Winne Laban. The voices, issues and humanity of an underrepresented community is being achieved with excellence through community arts productions.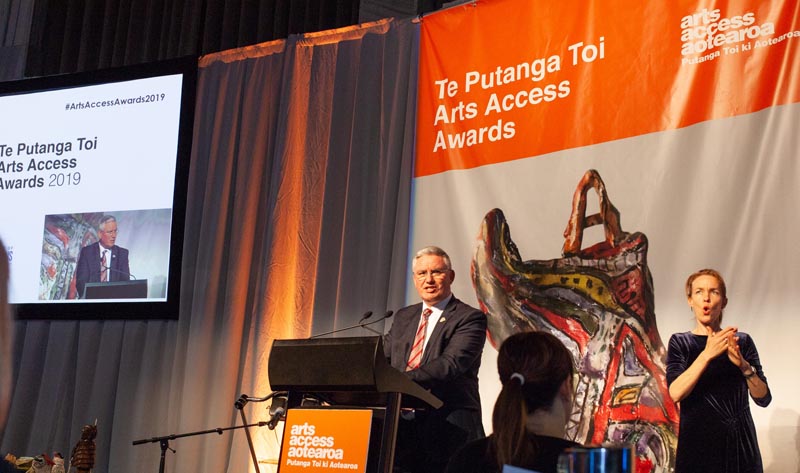 LANGUAGE POWER: The power and expression of two official languages of Aotearoa – te reo Māori and New Zealand Sign Language – opens Te Putanga Toi Arts Access Awards 2019. Thank you Hon Kelvin Davis for your inspiring speech honouring all recipients.
VOICES AND MUSIC: The comedy perspective and excellent co–MC presentation was handled delightfully by Thane Pullan, seen here enjoying music by Richard (violin) and Fernando (guitar) from the Shed Project Kāpiti during the Grand Hall reception.
JOY OF THEATRE: Ruth Ratcliffe has worked for many years bringing excellent drama programmes to the men of Otago Corrections Facility. The results for the men have included confidence-building and the development of social skills. For the wider community, this work has provided a bridge by inviting the public into the prison to see the works, including a performance that was part of the Dunedin Fringe Festival 2019.
Check out some of the photos on Flickr