Blog
Arts Access Aotearoa
The arts are not just a "nice to have". I said that in an opinion piece I wrote recently that covered the wider topic of creativity, wellbeing and the essential ingredients that keep people balanced and motivated physically, spiritually and emotionally. With these in place, we can lead productive lives.
When a person is unwell, it's often not just about their physical condition. There are many aspects to a person that make up the whole and Department of Corrections' operational staff are dealing daily with people who are unwell in many different ways and who have highly complex needs.
Drug and alcohol abuse, chaotic lifestyles and violence result in sadness and broken lives. And we know that perpetrators of violence and crime are often victims themselves.
Prisoners and mental ill health
One in five New Zealanders experience mental illness some time in their lives. In prison, however, these figures leap to more than nine out of 10 (91%) prisoners with mental ill health or a substance use disorder.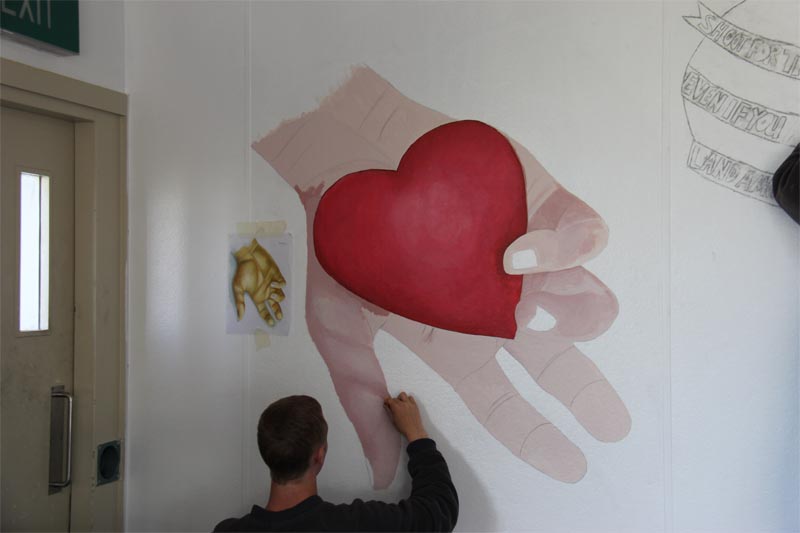 I am pleased, therefore, that Corrections is piloting four new services as part of a $14 million initiative to help offenders and their families cope with mental health challenges.
There is no one way to "fix" a person. Indeed, there are many methods to assist the body and mind to return to good health.
So what can the arts provide to support a prisoner's wellbeing and mental health? The arts are a safe way of self-expression. Prisoners can feel anything from depression to anger if their voices have been stifled in the past and if they are unable to express their feelings and thoughts constructively.
Understanding the consequences of their actions
Painting, drawing, creative writing, song-making and drama are some of the arts activities that engage prisoners and help them build self-esteem, confidence and communication skills. And often through art, they come to understand the consequences of what they have done.
If you are wrestling with mental health and you're in the community, you can access the free services of a supportive creative environment at places like Toi Ora Live Arts Trust in Auckland; Vincents Art Workshop and Pablos Art Studios in Wellington; Otautahi Creative Spaces in Christchurch; and Artsenta in Dunedin.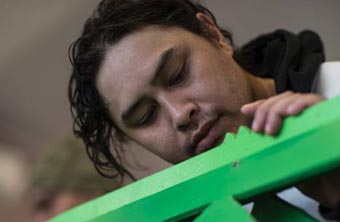 In a recent article in The Press, for example, a Christchurch man participating in a weekly workshop run by Otautahi Creative Spaces, says exploring his artistic side has helped him turn his life around.
Over the past three months, Gary and eight other young men from the Christchurch mental health residential rehabilitation facility Te Korimako have been carving a waharoa (gateway) under the guidance of carving teacher Caine Tauwhare.
"It's got me off the streets . . . it's got me off doing crime. I don't do that stuff anymore … I come here once a week and I love it. Mentally, physically and emotionally, I feel really good."
No access to creativity
Most prisoners, however, don't have access to creativity. That's why prison libraries and librarians, volunteer art tutors and staff who understand the value of creativity as a rehabilitative and reintegration tool play an essential role.
Access Aotearoa has written many stories and articles illustrating the role the arts can play in supporting the rehabilitation process. Often, these stories – published on our website – quote prisoners themselves saying how important art has been in their rehabilitation and sense of worth.
In this issue of the Arts Access in Corrections e-newsletter, we feature a story about a volunteer art tutor, Karina Fraser, and men attending her weekly art sessions in the Drug Treatment Unit of Rimutaka Prison. Here are just a few of the prisoners' comments:
"Art is my antidote to my negative thinking and behaviour."
"I've been in jail a long time and art is my therapy. It keeps me being good because I don't want to lose the privilege of doing it."
"Art brings people together. There's no judgement. I've collaborated and done some really cool stuff with inmates."
I have been fortunate to see firsthand some of the results of arts projects delivered in prisons. Here's just one example. Last year, I attended event celebrating the achievements of 20 women in the Drug Treatment Unit at Arohata Prison. They had just completed a 20-week creative writing course, delivered by Pip Adam and William Brandt of the Write Where You Collective.
At the ceremony, each woman received a certificate and a copy of a book containing a collection of the group's writing. One by one, they stepped forward and read their work to an audience of Corrections staff, fellow prisoners and invited guests. They were proud, confident and articulate.
This process of engaging with the arts is much more than a constructive, "nice to have" activity and can help prisoners on release play a positive role in the world.
Books and reading, songs and music, paintings, sculpture and drawing, film ... Close your eyes and imagine yourself without access to things that feed our emotional and spiritual selves.
Hopefully, that will give you an idea as to why access to the arts is essential for prisoners' return to full health.