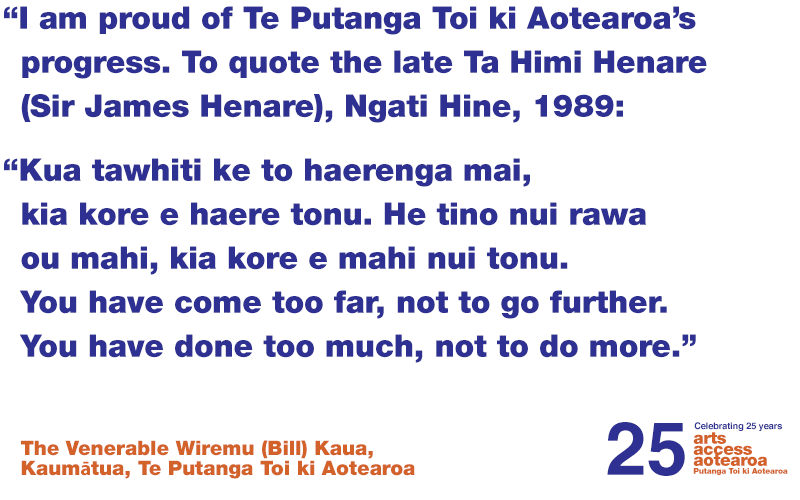 Celebrating 25 years
"Milestones on the journey to where you are going are important to acknowledge and reflect on," says Arts Access Aotearoa Executive Director Richard Benge. "Arts Access Aotearoa is passing a significant year milestone of 25 years. As everything we do is about making the arts accessible to all people in Aotearoa, I invited people with us on the journey for their reflection on time and intention."
The Venerable Wiremu (Bill) Kaua, Kaumātua, Te Putanga Toi ki Aotearoa
"I am proud of Te Putanga Toi ki Aotearoa's progress. To quote the late Ta Himi Henare (Sir James Henare), Ngati Hine, 1989: "Kua tawhiti ke to haerenga mai, kia kore e haere tonu. He tino nui rawa ou mahi, kia kore e mahi nui tonu. You have come too far, not to go further. You have done too much, not to do more."
Penny Eames, Founding Executive Director
"Arts Access Aotearoa was set up to provide access to the arts in line with Article 27 of the Universal Declaration of Human Rights, which stressed that everyone should have access to and enjoyment of the arts. My challenge for the next 25 years is that Arts Access Aotearoa continues to reach out to more marginalised communities."
Mel Smith CNZM, first Chair and Founding Patron
"Arts Access Aotearoa and all of its people over 25 years can feel proud of what's been achieved. The environment it works in is not always easy but it's maintained its purpose, meeting the needs of diverse communities and demonstrating the need for such an organisation. Many people have benefited hugely from the skills of its staff."
Dr Laura Haughey and the Equal Voices Arts team
"Thank you so much, Arts Access Aotearoa: 25 years of vital work across Aotearoa.
We will always be grateful for your advice, inspiration and support for all our work when he formed a Deaf and hearing theatre ensemble. You have made such a difference to our work. Thank you for shining the light."
Duncan Armstrong, artist
"Arts Access Aotearoa is great because it supports the arts by people with disabilities. It helps give us a place to stand and be heard."
Richard Cunliffe, former Chair, Arts Access Aotearoa
"When I think of Arts Access Aotearoa, I think of an inspirational organisation that encourages artistic expression and helps unlock artistic talent in people who face barriers to access and participation in the arts and creativity."
Dr Karen Webster, Chair, Arts Access Aotearoa
"As we look to the next 25 years of making the arts accessible to everyone in Aotearoa, we honour the artists and individuals who have dedicated their time to ensuring more of us can experience joy and wellbeing through the arts. It's an absolute privilege to have worked with you over the past eight years. Mauri ora!"
Mary Schnackenberg, consultant
"For this lifelong blind person, Arts Access Aotearoa has championed providers of audio description to open up ballet, acrobatics in the human circus, visual arts, stagecraft and sets, unfamiliar musical instruments, costumes and cultures and glass cases in museums – all things that I thought were only ever for sighted people to enjoy."
Stephen Wainwright, CEO, Creative New Zealand
"From day one, Arts Access Aotearoa has been a champion in advancing equality of arts access and participation. An important contribution is to have shifted the attitudes of an arts sector that's much more focused on inclusion."
Glen McDonald, Coordinator, Vincents Art Workshop
"Over 25 years, Arts Access Aotearoa has developed to become a touchstone for the accessibility of creative self-expression. The networks and conversations that I experienced as a board member for seven years enabled me to speak with a clearer voice about my own creative space and for the sector."
Beth Hill, Redemption Arts, Northland Region Corrections Facility
"Thank you, Arts Access Aotearoa, for facilitating, advising, promoting and advocating for women and men on the other side of the fence."
Tānemahuta me te whānau o Taki Rua
"Ngā mihi whakanuia ki a koutou, te whānau whānui o Arts Access Aotearoa mō tēnei whakangahau o rua tekau mā rima ngā tau. To 25 years of bringing light, laughter and love to all our communities of Aotearoa. Taki Rua have loved presenting audio described performances in te reo Māori with your tautoko! Arohanui."
Helen Vivienne Fletcher
"Arts Access Aotearoa has been an inspiration for me and so many other artists over the years. Love the work you have done – inspiring artists, empowering them and making change. Magic."
Robyn Hunt, Arts Access Accolade recipient 2018

"I've loved exploring the growth of arts access and disability arts with you. Your advocacy responds to change, your nurturing enables and empowers. Your practical support, encouragement and promotion of Crip the Lit helped establish us firmly in the arts community. You believe in thriving Disability arts. Happy 25th!"
Rodney Bell, Ngāti Maniapoto
"I have so much gratitude for Arts Access Aotearoa. Many of my enhanced memories have been with and because of the amazing people and community of Arts Access Aotearoa. I celebrate you all, past and present, and hope to catch a ride on your waka again as you flow down your stream of time. Kia kaha, Kia maia, Kia manawanui."
Trish Harris, writer
"Dear Arts Access Aotearoa, you helped activate the Crip the Lit vision – linking us with arts organisations, supporting funding applications and promotions. Way back in 1998, I attended an Australian disability arts conference, thanks to your help. You are agile advocates and here we all are, flourishing and very grateful!"
Paul Smith, Director, Artsenta
"It's really important to me that creative spaces have a voice so I am stoked that Arts Access Aotearoa has stepped up to support us and advocate for us nationally."
Murray Short, former Chair, Arts Access Aotearoa

"Over the past 25 years, Arts Access Aotearoa has told a multitude of stories from prison inmates to creative space participants and many others, capturing the value of its work and major contribution to the wellbeing of our communities. Many thanks to all current staff and Board members, and all the best for the next 25 years."
Pascale Parenteau, Education, Community & Accessibility Manager, Royal New Zealand Ballet
"Arts Access Aotearoa, you can be proud of what you have achieved in the past 25 years. Because of you, many more New Zealanders now have the chance to experience the life-affirming joy of the arts. You are a true inspiration to all those working in arts-related fields in Aotearoa New Zealand."
Julie Donvin-Irons, former Executive Director, Arts Access Aotearoa
"How amazing that Arts Access Aotearoa has grown into such a wonderful organisation, built with those who have worked within and shaped by the artists who declared the kaupapa of their work – thus making many of us reflect, respond and change."
Garry Nicholas, General Manager, Toi Maori Aotearoa
"From the beginning, Penny Eames and Glenn Wiggs in action at the QEII board and staff meeting … 25 years later, the nation has joined to embrace Arts Access Aotearoa's values, bringing diversity, tolerance and mana-enhancing profile to artists. Te iti te rahi te katoa. E hoa, Richard, me ngā mema o te poari, kia kaha kia manawa nui."
Rachel Leota, National Commissioner, Ara Poutama Aotearoa Department of Corrections
"We are very grateful for the mahi of Arts Access Aotearoa in supporting the delivery of arts programmes in prisons. The arts sit alongside all the other rehabilitative and education programmes that Corrections provide to help mould people into more positive role models so they can turn away from a life of crime."
Mary Ama, artist, Pacifica Mama
"25 years of celebrating our stories, art and community. What an achievement – with so many more stories to be shared!"
Diana McPherson, Director, Māpura Studios
"Arts Access Aotearoa makes me realise that we are not working in isolation and that there are other great creative spaces working, struggling and achieving great outcomes for disabled people. It's all about the power of creativity in enhancing health and wellbeing for all."
Howard Fancy, former Chair, Arts Access Aotearoa
"It's been great to see arts organisations responding to a challenge to improve their accessibility. Arts programmes in prisons have had a powerful, therapeutic impact while creative spaces in the heart of communities enable people to realise their creative potential. All have had a strong supporter and advocate in Arts Access Aotearoa."
Benton Glassey, tutor, Studio2/Margaret Freeman Gallery
"The team at Arts Access Aotearoa truly understands art and its capacity to connect and uplift. The incredible things they have accomplished and continue to accomplish are testament to their ongoing dedication to show us all that self-expression transcends all barriers."
Pati Umaga, musician
"I've been a big fan of Arts Access Aotearoa for the past ten years. I'm excited by the possibilities as it explores the potential of our young, disabled Pasifika artists."
Tim Bray QSM, Artistic Director, Tim Bray Theatre Company
"Well done on your silver anniversary! Your people, advocacy and support continue to inspire us in our accessibility goals. Kia ora mō ō koutou mahi matu."
Lyn Cotton, founder and Artistic Director, Jolt
"Jolt was a new company with very little national profile or access to resources and training when we first made contact with Arts Access Aotearoa. They have supported our work, inspired us, connected us with others and always advocated for our community. Arohanui, Jolt."