Blog
Arts Access Aotearoa
Talofa lava. November and December have been busy months for Arts Access Aotearoa, including members of the Arts in Corrections Network. COVID-19 has restricted my travel plans for this year but as restrictions eased, I decided to visit various people and prisons around the country.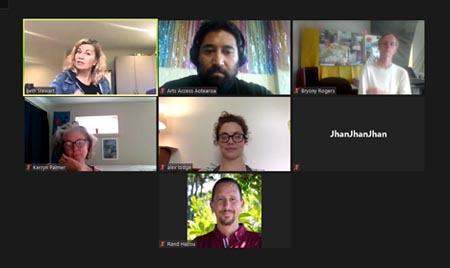 The third part of the Arts in Corrections Network webinars was presented on 4 November. It included two presentations from recipients of Te Putanga Toi Arts Access Awards 2020: Rue-Jade Morgan, Te Hōkai Manea Tipuna, Otago Corrections Facility, and Beth Hill on behalf of Redemption Performing Arts Whānau/Tuakana and Teina mentoring programme, Northland Region Corrections Facility. The presenters discussed the importance of autonomous learning and what makes their arts programmes award-winning.
The third presentation provided insights into Creative New Zealand funding and I have created a funding resource. Please contact me in the new year if you need any advice about applying to Creative New Zealand for funding for your Arts in Corrections project.
I am planning to continue the webinars in 2021 if people have found them useful. Please email me with any feedback about these sessions, including any topics you want covered.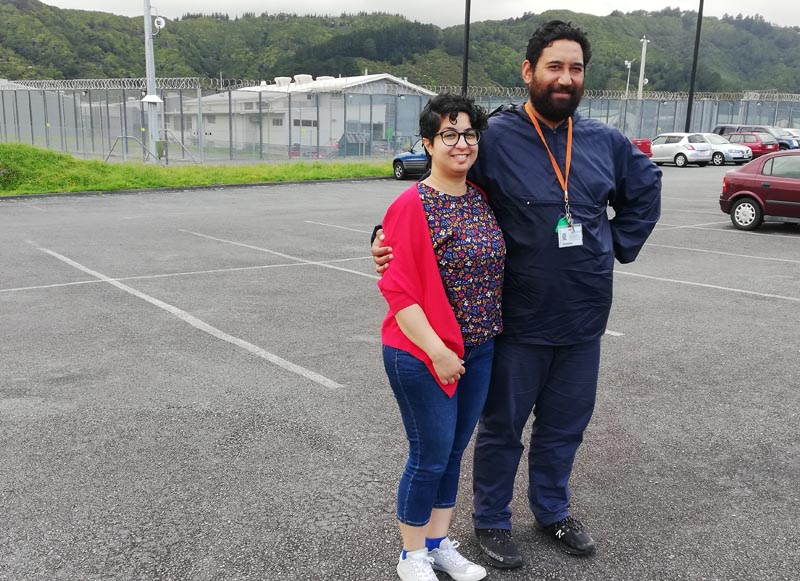 Rob Mokaraka performed Shot Bro: Confessions of a Depressed Bullet at Rimutaka Prison on 16 November. My colleague Iona McNaughton and visitor Dr Pooneh Torabian attended the performance in Te Whare Manaakitanga Unit 9, where the men welcomed us with a powhiri and a beautiful waiata written by one of the men.
I was inspired by Rob and the ways he employed aroha throughout the performance. Rob formed the shape of a heart with his hands and asked audience members to receive his aroha. These small acts of kindness were Rob's way of checking in with the audience and seeing if they were okay. Throughout, Rob challenged masculinity by offering aroha as a remedy for toxic behaviour.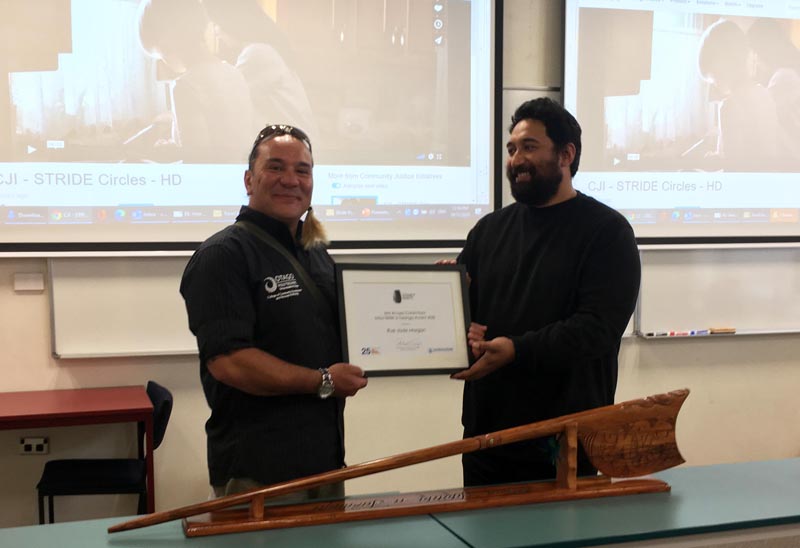 The Arts in Corrections Otago Network meeting was held on 19 November, where I presented the Māui Tikitiki a Taranga Award trophy to Rue-Jade Morgan in person. Jade's family were also there for the occasion, and I explained what the trophy's designs meant and what the award itself symbolises.
Dr Pooneh Torabian gave a presentation about Stride, an arts mentoring programme in Ontario, Canada, and the research she was involved in. This presentation was followed by an insightful discussion on arts initiatives in the Otepoti (Dunedin) community and whether it would be possible to set up a version of Stride in Otago. You can read a Q and A interview with Pooneh
I then travelled to Auckland to touch base with Ghissy Lee, Volunteer Co-ordinator at Mt Eden Corrections Facility. We discussed two new arts programmes that have been making significant contributions to men in their care. Zak Davey and his team of facilitators from Youth Arts New Zealand have been delivering a creative writing programme to imprisoned youth aged 18 to 25. This innovative initiative has also produced a writing resource, accessible via the Department of Corrections' Brain Bites project.
Creative New Zealand grant to develop programme
Zak and I discussed what's coming up for the programme in 2021 and the difference that receiving a Creative New Zealand grant will make in developing the programme. You can read more about Zak and the programme on Arts Access Aotearoa's website.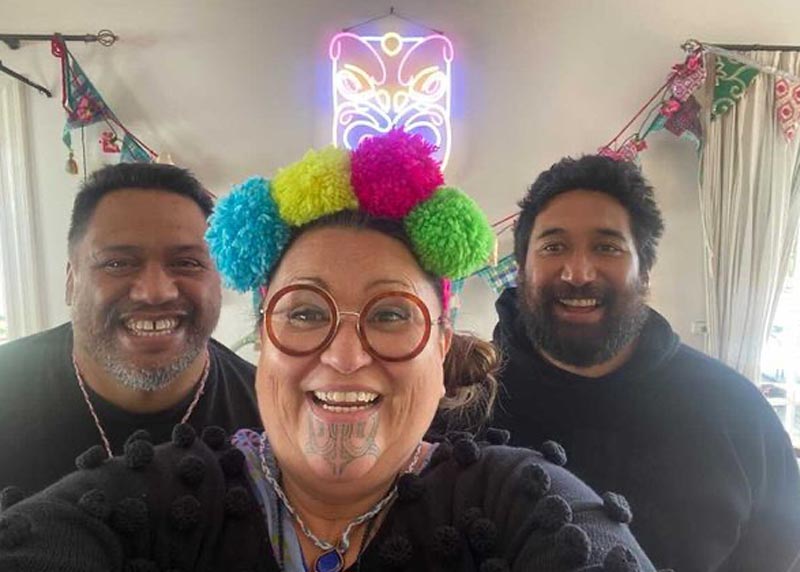 In Auckland I also met Lissy Robinson-Cole and Rudi Robinson, who facilitate a crochet programme at Mt Eden Corrections Facility. When you think of crochet or knitting, you may associate it with your grandparents and cups of tea.
Rudi, however, delivers the crochet programme to 22 men in the Facility's Papa Unit, and promotes the use of bright fluoro colours and contemporary Māori designs. Rudi says it's a real joy to work with these men and wants to expand the programme so they have more time to create more intricate designs.Read more about this creative couple
After Auckland, I went to my first site visit at Hawkes Bay Regional Prison. I was able to present Acting Prison Director Leonie Aben with her Māui Tikitiki a Taranga Award's Highly Commended citation. Men from the Māori pathways team also gifted her a taiaha created by the men at the prison. Leonie was overwhelmed by the recognition, and thanked her staff and Arts Access Aotearoa for acknowledging her site. You can read more about Leonie's work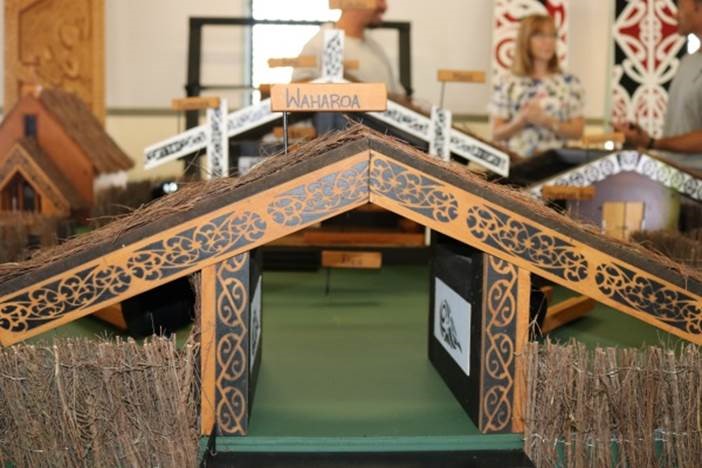 New Plymouth Prison's Probation Officer Jill Chamberlain attended the prison visit with me, hoping to learn more about its Arts in Corrections programmes. We were fortunate to visit its Māori unit where they are delivering a range of arts programmes, including the design and construction of scale models of the Marae Atea. These models have been gifted to local schools in the Hawke's Bay. I asked a prisoner what the model-making meant for him. He said it was amazing to be able to give back to their community and help support the tamariki in learning about Te Ao Māori.
The visit over, I raced to the airport to catch my flight back to Wellington. Over a coffee and waiting to board, I reflected on all the great Arts in Corrections initiatives, leaders and facilitators in New Zealand and on what was in store for 2021. I also thought about Rob Mokaraka's play and the simple but powerful concept of aroha.
Giving and receiving love can be hard for anyone – and perhaps more so for men and women in prison. If we all resolved to make more meaningful connections in 2021, we would help combat isolation and enhance wellbeing. Let's all shape our hands into a heart and gift it to those around us.