News
Arts Access Aotearoa
Women and creativity in prison
27 October 2017
A large, framed painting of flowers hangs on a wall in Arts Access Aotearoa's office. It's been donated by quilter June Nixey, who was a volunteer quilter at Arohata Prison in Wellington for nearly 25 years before standing down earlier this year.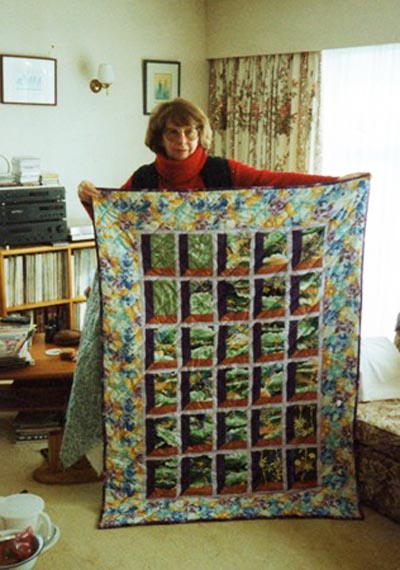 June was one of the three original women who went into Arohata Prison to take a six-week course in 1993 and helped form the group called the Shut-in Stitchers. Made up of volunteer quilters and prisoners, it meets every Saturday morning within the prison walls.
"We're not do-gooders. We just love making quilts – and that's how it all started," June is always quick to say.
Back in September, Arts Access Aotearoa received a call from June Nixey offering to donate a painting by a woman prisoner made in 1996 for an exhibition in Porirua.
Jacqui Moyes, Arts in Corrections Advisor, Arts Access Aotearoa, went to collect the painting. "June told me a fantastic story about the fair trade she made of one of her quilts for the painting she had seen in the exhibition.
"For June, the painting reflects the mutual respect between the quilters and the women inside. She wanted to pass on the painting to cement its place in the history of Arts in Corrections in New Zealand."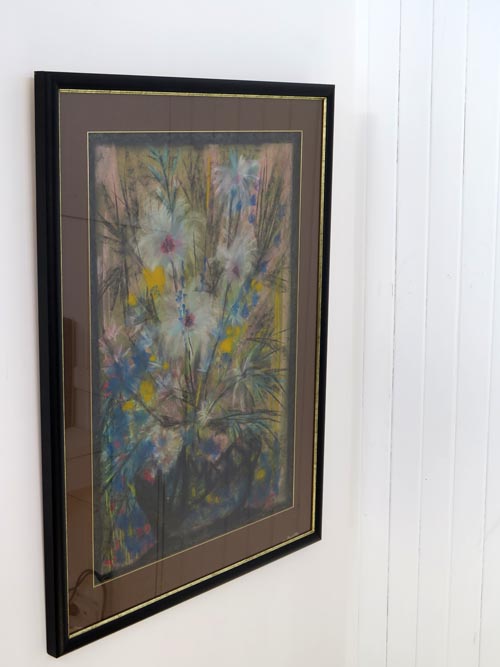 For Jacqui, the painting symbolises the bond between women and illustrates the opportunity the arts and creativity can provide in building healthy, human connections.
"Women like June and fellow quilters Janet Forbes and Mary Ann France in Auckland have showed incredible persistence and commitment to share their love of textiles and the craft of quilting.
"It's important to recognise those who have come before and developed pathways for those who are here now. June, Janet and Mary Ann have created a legacy of textile arts in women's prisons."
She also points to Tracey McIntosh, Professor of Indigenous Studies at the University of Auckland, who has has been volunteering at Auckland Region Women's Corrections Facility for the past ten years.
Back in 2007, Tracey started supporting women in the Auckland facility to achieve their educational goals. Encouraging them to write about their experiences and teaching creative writing was a natural extension of this support.
Creative writing
In Wellington, established writer and teacher Pip Adam has been volunteering in prisons since 1995. Then in 2014, she ran a 16-week creative writing project for women in Arohata Prison – a project that evolved into the Write Where You Are Collective of four writers: Pip, William Brandt, Gigi Fenster and Raj Chakraborti.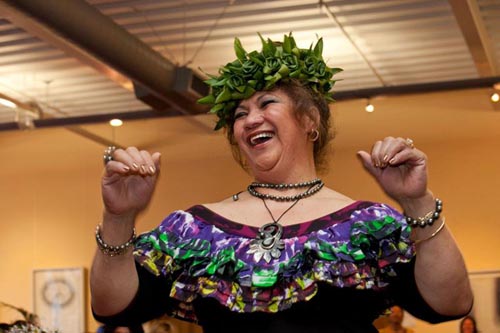 Jacqui says there are also some "amazing women" who have dedicated years of their time to pass on their knowledge to men in prison – women like artist Robyn Hughes, tivaevae (Cook Islands quilting) specialist Mary Ama and raranga (weaving) expert Wiki Turner.
Jacqui recalls the work of the late Celia Lashlie and the two books she wrote: Journey to Prison: Who Goes and Why (HarperCollins, 2002) and The Power of Mothers: Releasing our Children (HarperCollins, 2010).
"Celia and other women talked for years about the need for a strategic response to female offenders that addresses their needs rather than a one-size-fits-all approach," Jacqui says.
New strategy for women
She welcomes the Department of Corrections' new strategy for women called Wahine e rere ana ki te pae hou: Women's Strategy 2017–2021.
The strategy focuses on three key areas:
Providing women with interventions that meet their unique risks and needs
Managing women in ways that are trauma-informed and empowering
Managing women in a way that reflects the importance of relationships to women.
"The arts and creativity are great tools that can really help Corrections achieve success in these three areas," Jacqui says. "Over and over, I've seen the way the arts – theatre, creative writing, visual art – provide a voice for the women to express their often traumatic histories and tell their stories."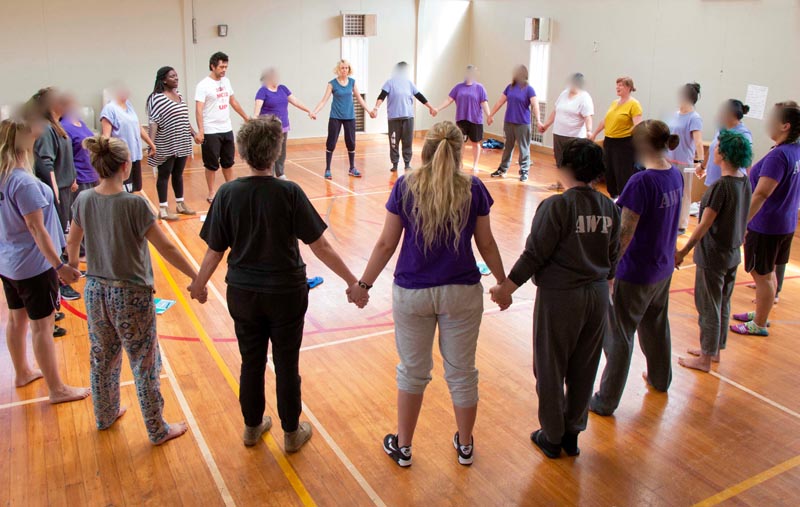 In March 2016, Jacqui facilitated a week-long theatre workshop with 16 women in the Drug Treatment Unit at Arohata Prison. Led by German director Uta Plate with eight volunteer Wellington actors, musicians and a visual artist, the workshop culminated in a performance called Come Listen to my Story of Wonderland. Read about the project and watch a video: Empowering women in Arohata Prison through theatre
Among the overwhelmingly positive feedback from the participants, one woman wrote: "The Arts Access workshop has been an amazing experience. I found myself growing more confident with each day and really looking deep inside, and reflecting on who I am as a person and what I can bring."
Jacqui is giving a presentation at the 2017 Australasian Therapeutic Communities Association conference, on in Brisbane from 31 October to 3 November. http://events.atca.com.au/ She will discuss the role of creative engagement in encouraging the real conversations and providing opportunities to engage family/whānau in the rehabilitation and reintegration process.