Article
Arts Access Aotearoa
Auckland's Tim Bray Theatre Company was ten days away from opening its 100th show, a production of Joy Cowley's picture book Greedy Cat, when New Zealand went into lockdown because of COVID-19.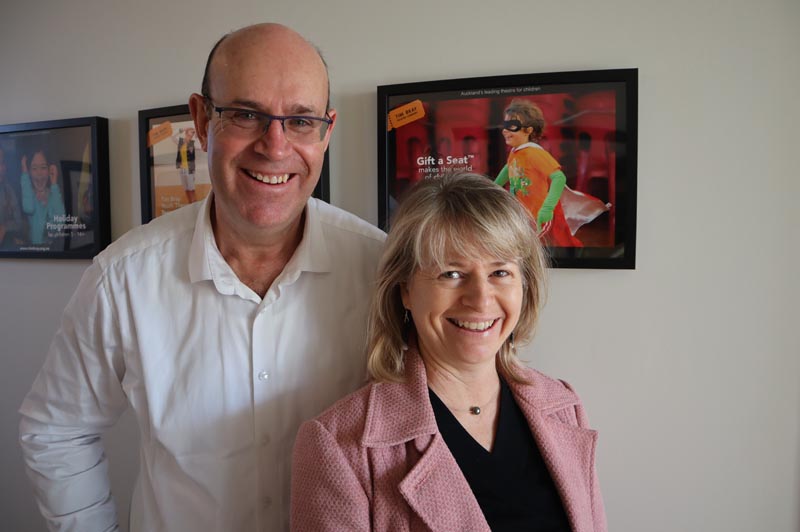 Tim Bray Theatre Company's founder and artistic director Tim Bray, QSM, says, "Our biggest challenge was the sudden halting of our events and Youth Theatre activities, which then exposed how vulnerable we are. We're a $1 million theatre company, 50 per cent of which is self-generated, and yet we don't receive any guaranteed multi-year funding. So our immediate future was dire."
Tim says the children's theatre company had invested $100,000 in the development and marketing of Greedy Cat and had $100,000 in advance ticket sales and funding.
"The ticket sales were refunded as was most of the funding," he says. "Some funders, though, allowed us to redirect the funding to other aspects of the company."
Fundraising crisis appeal
On the advice of its Business Development Manager, Gail Rotherham, the company started a fundraising crisis appeal early on.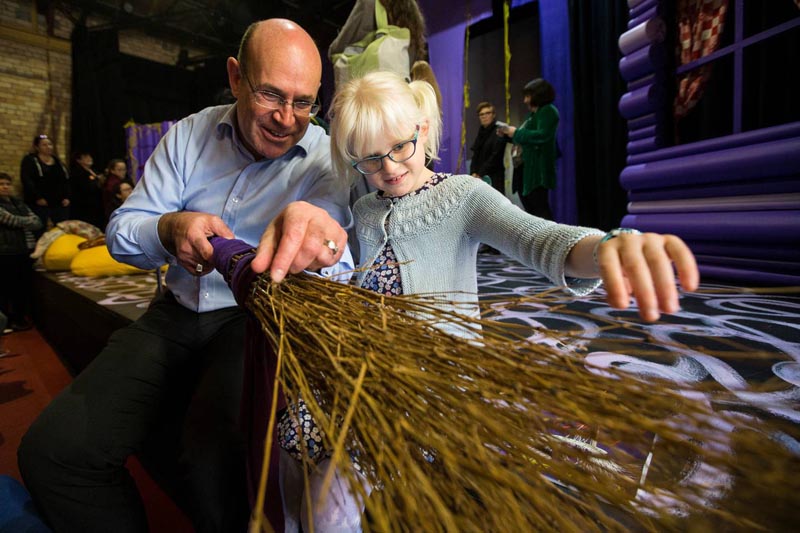 "To be honest, I felt a little awkward about this," Tim says. "We were in the thick of a health crisis so I didn't think we could seek donations. But I'm so glad we did. To date, our audience and supporters have generously donated $86,000 and we are still here.
"In the first week of lockdown, we just couldn't see how we would survive but our audience has rallied to save us.
"Through the messages that came with the donations, we learned that our community are passionate about us, and the outcomes we achieve for their children and grandchildren. Many said that they couldn't imagine Auckland without our theatre company. We heard numerous stories of how important our shows and programmes are to their families."
As part of the campaign, a New Zealand Sign Language interpreted Crisis Appeal video was created. Those involved in making the video all offered their services or performances at no cost.
"We also asked our ticket holders to Greedy Cat if they might donate their ticket purchase to the Crisis Appeal. Many did and The PumpHouse Theatre kindly donated their time to this process," Tim says.
Rent-free spaces
The spaces that house the company's office and store their props, sets and costumes let them have the spaces rent-free for three months. The company also received the Ministry of Social Development's wage subsidy and funding from the Creative New Zealand Emergency Relief Grant.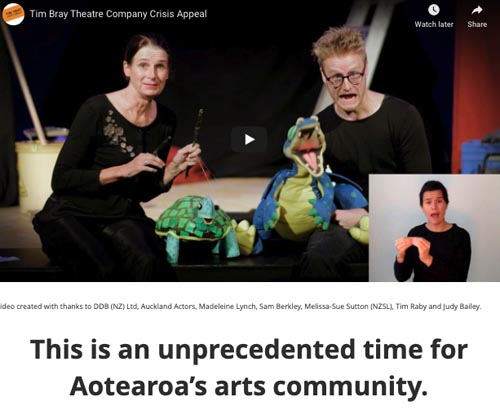 Classes continued via Zoom, with the company's Youth Theatre working towards its annual performance in the third term. Tim says he was keen for the classes to continue to hear how COVID-19 had affected children and young people.
"Their voices have not been heard through this period, apart from children thanking the frontline workers in TV adverts, and we feel it's important to hear how the past few months have been for them," he says.
Tim Bray Theatre Company pioneered NZSL interpreted shows in New Zealand, starting in 2004. Now, each season offers at least two NZSL interpreted shows.
The company also provides sensory relaxed performances, and audio described performances with a pre-show touch tour.
Touch tours and audio description
"In 2015, Gail Rotherham initiated audio described performances and we now offer at least two of these during each season," Tim says. "We are still building the audience for these, including parents and grandparents who are blind and visually impaired. This means they can enjoy a theatre production with their children or grandchildren.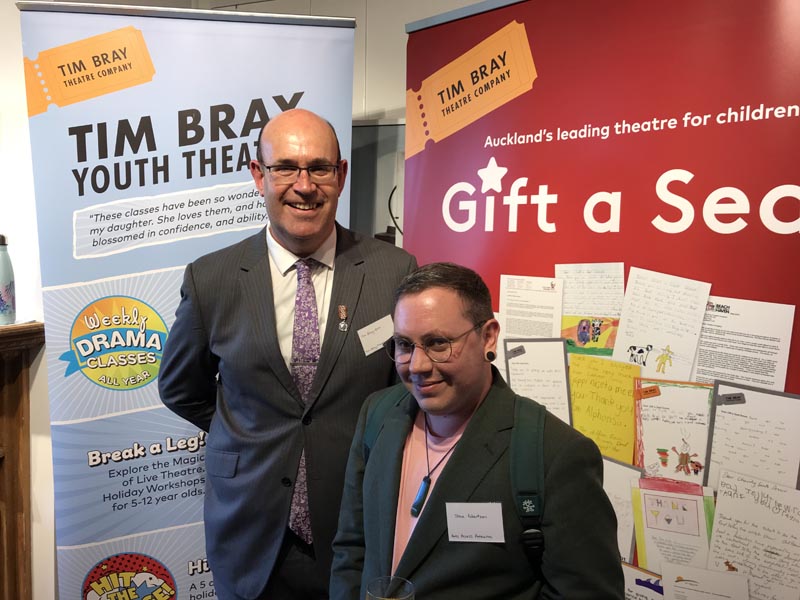 "And in 2019, we partnered with the Children's Autism Foundation and with funding from the Working Together More Fund, we developed our own style of sensory relaxed performances. The creation of these were based on feedback from parents of children with autism and other neuro-diversities.
"The news right now is that we have had two of our supporters generously donate for a specific purpose – that of putting on a show in 2020. They very much want that to be a positive outcome for us. So, thanks to their donations we are now laying the foundations to bring back Greedy Cat for the September/October school holidays!"
Audience members will include 1200 children attending under the Gift a Seat programme, which provides donated or funded tickets to children from low-decile schools, Kelston Deaf Education Centre, BLENNZ (Blind and Low Vision Education Network of NZ), and families under the care of Make-A-Wish (NZ).
Tim says the company is looking forward to celebrating its "huge milestone" of 30 years in 2021. "That's a long time for a theatre company in New Zealand but also, we think, a remarkable achievement for one dedicated to theatre for children."
Tim Bray Theatre Company is a member of the Arts For All Auckland Network. Please contact Gail Rotherham on gail@timbray.org.nz if you would like to support Tim Bray Theatre Company, a registered charitable trust, with a regular or one-off donation.