Blog
Arts Access Aotearoa
Kia Ora. I am a member of Redemption Performing Arts. I am a father, a son, a brother and an uncle. I am Māori and I have served seven years of a nine-year sentence. I am also a practising artist, musician and songwriter – skills I learned and developed during my time in prison, mainly through the five years I have been with the Redemption Performing Arts group in Northland Region Corrections Facility.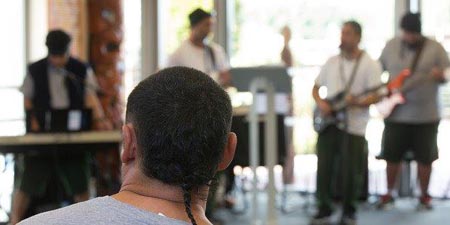 I joined the group in 2016 as part of the band. We helped to bring some musical elements to performances but really, it also gave us somewhere to perform what we loved doing, which was music.
Back then I could never have known how much a group like this could change not only my life but my perception, direction and outlook on life. I know it sounds cliché but if you knew the downward spiral my life was heading in at that time, you would understand why this is so important to me and the brothers who have been lucky enough to experience what I have.
Over the years my journey through the arts and performing arts has given me a new love and appreciation for the creative world and what it offers on the outside. Through these programmes, I have also had the privilege and opportunity to be involved in creative workshops for music, art and theatre; and community events where we have performed original plays, songs, poetry and haka for family, members of the local and wider communities, politicians, Army veterans, dignitaries and multiple theatre groups.
"Amazing opportunities to exhibit artworks"
I've had amazing opportunities to exhibit artworks in multiple exhibitions in well-known galleries such as Mairangi Arts Centre, Whangarei Art Museum, The Geoff Wilson Gallery, Village Arts in Kohukohu, Studio One in Ponsonby and, most recently, the Quest Art space in Whangarei.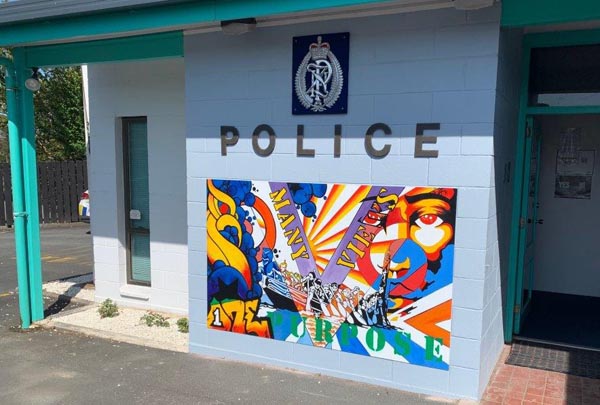 All of these experiences and more have been instrumental in changing my mindset and behaviour. Prior to joining Redemption Performing Arts, I was angry and depressed, had issues with authority and thought the only way to make it through my time in prison was hardening myself to reality and burying whatever feelings and emotions I thought could be taken for weakness.
This mentality was my normal mindset for years. I couldn't even speak in front of a group of people, let alone perform.
That's why all the arts experiences are important: not only performing in front of all these people but also interacting and have normal conversations with people from so many different backgrounds and walks of life.
That's been hugely positive in breaking down those mental walls I put up to protect myself. Also, the support network we have within the group has helped me stay positive. They are always there to remind me what is important and how far I've come.
The highlight of my time with the group is when we performed our play about the 28th Māori Battalion to a group of art students from Penn State University in America because one of them came up to me afterwards and said she'd never written before but I inspired her to write a song.
Inspiration
I don't know why that moment stuck with me but I wrote down my thoughts that night and below is a copy of what I wrote. It was written on 15th May 2019 and is called "Inspiration".
"I didn't really understand how powerful the written word could be until today.
"I never really thought something I wrote could ever inspire anyone. Especially someone from the other side of the world.
"Seriously, what were the chances of a university art student from a school somewhere in America being inspired by a prisoner from a rural part of New Zealand that no one's ever heard of. I don't even know her name but this will always be an experience I won't forget. You see, words like inspiration are rarely used in the same sentence as people like us.
"I remember every inspiration for every poem and song I ever wrote; that feeling you get when your thoughts just flow on to the page, line after line of self-expression. I can only describe it as magic.
"I still struggle to find the words to explain where the words come from. it feels like they just fall out of some unexplainable dimension. I call every word a gift from the gods because how can something as simple as words, inspired by feelings, have the power to influence and reach people divided by oceans, cultures and class.
"Magic in its simplest form is inspiration."
My pathway to a more positive and productive future
I am proud of everything I have achieved over the years and I know I'm very lucky to have had these opportunities. My journey through the arts and creative industries is my pathway to a more positive and productive future. I feel the arts and creativity will always have a place in prison. There is a need for it. I NEEDED IT!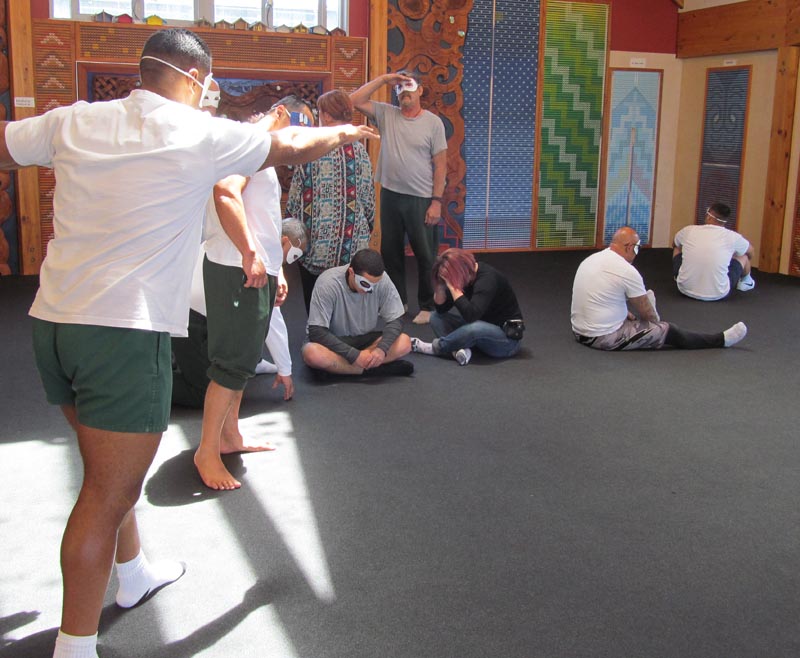 These forms of expression help us deal with what life throws at us but also provide opportunities in the creative industries when we are released such as art commissions, tee-shirt designs, whakairo and music. And even growing opportunities in our gaming and film industries are possible.
I am just one person out of many who have made positive changes through the arts and being a member of Redemption Performing Arts. Thank you for listening to my story: I have always hoped that my journey and my progress would speak for me.
And thank you to all the RPA team and Beth. I will always be grateful for your support and the changes you have helped me make. Arohanui.