Creative spaces directory: Manawatu-Whanganui region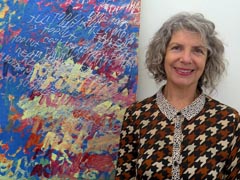 Creative spaces are community-based arts organisations and groups where people, often with limited access, can go to make art, participate in theatre, dance, music, film and creative writing. Find a creative space in Manawatu-Whanganui. If you would rather look at a national directory, visit the national creative spaces directory.
Email Kate Hiatt, Creative Spaces Advisor, Arts Access Aotearoa to update your entry or to include your creative space in this directory.
Creative Journeys Ltd
Address: 47 The Square Edge Building Courtyard, Palmerston North 4410
Creative Journeys provides art-based day programmes for community members often excluded from conventional day-time activity. People seeking its services include people with intellectual disability; people with lived experience of mental illness; and those facing difficult personal change. Its mission is "Connecting to make magic happen". Visit its Facebook page.
Contact: Rochelle Swensson or Sheryl Cruden | 06 355 5947 | creativej@xtra.co.nz
Creative Sounds Society (The Stomach)
Address: 84 Lombard St Palmerston North 4410
Creative Sounds are dedicated to the encouragement of creative musical, artistic, and performance activities. They run an all-ages venue, recording studio and rehearsal spaces known as The Stomach. Accessibility and affordability are key goals of Creative Sounds Society. They aim to ensure that all people are able to access music, regardless of their ability or circumstances. Visit the website.
Contact: Abi Symes | 06 359 0120 | admin@creativesounds.org.nz
ExplorArtz, Whanganui Creative Space
Address: 61 Dublin Street, Whanganui
ExplorArtz, Whanganui Creative Space is a free, community art space inviting people to come and create art and crafts. It provides a safe, supportive work space and resources. Here, everyone is welcome to come along, learn new skills and discover their creative side with support from its art tutor to assist you in your own creative goals and journey. It welcomes you anytime on Wednesdays and Thursdays between 10am and 3pm, and phone for variable weekend days also available. Visit its Facebook page.
Contact: whanganuics@gmail.com
WAI: the Women's Art Initiative
Address: c/o Square Edge Arts Centre, 47 The Square, Palmerston North 4410
WAI is a facilitated group of women who have all experienced violence and abuse. Its members are artists, activists and advocates for social change. WAI offer a free, resourced drop-in artmaking space open each Monday between 10 am and 6pm. Tea, coffee and kai are provided. The WAI studio is a safe space where women create work in a wide range of media, including clay, print, paint, sculpture, inks, textiles and paper. Every year, WAI members set a kaupapa and work towards an exhibition. Visit its Facebook page.
Contact: Karen Seccombe, WAI Facilitator | 027 342 2448 | studio_kimbolton@outlook.com