Blog
Arts Access Aotearoa
The Creative Spaces Initiative has been established to deliver the Government's $18 million fund for creative spaces over three years. This is a very significant milestone for everyone working and participating in creative spaces.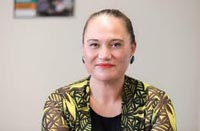 Announced by Hon. Carmel Sepuloni, Arts Minister and Minister for Disability Issues, the Creative Spaces Initiative aims to increase participation in creative spaces' services and will enable successful applicants to deliver outreach programmes. The fund will also help creative spaces retain and grow the staff roles that are essential for delivering their service.
It is the first funding opportunity made available as part of the Government's $70 million Te Tahua Whakahaumaru Creative Arts Recovery Employment (CARE) Fund.
I'm very pleased that creative spaces have been provided their own tailored fund (a first for the sector) and that the value of staff (retaining and growing jobs) is recognised as important. The funding supports new jobs and expands existing roles to help build a more sustainable sector and skilled workforce. It also means that creative spaces will be able to increase their reach, including into Māori and Pacific communities.
This funding represents many years of advocacy to the government by Arts Access Aotearoa, alongside the creative spaces sector. Advocacy is about being seen and heard. Every time a creative space receives one of our awards, the whole sector benefits as a result of the profile. Every time there's a fantastic image or story about your creative space, published in the media or on websites like Arts Access Aotearoa, The Big Idea or Creative New Zealand, the profile of the sector increases.
Huge potential of creative spaces
Promoting the value of creative spaces to local and central government, and to philanthropic trusts, has been inherent in our advocacy. Our message is that creative spaces have huge potential to deliver effective, high-quality programmes to more people but are constrained by a lack of funding.
In 2018, Minister Sepuloni requested a report into the sector conducted by Manatū Taonga Ministry for Culture and Heritage. This first major government-sponsored research informed the Ministry in the development of this Creative Spaces Initiative.
Findings, published in the report Understanding the Value of Creative Spaces, showed the main factor preventing many creative spaces from reaching their potential and addressing the demand for their services is a lack of funding. With adequate funding, creative spaces can employ more staff, offer more quality programmes and outreach into more communities.
I am really excited at this opportunity for creative spaces and what they can achieve with additional funding. A very big thanks to Minister Sepuloni for making it happen.
So where does Arts Access Aotearoa fit in? The Ministry for Culture and Heritage has partnered with us to help deliver this funding. We've appointed two specialist funding advisors to work with you. Their names are Hannah Dahlke and Benedict Reid. For advice on making your application please email them on fundingsupport@artsaccess.org.nz. Their role is to support the application process and the recipients over the longer-term so please take advantage of this advisory assistance.
Nominations to Te Putanga Toi Arts Access Awards 2021
Speaking of promoting and profiling yourself, Arts Access Aotearoa is calling for nominations to Te Putanga Toi Arts Access Awards 2021. This is an opportunity to nominate yourself or another individual, group or organisation that you think deserves recognition.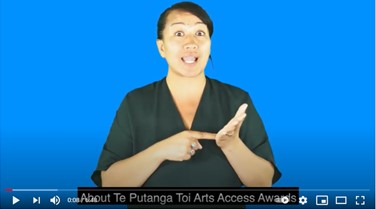 This year, we've made it easier to make a nomination with just one question for you to answer. We welcome nominations that include information about how the nominee responded to COVID-19 by delivering digital arts classes, projects and programmes to support artists and communities.
You will only have to supply supporting material if your nominee is shortlisted. Nominations close on Friday 26 March 2021.
We've provided five New Zealand Sign Language videos to make the nomination process more accessible to Deaf people. My thanks to Jared Flitcroft (filmmaker and Director, JPF Films), Shannon Morris (NZSL consultant) and Tarsha Takarangi-Berry (NZSL Talent) for making the videos. View the introductory NZSL video
I look forward to receiving your nominations. Your participation will help us advocate for more positive improvements to accessible arts across Aotearoa.