Creative spaces directory: Waikato region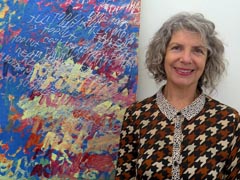 Creative spaces are community-based arts organisations and groups where people, often with limited access, can go to make art, participate in theatre, dance, music, film and creative writing. Find a creative space in Waikato. If you would rather look at a national directory, visit the national creative spaces directory.
Email Kate Hiatt, Creative Spaces Advisor, Arts Access Aotearoa to update your entry or to include your creative space in this directory.
Artists in the Making
Address: 4 Arthur Street, Whitianga, Coromandel
Artists in the Making is a support service for people with disabilities and is run by the Coromandel Independent Living Trust. Participants meet two days a week to do art activities, including mosaics, china painting and craft.
Contact: Janey Abercrombie, Co-ordinator | 07 866 0032 | art@cilt.org.nz
Arts For Health
Address: Norris / Ward Park Arts Centre, 2 Seddon Rd, Hamilton
Arts For Health Community Trust provides a holistic approach to health and ongoing activities for adults recovering from illness, injury and disability. It offers a range of arts and crafts, including painting, card making, paper making, collage and stone carving.
Contact: Cass Hendry | 07 838 2271 | office@artsforhealth.co.nz | www.artsforhealth.co.nz
Ngā Art - Te Whare Toi o Ngaaruawaahia
Address: 18 Herschel Street, Ngaruawahia
This is a community hub serving Ngāruawahia and North Waikato. Its kaupapa is to provide creative programmes, projects and events and access to participation in social and community activities. It runs art for health classes, mahi toi classes, evening and day classes, school holiday programmes and masterclasses. It also does projects in schools and preschools, runs events focused on local and cultural celebrations, and has a focus on creative projects that enhance and tell the stories of its community.
Contact: Laura Millward, Manager | 07 824 7591 | manager@ngāart.org.nz | Ngā Arts
Sandz Studio and Gallery
Address: 6 Kent Street, Frankton Village, Hamilton 3216
This studio and gallery supports artists with intellectual disabilities to become independent artists, and promotes their work as an integral part of contemporary art.
Contact: Maree Glass | 07 847 4344 | sandzgallery@gmail.com | Instagram
Toi Ako Te Kauwhata
Address: 1 Waerenga Rd, Te Kauwhata
Toi Ako is an arts-based creative space that brings the community together through creativity for social, artistic and wellbeing outcomes. Governed by the Te Kauwhata Community House, it offers an extension of the other health and social services provided by the Community House and places the arts firmly at the centre.It offers a range of classes, workshops and outreach programmes for people of all ages and abilities.
Contact: Lauren Hughes, Manager | 021 222 5682 | artstekauwhata@gmail.com | Toi Ako Te Kauwhata Facebook