Blog
Arts Access Aotearoa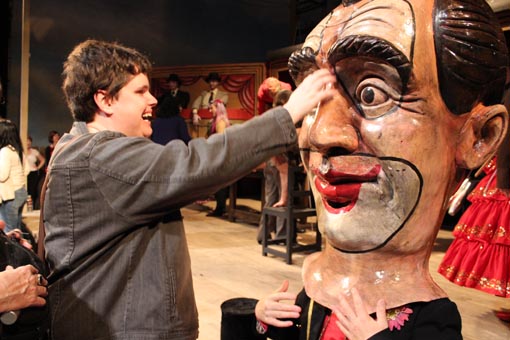 21 October 2013
For anyone who can't see clearly the stage or screen, audio description brings a whole new meaning to the experience of live theatre, television or cinema. Audio description captures the visual elements of a play or film that a blind or vision impaired person might otherwise miss, and describes them in clear and vivid language.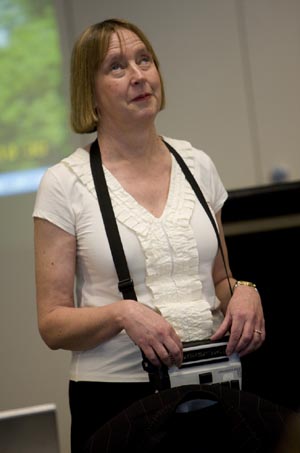 In the case of theatre and opera, trained audio describers tell us about the action live through an earpiece attached to a pocket-sized radio that is given to each blind patron.
I was born blind into a family that enjoyed going to films and plays. My mother, in particular, would do her best to plug gaps in my understanding of what was happening without disturbing those around us.
When I left home, other activities took up my spare time. I attended the theatre less and less, and I can't recall the last time I went to a film.
I was really pleased when Television New Zealand began audio describing some of its programmes. And I was especially delighted when THE EDGE initiated its SIGNAL programme in 2011 for blind people here in Auckland.
THE EDGE trained six audio describers, provided disability awareness training to the ushers, hired the audio description equipment, and we were away!
It's hard to get across just how enjoyable the experience of a play is when it's audio described. Mum used to read the programme aloud to me. Now, THE EDGE emails out the programme in advance so I can read it with my screen reader. Then before the show, a touch tour and audio describer add the visual detail not in the print programme.
Slotted in between the dialogue
And finally, the show begins! The commentary is slotted in between dialogue and any sung words. Describers take care not to talk over sound effects that the director wants us to hear. And at the end, we are told who is coming on stage for the curtain calls so we can clap our favourites – just like everyone else does.
I've seen a number of show, thanks to the SIGNAL programme, and I've bought my tickets to the audio described performance of the big musical WICKED, on at The Civic on 19 November.
Until recently opera had never captured my interest or imagination. Listening to the audio descriptions of New Zealand Opera's The Bartered Bride and Madame Butterfly, I now fully appreciate why it hadn't captured my interest. Opera is truly a visual performance with words and music, the sum of which is greater than its parts. Because of audio description, I have enjoyed my first real opera experiences.
An unexpected bonus at THE EDGE
And finally, there's been an unexpected bonus for us, in Auckland at least. If we want to go to shows that are not audio described, we can ring THE EDGE ahead of time and let them know we are coming. An usher meets us at the door, guides us to our seats, checks on us at half time and guides us out at the end of the concert so we can catch the bus or taxi home.
Before 2010, there had been one audio described play in New Zealand. This was in 2007 at Fortune Theatre in Dunedin. Starting with The Pohutukawa Tree at Toi Whakaari New Zealand Drama School in October 2010, there have been an amazing 27 audio described performances of theatre, musical theatre and opera since then.
What's caused this huge development? In December 2009, Arts Access Aotearoa launched its publication Arts for All at Te Papa and held a seminar that included a workshop with me about audio description.
And then Anne Bain (Wellington branch of the Association of Blind Citizens NZ), who had attended the workshop, approached Toi Whakaari about audio description. One of its students, Sarah Adams, took up the challenge, and the blindness community in Wellington got the chance to experience an audio described performance of The Pohutukawa Tree.
From there, a whole Arts For All programme has been developed and this has undoubtedly had a significant impact.
In Auckland, two people at THE EDGE who had worked with disabled audiences in the UK, initiated the SIGNAL programme. This has led to regular sign interpreted performances for the Deaf as well as audio description.
And Fortune Theatre has built on that initial success and is now providing regular audio described performances.
It's a real pleasure for me to be back in the theatre and concert community – all thanks to audio description.
Mary A. Schnackenberg co-founded Accessible Information and Communications Ltd in 2008, a company providing accessibility solutions for people with disabilities. For more information visit AI Comms' website.