Blog
Arts Access Aotearoa


6 May 2013
Modern museums are dynamic places with multi-media displays, and a variety of ways of exploring our past, present and future with all our senses. So the recent Arts Access Aotearoa Arts For All Wellington Network forum was an ideal opportunity for an accessibility specialist to learn about some exciting new developments at the Museum of Wellington.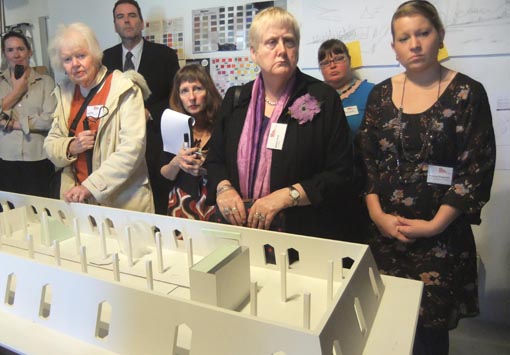 Being able to get close, touch models and hear about the thinking behind the design of the museum's Long Table was fascinating. Engaging with the designers and developers was stimulating. The alchemy of a mixture of arts people and different kinds of disabled people together provides an escape from the rigid, limiting, siloed and competitive thinking of the past. This gathering felt like a creative force at work and gave me a few ideas to share.
Disability is a glass-half-empty, glass-half-full thing. I am firmly in the half-full camp and passionately believe this way of thinking is imperative for progress. It can move mountains.
Diversity of humankind
The half-full glass is a full-bodied, satisfying wine. If you understand the lived experience of disabled people to be a part of the abundant diversity of humankind, it is much easier to see not only the different means of telling stories but also the actual stories themselves as an equal and necessary part of the whole of human experience, without which the human story is incomplete.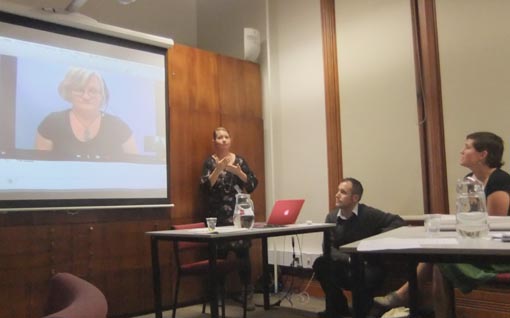 Developing an appreciation of the richness and creativity of the ways disabled people communicate, and their ways of being, then integrating them into the whole experience not only provides access, but represents the diversity of our disability community/ies and culture/s, and they become a fundamental element of the human story.
The technologies and other means of achieving this are readily available once an integrated "can do" strategy is developed. It is critical that accessibility is planned from the earliest possible stage as part of the core concept to avoid more costly retrofitting.
Taking this approach frees us from the limiting and demeaning thinking and language of separate and unequal "special needs".
An opportunity to lead the world
There is a real opportunity here for a New Zealand museum to lead the world because accessibility is as much about attitude as it is about resources.
And just to add the icing on the cake, we got to catch up with the latest developments at NZ Relay with members of the Deaf community, one of the most creative communities I know. It was a very satisfying morning generating food for thought for all of us, I hope.
Robyn Hunt has many years experience in the disability world where she is a recognised leader. Her company AccEase specialises in disability consulting, information accessibility and engagement consulting, auditing, testing and related workshops. Robyn writes on these and other disability topics on her blog.