Blog
Arts Access Aotearoa
"In a quiet, unassuming Wellington gallery a carefully assembled artwork made by Lena Zhang Harrap hangs … " So begins the story, written by Dom Post/Stuff arts reporter Andre Chumko.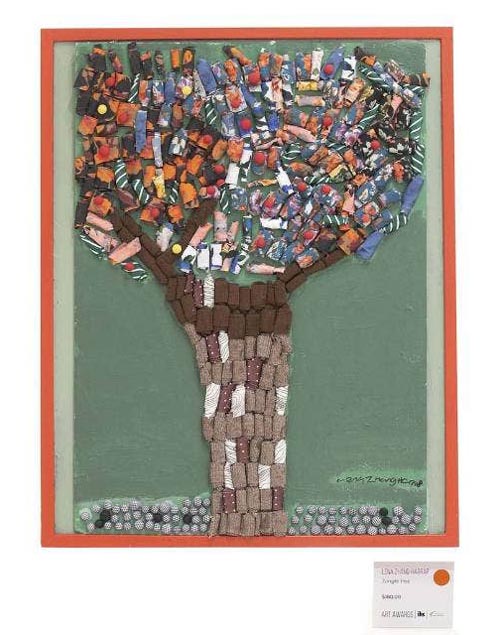 Writing with great sensitivity and insight, Andre describes Lena's artwork called Jungle tree, which until Saturday was one of 85 artworks featured in an exhibition of finalists in the IHC Art Awards in Wellington.
Describing Jungle tree, Andre writes: "The work features a colourful array of pieces of scrap fabric carefully fashioned into the shape of a tree – various shades of brown and white make up its trunk while blues, oranges, reds and yellows represent its foliage. It sits on a green background, with a framed red border.
"At the tree's base and on the tree itself sit sewing buttons in grey and black and red and striped print, while in the bottom-right corner of the work Zhang Harrap signed her name in black pen, on a slightly lighter green backdrop."
Through his words, Andre pays tribute to a woman who was an artist who had disabilities. The tragedy and circumstance of Lena's death cannot be allowed to overshadow the value of her life and obvious creativity.
Words, and how we used them, matter enormously. They can bring joy, comfort, knowledge and insights. They can also cause hurt and distress.
Highlighting language issues around disability
Stace Robertson and Erin Gough highlighted language issues around disability at a recent training workshop for Arts Access Aotearoa staff. Stace works for Arts Access Aotearoa as its Access, Inclusion and Participation Advisor. Erin is a Lead Advisor - Rights, Office of the Children's Commissioner.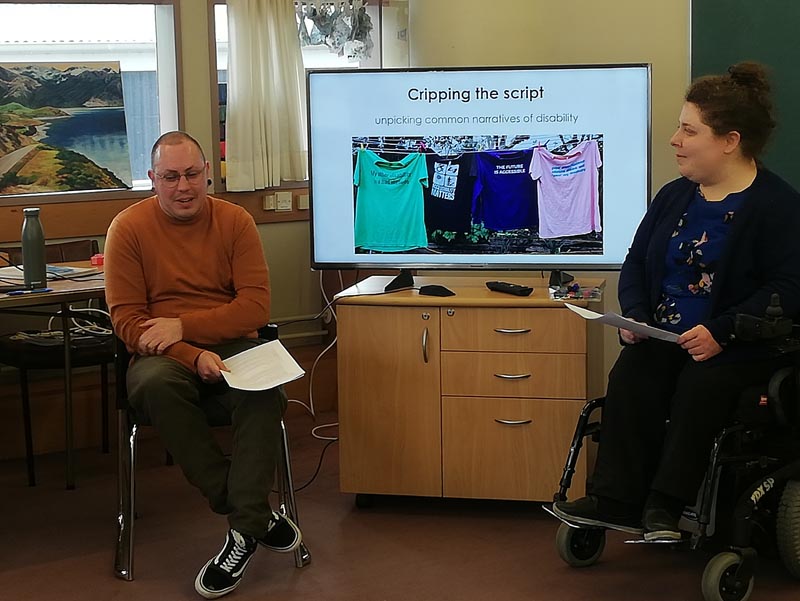 We talked a lot about language, using a document on our website and in the Arts For All publication as reference. Called What words to use (pdf 109 KB), it includes a list of words that are "okay" and "not okay". A key message is that it's best to be guided by the person or people you're talking because there's no consensus on what terms to use.
Importantly, ask for advice if you're not sure what language to use. Asking questions means you're prepared to learn and are aware of individual preferences.
Stace and Erin explained that for many people, their disability is an important and positive part of their identity. They don't want to be seen as "inspiring", and achieving things "despite their disability" or by "overcoming the odds". This approach, frequently seen in the media and in movies, is known as "inspiration porn".
Listen to I'm not your inspiration, thank you very much, a powerful TED Talk by the late Stella Young for insights into inspiration porn.
People sometimes talk about autistic people as being "on the spectrum" – often used disparagingly. Like the word "disabled", many autistic people see autism as part of their identity and prefer to be described as an "autistic person" rather than a "person with autism".
A rounded description without defaulting to stereotypes
In his story, Andre Chumko emphasised Lena Chang Harrop's life and art. He provides a rounded description of Lena, the person and the artist, without defaulting to stereotypes. Andre's writing confirms again why he was the recipient of the Arts Access Creative New Zealand Media Award 2021, presented at Te Putanga Toi Arts Access Awards in July.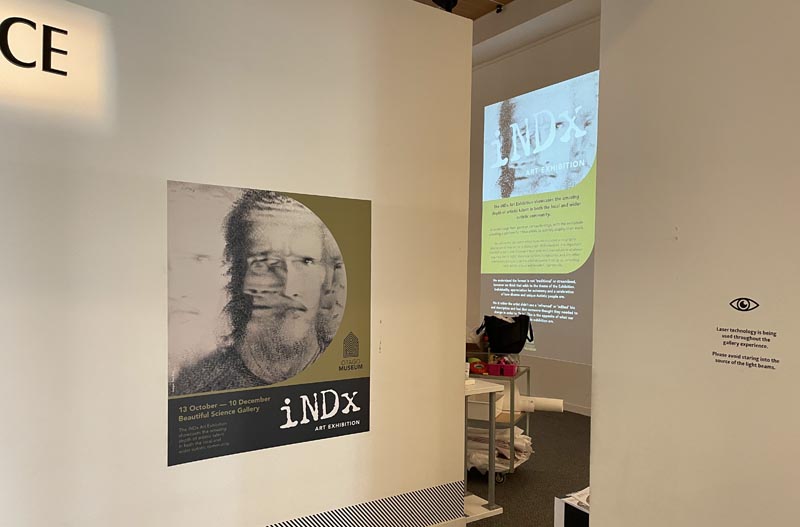 The story Showcasing the talents of autistic people highlights a successful, long-term partnership between autistic art collective iNDx and Otago Museum. Opening on Wednesday 13 October, this third exhibition of work by 30 autistic artists will feature a variety of media, such as drawings, sculpture, paintings, digital and audio art, papier mâché, textiles, carved skull art, and photography. Two autism movies, Pictures of Susan and Seeing the Unseen, will also screen.
Stace Robertson will be in Dunedin for the opening of the exhibition and will also be facilitating a meeting for members of the Arts For All Otago Network.
Stace facilitates the national Arts For All Network, which includes six regions: Auckland, Taranaki, Hawke's Bay, Wellington, Canterbury and Otago. This month we've profiled accessibility champion Kelsey Hankins, who is a gallery educator at Hastings City Art Gallery. You can read about Kelsey in A career devoted to making the arts accessible
Please visit our website for more information or contact Stace (E: stace.robertson@artsaccess.org.nz T: 04 802 4349) if you want to join an Arts For All Network.